MetLife (NYSE:MET) reported 4Q16 results. On a per share basis, the company posted a loss of $1.94, due to derivatives losses. While higher interest rates are a long-term positive for MetLife, the company recorded write-downs of interest rate derivatives due to its mark-to-market accounting on the asset side of the balance sheet. As a reminder, the yield on the 10-year U.S. Treasury notes was up 85bps q/q in 4Q16. It is also important to note that around 94% of the derivative losses were asymmetrical and non-economic.
According to the press-release,
MetLife uses derivatives as part of its broader asset-liability management strategy to hedge certain risks, such as movements in interest rates and foreign currencies. This hedging activity often generates derivative gains or losses and creates fluctuations in net income because the risk being hedged may not have the same GAAP accounting treatment.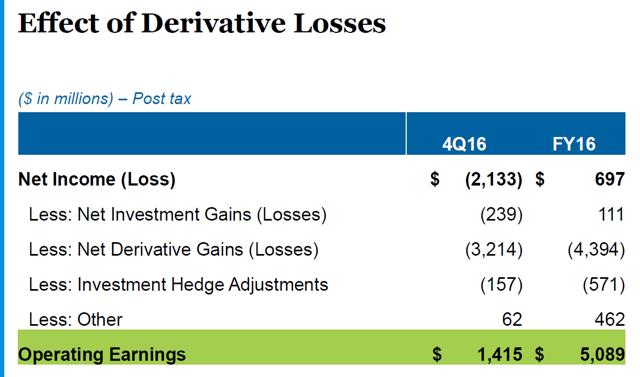 Source: Company data
One can argue that the derivative losses should be viewed as a one-off item that would not affect MetLife's operating performance. However, we note that the losses have had a negative impact on the company's book value. As the table below shows, MET's book value per share (ex. AOCI) was down 3% q/q and 7% y/y in 4Q16. Given the importance of the metric for financial companies, we think lower book value is certainly a disappointment.

Source: Company data
The company's adjusted operating earnings were also lower-than-expected amid deteriorating results at Property & Casualty insurance and Brighthouse Financial. Operating earnings in Latin America decreased by 22% y/y. In our prior article on MET, we noted that the recent devaluation of the Mexican peso and potential changes to the company's pension business in Chile are the key reasons why MetLife lowered its FY17 guidance. As a reminder, in response to a series of protests and riots in Chile, the Chilean government has proposed a set of reforms to the pension system.
On the positive side, EMEA and Asia delivered solid results.

Source: Company data
While the company's 4Q results were weak, we still view MetLife's risk-reward ratio as attractive. The stock is trading at significant discounts to other insurance companies on both P/BV and P/E despite solid profitability levels, earnings growth prospects, and attractive capital deployment plans.
Source: Bloomberg, Renaissance Research
Notably, the table below shows that MetLife offers one of the highest dividend yields among U.S. insurers.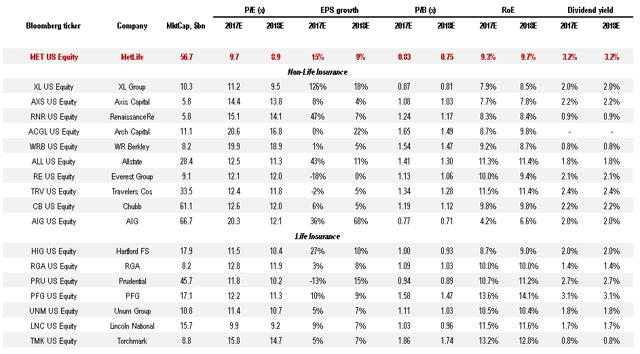 More importantly, the stock remains an attractive play on the so-called Trump's regulatory relief. According to Bloomberg, citing an interview with the director of the White House National Economic Council Gary Cohn, the Donald Trump's administration 'considers telling regulators on FSOC to stop designating nonbank financial firms as systemically important financial institutions, or SIFIs'. Should MetLife, Prudential Financial (NYSE:PRU) and AIG (NYSE:AIG) avoid being designated as a nonbank SIFI, we think it would mean a more aggressive stance on share buybacks, which we would expect to drive their RoEs and valuation higher.
Bottom line
While Prudential Financial remains our top-pick in the U.S. life insurance space, we still view MetLife as an attractively valued play on a more favorable regulatory environment. MetLife is trading at a significant discount to its peers and we see limited downside risks to the stock's multiple. In addition, MetLife offers one of the highest dividend yields among U.S. insurers.
As a buy-side analyst and a deputy portfolio manager, I oversee a financials-focused fund and will be continuously providing research coverage on developments with MetLife and other financial companies. If you are interested in the topic, consider following us by clicking the "Follow" button beside our name at the top of the page. Thank you for reading.
We also invite readers to check out our recently launched subscription service. Get in-depth fundamental research, stock recommendations, trading ideas, exclusive access to professional databases, sophisticated valuation models and expert commentary on Wall Street recommendation from a hedge-fund analyst with a proven track record. Go here to learn more or to sign up, we look forward to having you on board.
Disclosure: I am/we are long PRU, AIG, MET.
I wrote this article myself, and it expresses my own opinions. I am not receiving compensation for it (other than from Seeking Alpha). I have no business relationship with any company whose stock is mentioned in this article.