CSX Corporation (NYSE:CSX) is one of my ultimate Legacy Assets.
This company has been in business for over 190 years, and for a long time, shareholders have been collecting steady dividends. Yet despite a long history, this stock still trades at a discount to its peers. A number of catalysts, however, could lift shares in the coming months. This may be the last chance to scoop up this top dividend stock on the cheap.
Let me explain…
The Ultimate Legacy Asset
As regular readers know, I'm a big fan of a group of stocks I like to call my 'Legacy Assets'. These are wonderful, wide-moat businesses that have paid dividends to shareholders for decades. Because of their entrenched market position, they're able to crank out oversized cash flows year after year.
In all of my years investing, I've found that it's not the exciting tech stocks or biotech startups that make investors the most money but, rather, the boring, dividend-paying businesses that slowly grow over time. You only need to look at a list of the market's biggest winners - like The Coca-Cola Company (NYSE:KO), McDonald's Corporation (NYSE:MCD), or Johnson & Johnson (NYSE:JNJ) - to see the power of these stocks in action.
Case in point: CSX.
CSX is a freight transportation company with operations across the eastern seaboard. Its business dates back to the late 1820s. Today, the company moves hundreds of tons of coal, chemicals, and other products.
The railroad's status as a Legacy Asset comes down to a couple of points.
The first thing I look for is a wide economic moat. By this, I mean some sort of competitive advantage that prevents competitors from eating into margins. When we're measuring our holding period in decades, we're looking for a lasting edge that won't disappear overnight.
CSX has a mile-wide moat filled with angry mutant sharks. Most of the company's rail lines were laid over a century ago, back when land was cheap. Today, towns and cities have been built around these tracks. It's no exaggeration to say it would cost trillions of dollar to replicate CSX's business.
Let's say you could cough up that kind of dough. Regulators and landowners would still be hesitant to grant the right-of-ways for construction. Worst still, you wouldn't make that much money. Having two railroads split the profits on some of the smaller routes wouldn't make economic sense.
This moat could continue to widen over the next few decades. On a single gallon of fuel, a train can move a ton of freight over 470 miles. This is four times more fuel efficient than moving the same goods via trucking. As we begin putting a price on carbon (a reality when you start thinking in decade-long time frames), rail's edge over other forms of transit will continue to grow.
Over the next 100 years, there are going to be more people living in this country. Over that time, they're going to demand more goods. Because of the cost advantages inherent in moving freight by rail, CSX will continue to get a piece of that action.
These advantages should also allow the company to earn thick, consistent profits. Over the past decade, the company's return on invested capital has consistently stayed in the mid-teens. Many businesses can earn returns like this from time to time. Few, though, can maintain that performance over such a long period of time.
Second, I want a catalyst. Legacy Assets are great investments, but they tend to trade at a premium. I prefer to scoop them up at a bargain price when Mr. Market doesn't recognize its full value. This might mean buying when their industry is out of favor (think pipelines last year) or when the company is on the verge of a turnaround (McDonald's in the early-2000s).
CSX is embarking on a major cost-cutting campaign. Management has trimmed payrolls, increased the size of its shipments, and exploited new technologies. The company could improve margins considerably further by rationalizing low-density track miles.
Right now, Wall Street expects the company's earnings per share to grow at a high-single digit clip over the next five years. But according to J.P. Morgan analyst Brian Ossenbeck, a 1,000 basis point improvement in CSX's operating ratio - a key measure of management efficiency - would propel its growth rate into the mid-teens. If executives double-down on cost cuts, it would force Wall Street to slap a higher multiple on the stock.
Buying ahead of this can be lucrative. During his tenure at Canadian Pacific Railway, CEO Hunter Harrison led a major series of cost cuts. By slashing CP's operating ratio by over 1,200 basis points, shareholders enjoyed a rush of dividend hikes and share buybacks.
I'm a big fan of most railroad stocks, as I've written about previously. Most of these companies, however, have wrung the easy cost savings out of their businesses. CSX, in contrast, still has a lot of fat left to trim.
And finally, I want a good dividend.
CSX is a hidden cash cow. Through a combination of dividends and buybacks, the stock sports a total shareholder yield of 4%. This comes on the trail of over a decade of dividend hikes.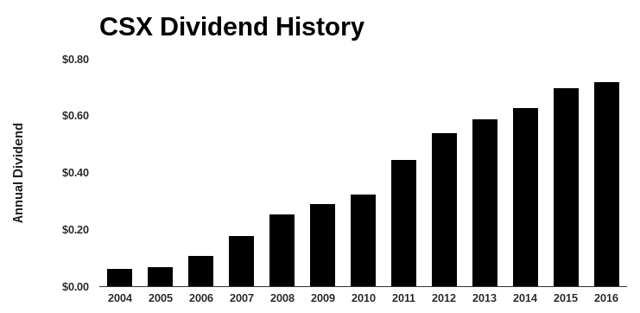 Source: Yahoo Finance
More dividend hikes could be on the way. If executives can deliver on the cost cuts, I expect it would free up a huge amount of cash flow. And like we've seen at other railroads, that would trigger a bonanza of dividend hikes and stock buybacks.
CSX, of course, is no sure thing.
One risk is that its operations are exposed to coal plant closures. I don't expect President Trump, despite his pro-business stance, to turn this industry around. And despite the rumors, Hunter Harrison has not officially joined CSX.
I'm not too worried, though. The problems in the coal industry are not exactly new, so most of this has already been priced into the stock. And sure, I prefer Harrison running the company. However, the railroad still has a number of opportunities to slash costs, with or without the hotshot in the executive chair.
The Bottom Line
CSX is a true Legacy Asset.
We're looking at a wonderful, wide-moat business that could crank out cash for decades. A number of catalysts could lift shares over the next few years. Investors getting in now are buying at what might be a once in a lifetime price.
This is definitely one dividend stock for the next 100 years.
Disclosure: I/we have no positions in any stocks mentioned, and no plans to initiate any positions within the next 72 hours.
I wrote this article myself, and it expresses my own opinions. I am not receiving compensation for it (other than from Seeking Alpha). I have no business relationship with any company whose stock is mentioned in this article.