Thesis
I believe that Nvidia (NASDAQ:NVDA) is very likely to beat the earnings estimates when the company reports on the 9th of February (this Thursday). In this analysis, I will show that NVDA has a history of guiding conservatively. Not only that, but also with respect to the last four quarters, Wall Street analysts have been wrong each quarter, which allowed Nvidia to beat their expectations every one of those quarters. Of course, this is not just a simple story of Wall Street's inaccuracies. The company has very positive secular developments that are driving major growth in multiple business segments. I believe that these secular trends will continue to add to its profits in the upcoming quarter.
Understanding The Wall Street Consensus
When I first started my investment journey years ago, I was mesmerized by Wall Street analysts. These people were so smart that they could forecast a company's earnings quite accurately. Long I pondered: how do they do it? Sometimes they are even exactly on the money! Predicting earnings per share on the cents. Truly, these men and women possess incredible analytical and mathematical skill. Or so I thought. Not to say that they do not possess said attributes, but rather that often times it is a lot simpler than it seems. At least, to get to the same number that Wall Street analysts do. Getting close to the Wall Street number is very important, because it allows us to get inside their head. By comparing it with the company's own guidance, we can see, at the very least, if Wall Street is being more pessimistic or optimistic than the company's management. According to the Wall Street Journal, the analyst consensus is an earnings per share profit of $0.83 for Nvidia.
Calculating The Company's EPS Guidance
While companies rarely guide EPS as a number, they do in fact share plenty of data that make this number easily deducible. Here's Nvidia's fourth-quarter outlook as per the third-quarter transcript:
"Now, turning to the outlook for the fourth quarter of fiscal 2017, we expect revenue to be $2.1 billion, plus or minus 2%. Our GAAP and non-GAAP gross margin are expected to be 59% and 59.2%, respectively, plus or minus 50 basis points. GAAP operating expenses are expected to be $572 million. Non-GAAP operating expenses are expected to be approximately $500 million. And GAAP and non-GAAP tax rates for the fourth quarter of fiscal 2017 are both expected to be 20%, plus or minus 1%."
Nvidia is being very generous with the amount of detail here. In my experience I have found this to be the case when management is optimistic and they want to make their outperformance easily deducible. When companies aren't feeling too optimistic, they tend to publish FY guidance, which makes it a little bit trickier to deduce a quarterly estimate. I digress. Let's look at the quote and work it all the way back to earnings per share. Only basic financial statement reading ability is needed to arrive at a net income of $488 million. This number is based on the low end of the range or 98% of $2.1 billion, and we've also subtracted the interest expense. Even less financial literacy is needed to arrive at the earnings per share number. We divide $488 million by the number of outstanding shares to get the company's EPS guidance of $0.93 a share. The mid-range would be $0.98 a share and the high end of the range comes in at $1.01 per share.
Sell-Side Estimates Versus Company: Which To Believe?
We now have our first hint: Wall Street is being pessimistic. One could also state that management is being optimistic. This might seem like irrelevant semantics, but knowing which of the two statements is accurate will help our own accuracy.
I subscribe to the first statement: Wall Street is being pessimistic. I believe this because NVDA has consistently outperformed its own guidance throughout 2016.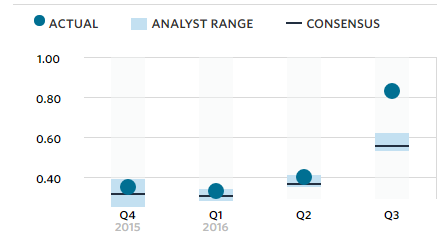 Source: WSJ
Analysts were particularly pessimistic in 3Q16. We'll get to that in a second. The takeaway from this slide is that Wall Street has consistently estimated pessimistically. I say pessimistically instead of conservatively, because the analysts are consistently rejecting the company's guidance when its performance and accuracy suggest not to do so.
Their most pessimistic estimate was the 3Q16 estimate made shortly after 2Q16. To drive my point home some more, I'll calculate the company guidance given in 2Q16. Here's the quote from the 2Q16 transcript:
"Now, turning to the outlook for the third quarter of fiscal 2017. We expect revenue to be $1.68 billion plus or minus 2%. Our GAAP and non-GAAP gross margins are expected to be 57.8% and 58% respectively, plus or minus 50 basis points. GAAP operating expenses are expected to be approximately $530 million. Non-GAAP operating expenses are expected to be approximately $465 million. And GAAP and non-GAAP tax rates for the third quarter of fiscal 2017 are both expected to be 21% plus or minus 1%."
In other words, the company is guiding for an EPS of 60 cents while Wall Street consensus stood at an EPS of 56 cents. A clear beat by 7%. The actual EPS of over 80 cents was also as a result of the company guiding very conservatively on revenue which resulted in a revenue beat of $324 million or 19% above guidance.
So now we know at least a couple of things:
1) Management guides conservatively,
2) Wall Street has been wrong for the last four quarters, and
3) anyone that had just deduced the company's guidance could have consistently "predicted" an earnings beat in the previous quarters.
I mustn't be too hard on sell-side analysts for not agreeing with NVDA's management. Analysts are employed with the aim of creating an independent, at least in theory, assessment. It would thus make sense for the sell side to disagree once in a while. I do think that four inaccurate forecasts in a row is a bit too much.
My Own Thoughts: Future Growth Drivers
It would be lovely if I could end the analysis here by simply claiming that it is reasonable to trust management, but then I remember that this whole game is about money. My money. I don't like to lose my money, and given that my approach is riskier than traditional investment strategies, I need to put in more work to ensure I get it right.
The biggest drivers behind the 2Q16 blowout quarter were the gaming and datacenter businesses (the datacenter business includes the artificial intelligence products) segments.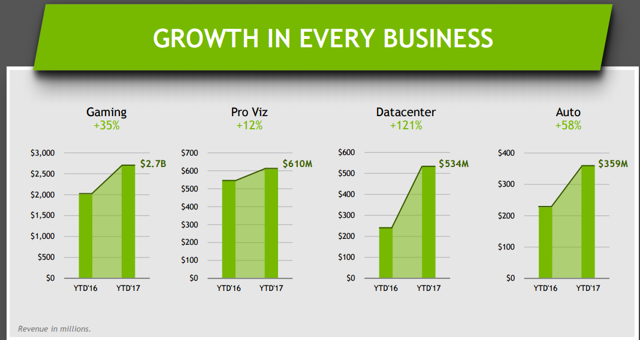 Source: Corporate presentation
The blowout in gaming was as a result of the release of new products for gaming enthusiasts: GeForce GTX 1080, 1070 and 1060. I've heard arguments that since these products are only for enthusiasts, the bump in revenue can't be expected to last. While I agree that 1Q17 or maybe even 2Q17 will not reproduce this growth, it is still reasonable to state that this growth will last at least another quarter. Let's keep in mind that these products are barely six months old. Even so, the gaming market is actually pretty huge. According to Nvidia, the gaming market is a $100 billion industry worldwide while its gaming business accounts for "only" $3.5 billion in yearly revenue. Clearly, there is a lot of room for growth here for the company.
The datacenter business segment is the one that I am personally the most excited about. Not because it is a very good business segment of Nvidia, but because I am really excited about AI (artificial intelligence) in general and for good reason. Take a look at the below chart: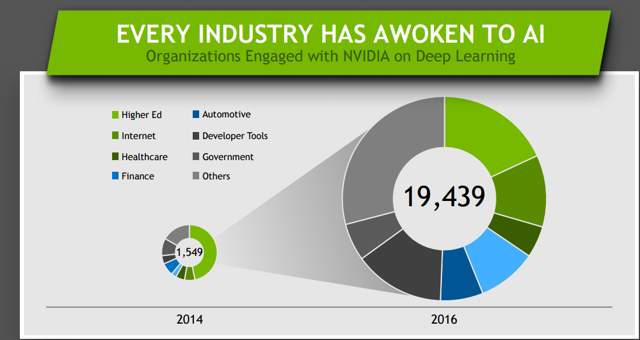 Source: Corporate presentation
According to this chart, there are a lot of people excited about artificial intelligence. Within two years, the number of organizations specifically engaged with Nvidia on deep learning has increased by more than 1,100%. While some people think that Nvidia's growth is related to its partnership with Tesla (NASDAQ:TSLA), the biggest piece of the pie is its work with the government and with higher education. Again an industry that is huge with lots of room for Nvidia to grow.
Conclusion
Nvidia is set up for another earnings beat. The company has business segments that are growing at very fast clips like gaming and datacenter. There is still ample room for Nvidia to capture additional market share in the gaming industry, and the company looks poised to this. The datacenter business is still in a rapidly growing industry. Not only are Nvidia's segments growing, but also the whole industry is developing at a rapid pace. I expect that these positive developments will result in the company printing a higher-than-expected fourth-quarter report.
Further evidence to support this is the fact that the company's management has consistently under-promised and over-delivered in the last four quarters. Not only that, but also sell-side analysts were taking an even more conservative approach than the already conservative management. My calculations show that Wall Street has again taken a too conservative approach, which is why I find it extremely likely that Nvidia is confidently going to beat the earnings estimate consensus of 0.83 cents. Based on my rework of the company's guidance, I believe that it will report $0.93 to $1.01 and revenues of $1,960 million to $2,142 million. I wouldn't even be surprised if the company surpasses my estimations since it has very favorable secular trends working for it.
Disclosure: I am/we are long NVDA.
I wrote this article myself, and it expresses my own opinions. I am not receiving compensation for it (other than from Seeking Alpha). I have no business relationship with any company whose stock is mentioned in this article.