The U.S Dow Jones Industrial Average hit 20,000 for the first time in history, and many pharmaceutical investors feel left behind. Nowhere is the pain greater than in Valeant Pharmaceuticals International (NYSE:VRX). Although it's difficult to imagine this battered stock falling any further than it has already fallen, justifying growth is just as - if not more - challenging.
Rumors are suggesting Valeant may be about to enter a new phase of divestiture-powered volatility. This time, over assets sales in Eastern Europe. But is this the right path for the company to take? No.
Divestitures are not creating value at Valeant, in fact, they seem to be a net neutral. The cash generated by asset sales is canceled out by, not only lost EBITDA but more importantly lost growth. Valeant's asset sales represent illusory value-creation just like its acquisitions did. The fundamental value of the company barely changes.
The only way for Valeant stock to regain a growth trajectory is by actually growing again.
Valeant's Divestitures
Valeant lured in another crop of unfortunate longs with $2.1 billion worth of asset sales early in January. The pharmaceutical firm sold its Dendreon acquisition - part of Branded Rx - for a 4.6 EV/EBITDA multiple and several of its consumer products for over 25 EV/EBITDA. The blended multiple of the transactions totals around 13.
Initially, these divestitures looked like the turning of a new chapter for Valeant - the market certainly reacted as such. The stock surged to around $14.50 on the news. But Valeant already returned its gains and trades lower than before the news dropped. It is almost as if the divestitures never happened, perhaps a huge disappointment for Joe Papa who has seen the stock take tremendous losses in his brief tenure.
What determines Valeant's stock price?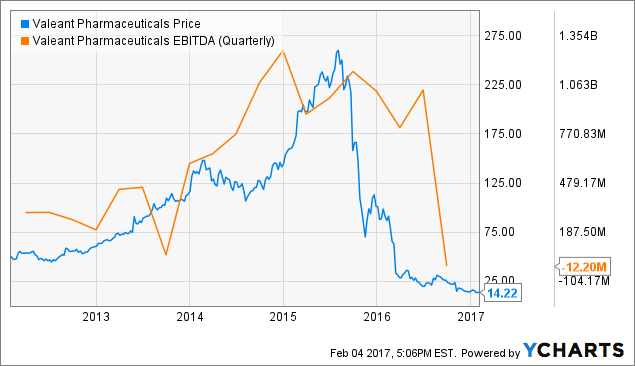 Too much focus is on the debt and the political climate. When Trump says something the pharma industry doesn't like, weak hands get scared, and the stocks fall. But America is STILL a democracy; Trump is not an emperor. He will still have to go through the regular political process to enact any changes he wants to push through. Discounting for risk is not wrong, but it is a mistake to exaggerate risk.
If the Bernie Sanders led Proposition 61 vote failed in California, how much harder will it be for Trump to heavily regulate the pharmaceutical industry when conservatives control major branches of the U.S government?
Political risk and asset sales will affect Valeant's stock price in the short-term, but over the long-term, Valeant depends on two things: EBITDA growth and Free Cash Flow (NYSE:FCF). If these two factors are not convincingly addressed, Valeant stock will continue to bleed out no matter what the debt number is.
Sources for Real Value Creation:
Valeant is lucky to have a reliable engine for value creation: its pipeline and its under-marketed drugs, especially Addyi (flibanserin) and Brodalumab.
Addyi earns around 1000-1200 prescriptions a month and sells for $800 per month totaling around $10 million in annual sales. Ten million is a measly number for a billion dollar acquisition, but Valeant has not fully invested in its marketing for Addyi yet.
Addyi's efficacy is not impressive, but the drug does work for some percentage of the FSD population. Even if 90% of interested women are non-responders, the 10% make a potentially lucrative market.
Investing in awareness will go a long way towards making Addyi into a potentially $100 million drug. Flibanserin may also have new indications as research into its use for the treatment of eye disease suggests.
Conclusion
Valeant may soon divest some of its assets in Europe. Such asset sales may be good news for short-term Valeant day-traders, but they are not creating value that will stick in the stock price, as the recent Dendreon and consumer, divestitures demonstrate. Now, Valeant longs will have to brace for the possibility of reduced revenue, EBITDA, and growth rates these moves may reflect in future earnings reports.
Valeant's debt is not its biggest problem; more focus should be on growth and sustainable - EBITDA powered - free cash flow. If Valeant's EBITDA stays at this level or continues to decline, the stock will continue to fall. Though its pipeline and under-marketed drugs, Valeant has plenty of ways to create value without selling assets.
Disclosure: I/we have no positions in any stocks mentioned, and no plans to initiate any positions within the next 72 hours.
I wrote this article myself, and it expresses my own opinions. I am not receiving compensation for it (other than from Seeking Alpha). I have no business relationship with any company whose stock is mentioned in this article.