Back in December, Kyle Bennet, editor in chief at HardOCP, made the widely reported claim that Intel (NASDAQ:INTC) has licensed AMD GPUs. Now he is back with more details:
"OK. Got information back on this. Everything I have mentioned here is definitively correct.

Intel is licensing AMD GPU technology. No money has changed hands yet, so there is no financial impact till late in the year, hence nothing in the current earnings report.

The first product AMD is working on for Intel is a Kaby Lake processor variant that will be positioned in the entry-to-mid level performance segment. It is in fact an MCM (multi-chip-module), and will not be on-die with the KB CPU. It is scheduled to come to market before the end of the year. I would expect more collaboration between AMD and Intel in the future on the graphics side.

And you can take all that to the bank."
Source HardOCP's forum (quote with minor typo corrections)
The details may lack in precision, but it is safe to assume that the information is relatively accurate so let's try to figure out what these claims mean.
We know that Intel needs a new licensing deal for GPUs and it can only be with AMD or Nvidia. So far it appears that AMD (NYSE:AMD) is the likely choice and a deal has been reached but not announced.
The more interesting part is that Intel and/or AMD are working on placing an Intel SoC and an AMD GPU in the same package. This doesn't mean the integration of AMD and Intel technology on the same monolithic die, just that the two products are being placed next to each other in the same package with no or minor modifications.
Intel has a packaging technology that would work quite well in this case - their Embedded Multi-die Interconnect Bridge. It is more limited than a silicon interposer solution but much cheaper since it only uses small silicon bridges and avoids using costly TSVs.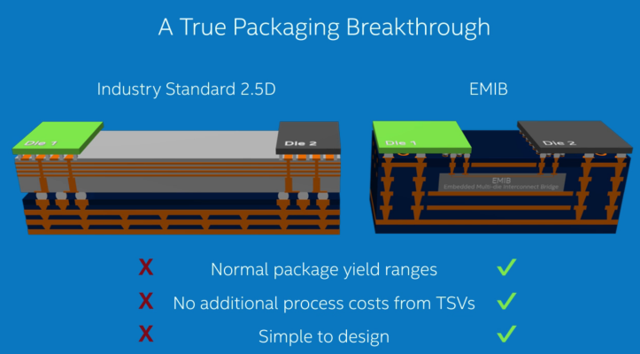 Source: Intel
The technology to enable such a solution exists. However, is there a point in creating such a product? What it means in practice is that the discrete GPU is placed much closer to the CPU, decreasing latency, simplifying the board design for OEMs and enabling thinner laptops. It remains to be seen if this product would be using any kind of embedded DRAM or even HBM. It is possible and, at the very least, future generations will certainly see Intel and AMD using advanced packaging to its full extent.
Key figures at AMD have expressed a high interest in advanced packaging in recent times and by using a silicon interposer in its Fiji products in mid 2015, AMD is at the forefront of advanced packaging. Creating such a product with Intel, suggests that AMD itself will soon have similar offerings that pair a RyZen based SoC with a Radeon GPU.
It might appear that AMD would be helping Intel, but AMD is just helping itself. This move increases the discrete GPU attach rates and doing so at Nvidia's (NASDAQ:NVDA) expense, assuming Nvidia doesn't have a similar deal. It is also possible that this solution has been created at a customer's request, it would fit in the next generation MacBook Pro quite well. If that's the case, this customer would likely have exclusivity for a short period of time. However, other PC makers will be in a rush to catch up as soon as possible and such solutions will be broadly utilized. This would be a blow to Nvidia and a large gain for AMD.
In a related move, AMD has filed a complaint with the ITC against MediaTek, LG, Vizio and Sigma Designs claiming that some of their products infringe on AMD's intellectual property. This development indicates that AMD is much more active in trying to monetize its IP. The complaint also discloses that Samsung and GlobalFoundries are already licensing certain IP from AMD.
In another interesting development, a writer at Videocardz has spotted a RyZen based APU engineering sample: AMD Eng Sample: ZD3101AHM44AB_38/31/13/07_9874. The string of numbers indicates a GPU with 700MHz base clocks and 1.3GHz boost clocks. Given the rumored 704 cores for Raven Ridge, those clocks would mean 1.83TFLOPs. Considering that the GPU architecture used is Vega, we can assume a performance similar to today's AMD Radeon RX 460 discrete desktop GPU. This is just an engineering sample so final clocks and performance could be even higher. Such performance for an APU would significantly raise the bar for what lower-end discrete GPUs must offer, shrinking the segment for Nvidia. Using advanced packaging to pair a CPU die with a GPU die would allow for even more performance, further reducing the TAM for Nvidia while creating opportunities for AMD.
Must also note that a 1.83 TFLOPs GPU for Raven Ridge would absolutely obliterate Intel's current integrated GPUs in performance while offering a great experience in multiplayer online games like Dota 2 or League of Legends. Compared to AMD's current offerings, their integrated GPUs would practically double in gaming performance.
Takeaway
Very interesting developments that will create substantial upside for AMD, enabling higher attach rates for AMD's GPUs as well as significant share gains. At the same time, Raven Ridge with such a potent GPU would be very appealing in markets like China where multiplayer online games are extremely popular.
For Nvidia it would be a significant blow but not a disaster. This will impact what Nvidia calls OEM, as well as the low end of their Gaming segment.
The implications for Intel are minimal short term, meanwhile these developments do show that Intel needs a much more capable GPU in the long run.
Disclosure: I am/we are long AMD.
I wrote this article myself, and it expresses my own opinions. I am not receiving compensation for it (other than from Seeking Alpha). I have no business relationship with any company whose stock is mentioned in this article.