Secondary Authors: John Freeman and Samadhi Partners

What Happened/Why Are We Interested?
On 31 Jan. 2017, 3D Systems Corporation (NYSE:DDD) announced it had acquired Vertex-Global Holding B.V. for an undisclosed amount. Vertex-Global is a provider of 3D printing materials sold into the dental market for the creation of dental prosthetics under the Vertex and NextDent brands. DDD expects the deal to be "immediately accretive" to non-GAAP EPS. Vertex-Global sells to over 200,000 dentists and dental assistants and has regulatory approvals (for dental use) in over 70 countries, providing an established channel for DDD's 3D printers. The global dental implants and prosthetics market is expected to reach $12.32b by 2021, according to research firm MnM.
DDD, which has been enjoying a bit of the Trump rally and the occasional acquisition rumor, is up 25.3% ytd (to $16.52 on 1 Feb. 2017) and up 32.7% since just before the 2016 election (52wk range: $7.78-19.75).
What we expect/what is the potential risk/gain?
This acquisition continues a busy period for DDD, which has issued a flurry of announcements over the prior months, including:
Its new D2P (DICOM-to-Print) software for converting patient medical data into 3D models,
a new Virtual Reality Operating Room (VR OR) surgical simulator for medical training, and
the addition of its Virtual Surgical Planning (VSP) service to include cranial and craniofacial procedures.
We are positive on this acquisition, another sign of the continuing maturation of 3D printing, moving from being "novel and glamorous" to "mundane and non-sexy," governed by more practical, positive ROI drivers as it becomes more mainstream. DDD is continuing to commercialize its software by going after market expansion in areas that are well beyond the initial 3D printing market - sorely needed as its revenues, like those of rival Stratasys (NASDAQ:SSYS), have remained essentially flat-to-down of late.
We continue to believe DDD is well positioned long term to protect its market share and modestly re-accelerate revenue growth, particularly if it continues to diversify its product offering into adjacent manufacturing and training/simulation markets where its technology could be transformative.
3D printing (which is only commoditizing at the low end) and 3D software applied to virtual and augmented reality (which is not commoditizing) both hold tremendous long-term potential.
However, we expect 2017 will continue to be transitional for DDD, which faces some significant challenges moving forward, including stiff competition from emerging rivals, such as Carbon3D, as well as established players SSYS and HP (NYSE:HPQ), the latter of which is expected to focus more intently on the 3D printing market in 2017. HP had once been rumored as a potential acquirer of DDD; however, we believe that firms such as Intuitive Surgical (NASDAQ:ISRG) and GE (NYSE:GE) may be better suited, especially for DDD's 3D software assets.
ISRG presently has a $26.93b market cap, a solid cash balance, limited debt, and relatively flat Y/Y growth, and is capable of helping expand 3D Systems' market position in the medical vertical where DDD is also strong and has complementary products, especially in software. GE has already acquired two 3D printing companies (Arcam AB and SLM Solutions Group) and knows how to leverage the technology on an industrial scale.
Our Recommendations
In advance of the 4Q 2016 earnings release (est. 13 March 2017), we have taken short-term profits and trimmed our position (in our Samadhi Capital Partners' client portfolios), though we remain positive on our long-term (5yr) outlook for DDD.
- Samadhi Position: OWN in the "Samadhi 16," our High-Conviction Category in the Samadhi Capital Partners Client Portfolios.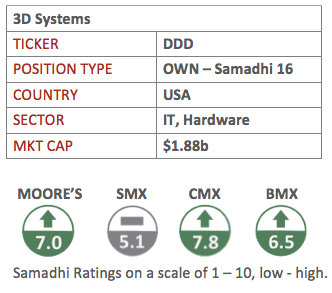 Disclosure: I am/we are long DDD.
I wrote this article myself, and it expresses my own opinions. I am not receiving compensation for it. I have no business relationship with any company whose stock is mentioned in this article.
Additional disclosure: This information is intended as an informational newsletter only. No investment advice is offered. Samadhi Partners, a provider of equity research services and newsletters, is a commonly-controlled affiliate of Samadhi Capital Partners that offers a long/short and long-only strategy. Samadhi and/or its affiliates may have positions in stocks mentioned and/or traded in these names as of today.