The Western Asset Mortgage Defined Opportunity Fund (NYSE:DMO) has caught the eyes of some CEF investors because of its high distribution rate, a special distribution equivalent to its regular one and an increase in its regular distribution in 2016.
As we see it, DMO has a number of red flags which overall does not make it a compelling investing opportunity. These are:
The fund is under-earning its distribution, putting its share price at risk. The latest financial position document of the fund shows that relative to the regular distribution, it is earning 30% less. Actual NII yield of the fund is a more middling 8.1% (on a quarterly basis) rather than the 12% listed distribution rate.
The fund is trading at a premium while returning NII, which dilutes reinvested dividends and leaves shareholders worse off.
The fund has a yield drag of 2.4% due to its high premium and scheduled maturity of 2022.
Fundamentals
The bulk of the DMO holdings are non-agency high-yield RMBS and CMBS. Overall market risk appetite is very high with equities trading near all-time highs, credit spreads continuing to rally and the VIX index approaching all-time lows. This makes the DMO portfolio highly susceptible to price risk. Normally, unleveraged CEF investors have a benign view on share price falls because it allows them to reinvest dividends at better levels or to use capital losses elsewhere in their portfolio. In this case, however, the combination of a high premium, a scheduled liquidation date and dilution of UNII reinvestments means that investors are on the hook for capital losses they may never get back.
Technicals
DMO's price action has been fairly strong over the last few months. 3-month returns are the highest over the last three years. Historically, this suggests a moderation in the near term.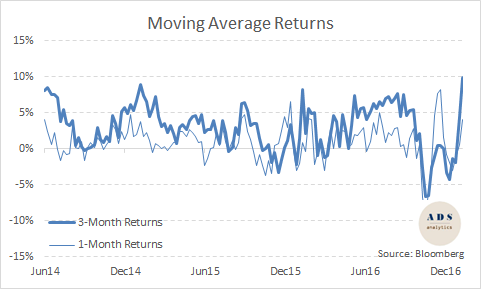 Discount
The relative gap between DMO price and NAV is close to all-time highs. The current premium of the fund is 11.7% and the 1y and 3y Z-Scores are 1.2 and 1.7, respectively. While the price action itself is similar to other mortgage and multi-sector funds, it is the NAV where the fund is lagging. Part of the drop in NAV is explained by the earnings over-distribution we mentioned above.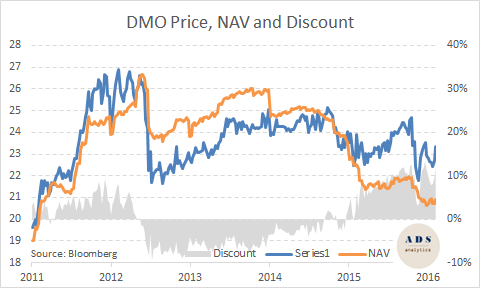 Conclusion
An 8.1% NII yield along with a 2.4% yield drag due to the amortization of the 11.7% premium to the scheduled liquidation date and the associated share price risk suggests to us that investors should look elsewhere for high-income CEFs.
On an NAV-correlation basis, the funds that behave most similar to DMO are:
PIMCO PCM Fund (NYSE:PCM)
PIMCO Dynamic Income Fund (NYSE:PDI)
Good Luck!
If you would like to receive this and other analysis, please follow us above by clicking on the Follow label next to our name.
Disclosure: I/we have no positions in any stocks mentioned, and no plans to initiate any positions within the next 72 hours.
I wrote this article myself, and it expresses my own opinions. I am not receiving compensation for it (other than from Seeking Alpha). I have no business relationship with any company whose stock is mentioned in this article.