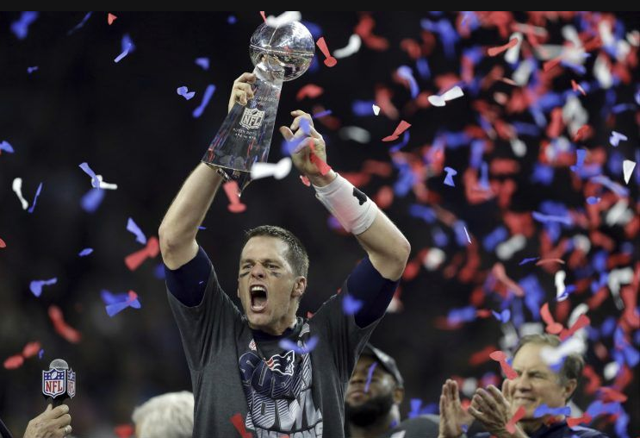 Investing Lessons From Super Bowl LI
Below we share four lessons investors can take from Super Bowl LI between the New England Patriots and the Atlanta Falcons.
1) Statistically Unlikely Events Do Happen
At one point during the fourth quarter, the Wall Street Journal's game analysis site gave the Patriots a 0.6% chance of winning the game.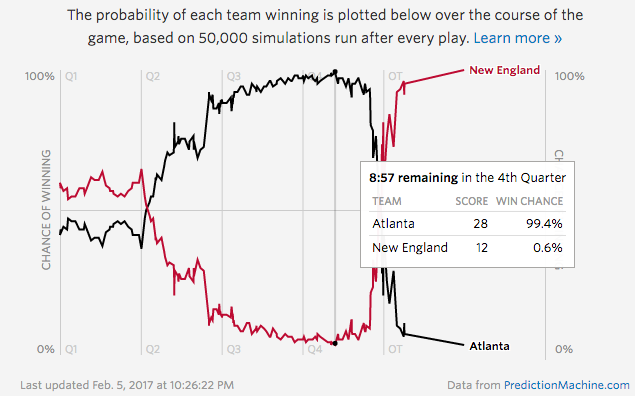 Interestingly, the Patriots' lowest odds of winning were when the score was against them 28-12 rather than when they trailed 28-3 midway through the third quarter, and were given a 6% chance of winning. Readers familiar with options will know that this was essentially time decay: the Patriots had narrowed the score with 8:57 left in the fourth quarter, but not enough (according to the models) to outweigh the time that had gone by.
Readers may recall in December we wrote about protecting against another statistically unlikely event, a greater-than-20% correction in market. In that article (Smart Money Buys Cheap Insurance), we used the Portfolio Armor iOS app to find the optimal puts on the SPDR S&P 500 ETF (NYSEARCA:SPY) to hedge a portfolio against a >20% market decline over the next six months. The odds of such a decline over any six-month period are low, though significantly higher than the odds the Patriots had of winning the Super Bowl with 8:57 left in the fourth quarter. According to Marquette Associates, only 17.7% of years include >20% declines in the S&P 500.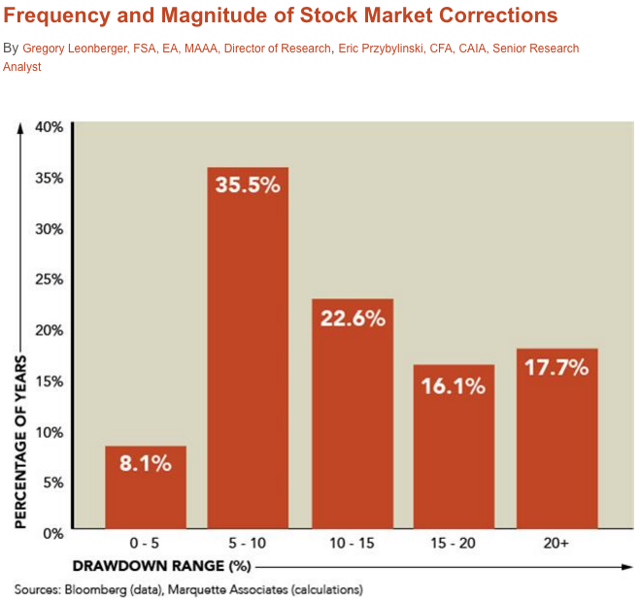 So the chance of such a correction occurring over a six-month period would be a little less than 9%. But since statistically unlikely events do happen, investors ought to consider protecting against negative ones that are beyond their risk tolerances.
2) Experts With Great Track Records Can Get Things Wrong
Due in part to the friendship between President Donald Trump and New England quarterback Tom Brady, the Patriots' come-from-behind win drew comparisons to Trump's election victory, as exemplified by this widely retweeted image: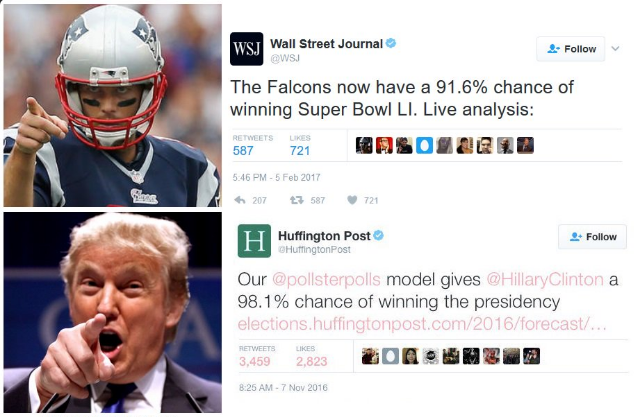 One expert whose site weighed in on both the election and the Super Bowl was Nate Silver, proprietor of FiveThirtyEight. Silver drew praise for accurately predicting the 2012 election, but he also predicted Hillary Clinton would win in November, and his site shared the slim odds of a Patriots victory when New England trailed in the second half. In response, former Seeking Alpha contributor and current portfolio manager of the AdvisorShares Focused Equity ETF (NYSEARCA:CWS) Eddy Elfenbein quipped,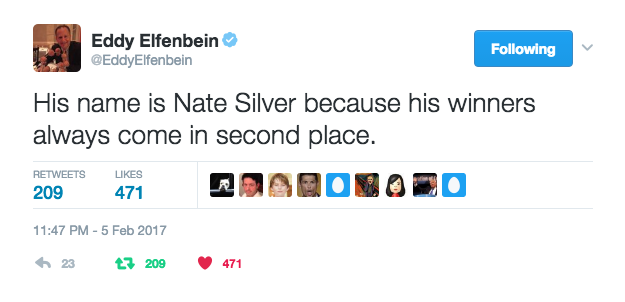 The parallels to investing here are obvious. Just as experts can get sports and politics predictions wrong, investing gurus can and do get their picks wrong. Two examples we've noted in the past (Maybe You Should Panic) are David Einhorn's investment in Sun Edison (OTCPK:SUNEQ) and Mohnish Pabrai's investment in Horsehead Holding (OTCPK:ZINCQ).
3) America's Cold Civil War Continues
We introduced John Derbyshire's "cold civil war" phrase in our article on Starbucks (NASDAQ:SBUX) last week (A Starbucks Boycott Now) to describe the cultural (and, occasionally physical) conflict between the two main American tribes, aligned now as Trump supporters and Trump opponents. Trump supporters had called for a boycott against Starbucks last week to go along with their previously announced boycotts against PepsiCo (NYSE:PEP), Kellogg (NYSE:K) and GrubHub (NYSE:GRUB), shortly after Trump opponents had called for a boycott of Uber (Private:UBER). Commercials during the Super Bowl were geared toward the sensibilities of America's Trump opponents, as Derek Thomson of The Atlantic and Jordan Weissmann of Slate noted.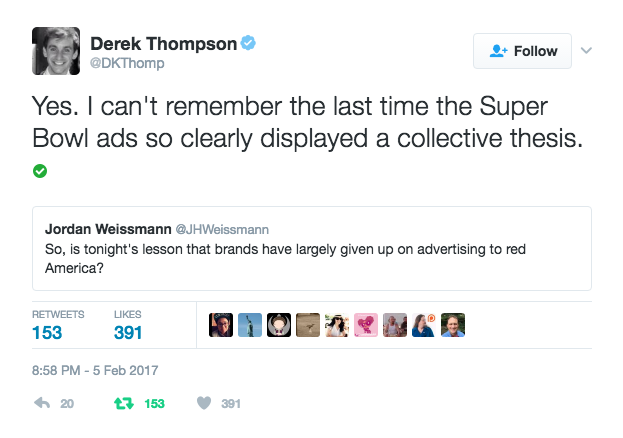 A prominent example of this was Anheuser-Busch InBev's (NYSE:BUD) pro-immigration ad. Readers who are long BUD and other consumer stocks should pay attention to this. Will brands alienate more consumers than they attract with politically-charged ads?
4) The World's Biggest Pub Fails To Cash In
Readers will note the number of tweets quoted above. As usual during live events, Twitter (NYSE:TWTR) was the virtual pub where viewers talked about the action. Last summer (Twitter Is A Potential Gold Mine), we summarized the opportunity Twitter continues to miss:
Twitter is the world's biggest pub. Imagine if it sold drinks.
It's still not selling drinks, as one pseudonymous trader put it on Sunday: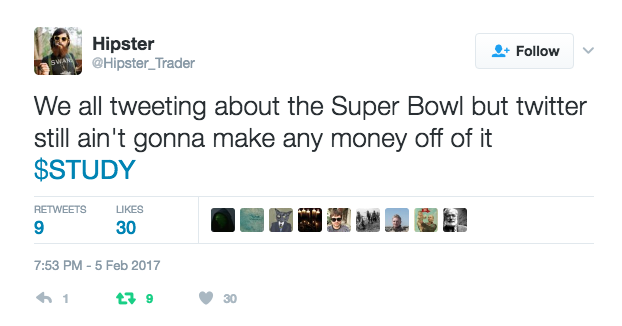 Disclosure: I/we have no positions in any stocks mentioned, and no plans to initiate any positions within the next 72 hours.
I wrote this article myself, and it expresses my own opinions. I am not receiving compensation for it (other than from Seeking Alpha). I have no business relationship with any company whose stock is mentioned in this article.