A few months back, I had a commenter who wanted to know the impact of RINs not only on Valero (NYSE:VLO), but on another large refiner Phillips 66 (NYSE:PSX) and how they might stack up to see if there's any discrepancy. After going through the necessary filings, I found that the impact of RINs on Valero was quite high, but that the impact on Phillips 66 is undisclosed. However, both of these names have seen a decline in operating income and deregulation as it relates to RINs would be an immensely positive development for these companies and their associated stocks.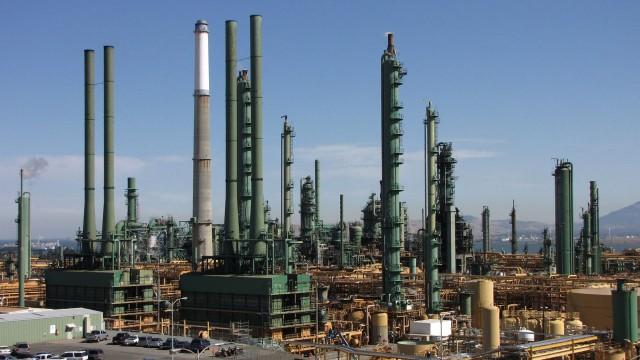 Source: KQED
2016 Full Year Expenses
Renewable Investment Credits, or RINs for short, have been increasing obligations of refineries and were escalated under the Obama Administration. They represent annual costs for major refiners of hundreds of millions of dollars and directly cut into profitability. That, in turn, reduces levels of free cash flow and, consequently, reduces the size of dividend to patient shareholders. So, indirectly, shareholders suffer at the hands of RINs.
Let's start with Valero. Per their recent SEC filing from Q4 2016 earnings, the company reported the following:
Incurred $217 million of costs to meet biofuel blending obligations in the fourth quarter and $749 million in the year, primarily from the purchase of Renewable Identification Numbers (RINs) in the U.S.
$749 million in annual RIN expenses was one of the direct causes of lower operating income last year and Valero themselves even said it in that filing. Let's provide some perspective:
Biofuel blending costs were $217 million in the fourth quarter of 2016, which was $60 million higher than the fourth quarter of 2015, and $749 million for 2016, which was $309 million higher than 2015. The higher costs were due primarily to higher RINs prices.
Interesting. So, the obligation went up 38% YOY and on the full year, the obligation was 242% higher. The justification? There is none. This is a non-transparent market that is not controlled by normal market forces and, thus, refiners can't gain an edge on the costs they pay for RINs. As a percentage of operating income, RINs accounted for 21%. That's an incredibly high amount especially when you consider that Valero's operating income YOY declined from $6.36 billion in 2015 to just $3.572 billion in 2016. Now, there's obviously other factors at work in the fundamental environment that have led to a decline in operating income, but RINs have a substantial impact nonetheless.
Moving forward to Phillips 66, there hasn't yet been data released on this company's renewable obligation. I tried to go back to last year's 10-K and all that PSX had on RINs was that in the event of fraudulent RINs, the company could be on the hook for $150 million in pre-tax liabilities. However, we have little way of knowing until the next annual report comes out what the new potential liability is. Additionally, there really isn't data as it pertains to PSX in terms of the burden that RINs have on the company's income.
Thus, considering that Valero is a core peer of Phillips 66, we can project that if Valero has a burden of 21% due to RINs on operating income, then Phillips 66 has a 2016 expense in this category of $214.2 million. From 2015 to 2016, operating income for Phillips 66 declined from $4.15 billion to $1.02 billion. Again, there are a variety of fundamental factors at work, but RINs are clearly having an impact on refiners that is highly negative.
What Is The Outlook For RINs?
This is a crucial question to answer now that a new administration has come into office. Back in December, legendary investor Carl Icahn appeared on CNBC and talked for quite a while about his position in the Trump administration, as he'll serve as an advisor, and talked about refinery regulations. Naturally, Carl Icahn has a large interest in refinery regulations because one of his core holdings is CVR Refining (NYSE:CVRR). That's a heavily volatile stock that has suffered heavily to generate sustainable earnings because of heavy regulations on the industry. The answer is that yes Icahn would benefit if he can rollback the EPA's burden on refiners, but the industry at large will benefit and that's the primary goal.
Carl Icahn's appointment has actually created an interesting effect whereby RINs have been declining dramatically over the last two months. Thus, imagine what could happen should Icahn actually be able to roll back the regulation. Right now, this development in the RIN market is highly positive for major refiners VLO and PSX, but we'll need to see actual legislation be brought forth that deregulates the industry in order to these refiners to see boosts to their financials in future quarters.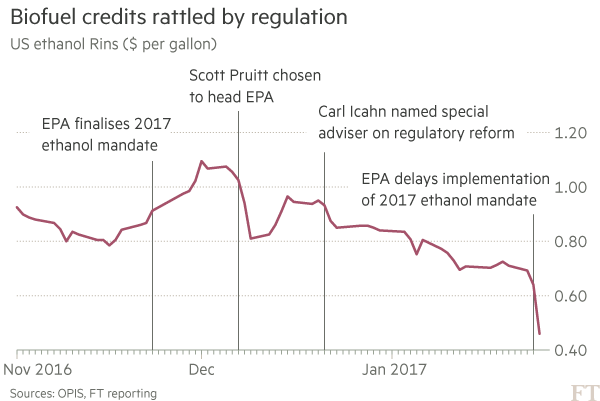 Source: Financial Times
Conclusion
The implication is simple: should RINs become less of a burden and that deregulation is made, these two stocks, as well as a basket of refiners, will see a material tick up. Valero and Phillips 66 have both seen up and down trading over the last twelve months, with the most recent streak for both being about a two month decline. This would turn the tide and attract shareholders to significantly more positive long-term fundamentals. As of now, the RINs represent far too heavy of a burden than what is likely necessary.
Disclosure: I/we have no positions in any stocks mentioned, and no plans to initiate any positions within the next 72 hours.
I wrote this article myself, and it expresses my own opinions. I am not receiving compensation for it (other than from Seeking Alpha). I have no business relationship with any company whose stock is mentioned in this article.