After briefly considering the big cuts to four of PIMCO's nine tax-free, municipal-bond CEFs ( PIMCO Distribution Cuts: The Muni Bond CEFs) late last week, I started to look more closely at them. Perhaps, I thought, one of the funds that was cut is going to be presenting an opportunity. What ended up attracting my notice was one of the funds that wasn't cut and, to a lesser extent, one that was.
Here's the full lineup that I'll be drawing from:
PIMCO California Municipal Income Fund II (NYSE:PCK)
PIMCO California Municipal Income Fund (NYSE:PCQ)
PIMCO Municipal Income Fund (NYSE:PMF)
PIMCO Municipal Income Fund II (NYSE:PML)
PIMCO Municipal Income Fund III (NYSE:PMX)
PIMCO New York Municipal Income Fund (NYSE:PNF)
PIMCO New York Municipal Income Fund II (NYSE:PNI)
PIMCO New York Municipal Income Fund III (NYSE:PYN)
PIMCO California Municipal Income Fund III (NYSE:PZC)
Here is their current status with regard to discount/premium (or, I should say, premium as none is discounted) and forward yields at market and NAV. Note that six of the nine are state municipal-bond funds. which provide income exempt from both federal and state taxes and typically have lower yields.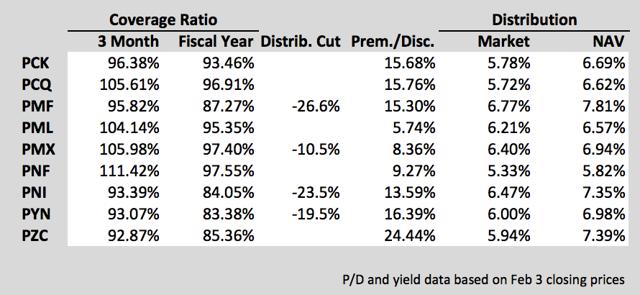 Let's rank these weighting equally coverage ratios for each time period, premium (inverse), and NAV yield. I did not include market yield because it is a function of NAV yield and premium, so including it would double-weight each of those without adding any new information.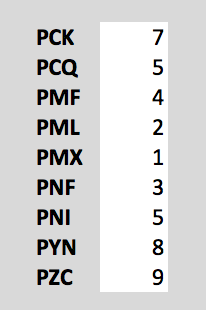 The top two here, PMX and PML, look like they should merit consideration.
Premiums
Both have a premium, but that is the cost of entry to PIMCO's CEFs these days. Of all 20 PIMCO CEFs, only two of the taxable funds, Dynamic Credit & Mortgage Income (NYSE:PCI) and Income Strategy (NYSE:PFL) have any discount at all. At -3.9% and -1.25, respectively, even these discounts are relatively minor. If you are completely averse to paying a premium, PIMCO is clearly not your CEF shop. But PIMCO does arguably provide value for those premiums. For the muni funds, the distributions are at the top end of the category. Issues arise when those premiums start to reach unsustainably high levels.
It's worth noting that each of the funds whose distributions were cut last week had a lofty premium. And each saw a loss of premium points as shareholders sold off in response to the cuts. PMX, which was the least affected by the cuts in terms of market reaction, saw its premium go from 10.2% to 8.4%. That is the second lowest in the set. PML, you'll note, has the lowest premium here. Its current 5.7% is down from 6.2% prior to the cuts.
Distributions
Market distribution is the primary driver of those premiums. There is a close correlation between premium and NAV yield.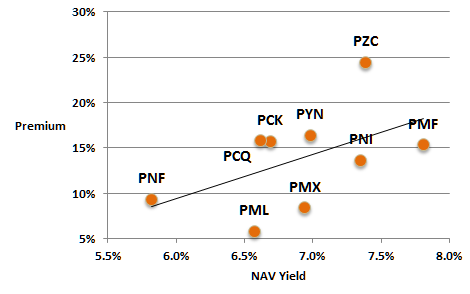 Charts like this one tell us that premiums and discounts are highly sensitive to yield. Another aspect of a plot of premium/discount vs NAV yield is that funds that chart under the trend line tend to be better valued with regard to their premium/discount status. I've written about this frequently, and it is a relationship I look for when evaluating funds in a category. It can be useful in sorting through a large group of funds, but it alone is not, of course, a signal for action. It's a marker to help find well-priced funds, one that I consider to be a good one. If we accept that PIMCO muni-bond funds earn their premiums and we also accept the premise that funds below the trend line tend to be well-valued among the set under consideration, PML and PMX are the two standouts here.
UNII
Yet another factor to consider is UNII, undistributed net investment income. We are fortunate in dealing with PIMCO because PIMCO regularly updates its UNII statistics for all of its CEFs. UNII can be an ambiguous metric that is often hard to evaluate. PIMCO's transparency helps cut through some of that ambiguity although I prefer to use the distribution coverage stats, which PIMCO also publishes monthly.
In this table I show UNII for each fund for the fiscal year to date through Dec 31, 2016. Each of the funds has a fiscal year that runs through Dec 31 except PCM which runs through June 30. I've listed UNII, Monthly Distribution (for the December 2016 distribution, remember four of these have been cut since) from Pimco. I've added UNII expressed as the number of months' distributions it represents. I find this last metric a useful way to compare UNII among funds.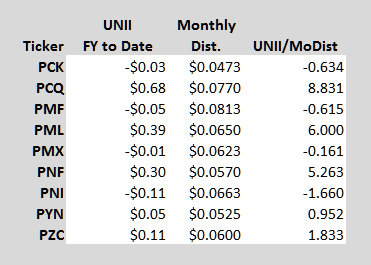 PML, which finished the year with six months' worth of distributions in the kitty, ranks second-best on this metric. PMX does much less well although a sixth of a month is hardly an alarming level of UNII, especially when these data cover a difficult period for municipal bonds. It's interesting that one of the California state municipal-bond fund, PCQ, has the highest UNII, and the worst of the three, PZC, finished the year well into positive territory. This may help to explain why the California funds did not have their distributions cut despite their sketchy coverage ratios.
Portfolios
I'd like to compare some portfolio metrics for the national muni funds, PMF, PML and PMX. My usual source for this data is Morningstar, but its information for PMF, which it considers to be a five-star fund, is incomplete. Furthermore, the sort of data Morningstar presents gives us an incomplete picture. A large part of the reason PIMCO is able to produce yields at the highest end of the muni-bond fund category involves complex manipulations of its portfolios using swaps, derivatives and various hedging methodologies. Readers looking for more details on portfolios will want to go directly to PIMCO's reports.

The take-home messages here: Credit quality is good but not outstanding. Durations are long but not as long as some other CEFs that generate less income yield than the PIMCO funds. And leverage is high. The last point is typical of PIMCO funds across the board. Anyone who chooses to invest with PIMCO CEFs has to accept that the PIMCO shop handles leverage well. Those who are uncomfortable with leverage, especially leverage on the high end of the range, will want to look elsewhere.
Recent Performance
These charts from Morningstar show price and NAV (green line) for the three national muni funds. Along with the entire municipal bond class, all three showed sharp declines in NAV in the last quarter of 2016 and some modest recovery since.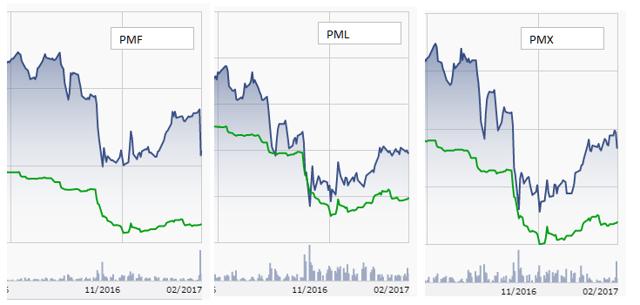 This table covers NAV and price returns for the past week and month. I've highlighted the national funds. We can see the toll the distribution cuts have taken on the market prices of the funds that were cut. PML also lost market value this week even though it was not one that was cut. We also see that NAVs have been moving up with the category's recovery and, for the funds unaffected by the cuts, market prices have outpaced those NAV gains. PMF stands out to me as showing the least positive NAV response in the past month.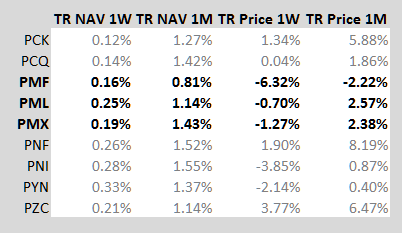 Summary
If there is an opportunity among these funds, I think it is in PML, one that was not cut. It is paying an attractive yield at 6.21%. There is a premium, but as we discussed a premium is the price of admission to PIMCO muni-bond funds today. And PML's premium is the lowest in the set. These two metrics taken together put the fund in the most attractive slot in the NAV yield vs Premium chart.
The fund covered its distribution well for the recently completed fiscal year and I'm inclined to overlook the shortfall over the last three months of 2016 as that was a difficult period for muni bonds. I'm less inclined to overlook its modest NAV gain over the last month.
I'd consider PMX as well, although if I were going to pursue the fund, I would probably wait at least a few more days to let the ripples from its distribution cut settle down. I suspect all of the cut funds still have some market price to give up.
I would avoid PMF. It shows nothing appealing in any of its metrics here relative to either of its siblings, PML and PMX.
Finally, as I always do when I discuss tax-free, municipal bond funds, I'll provide for readers data on tax-equivalent yields across a range of federal marginal tax rates. Published data nearly always lists tax-equivalent returns using the highest marginal rates. Few of us occupy those rarefied atmospheres, so I like to put it in perspective for the rest of us.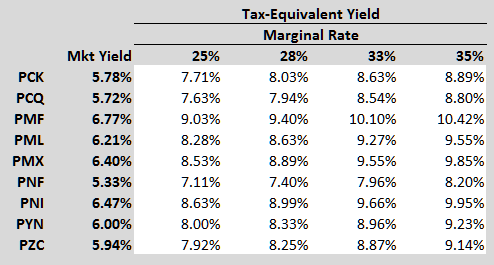 As you can see, these funds provide some exceptional yields when taxes are taken into consideration. The distributions are 100% AMT-free, unlike many other high-yielding muni-bond CEFs. And, for the NY and California funds, you can factor in their exemptions from state taxes as well.
Disclosure: I/we have no positions in any stocks mentioned, but may initiate a long position in PML over the next 72 hours.
I wrote this article myself, and it expresses my own opinions. I am not receiving compensation for it (other than from Seeking Alpha). I have no business relationship with any company whose stock is mentioned in this article.