Personal Income and Spending
Personal income rose 0.3% in December, led by growth in wages and salaries, yet real (inflation adjusted) after-tax income rose by just 0.1%. Consumer spending, otherwise known as personal consumption expenditures, rose 0.5%. On an inflation-adjusted basis, real consumer spending increased 0.3%, which was again led by auto sales. Because spending rose at a faster rate than income, the savings rate declined from 5.6% to 5.4%. Was the decline in saving due to confidence about the future or out of necessity? It was probably a combination of the two, as consumers are expecting tax cuts to improve their economic prospects moving forward.
The core PCE (personal consumption expenditures) price index, which is the Fed's preferred measurement of inflation, increased from 1.6% to 1.7% in December on a year-over-year basis, while the overall index rose from 1.4% to 1.6%, further eroding real income growth.
Construction Spending
The construction spending report includes the total value of all new construction activity for residential, non-residential and public projects. Overall, construction spending declined 0.2% in December. The year-over-year rate of growth is 4.2%. The construction of single-family and multi-family homes rose, but public construction fell sharply. The supply of new homes remains tight, but the growth rate in new home sales has started to wane, as mortgage rates have risen. Expectations are that a nationwide infrastructure spending program will lift activity, but this is probably a 2018 event, if it happens at all.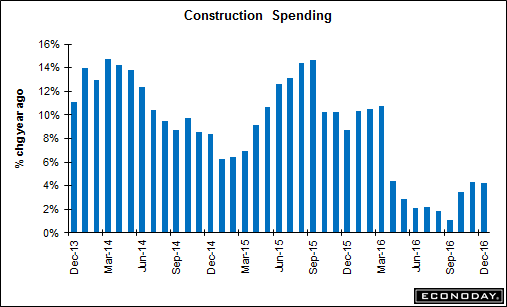 ISM and PMI Manufacturing Index
The Institute for Supply Management's manufacturing index rose to 56.0 in January from 54.5 in December, which was the strongest reading since November 2014, and the fifth consecutive month of expansion for the sector (readings above 50). This is undoubtedly positive for the US economy, but it is important to remember that this is a survey about sentiment as much as it is about actual business activity. Purchasing managers are asked whether things are improving, or not, with respect to new orders, production, employment, inventories and deliveries. It is not a survey about specific levels of activity. Therefore, it is impossible to equate a level in the index with a rate of economic growth in the economy or for the sector.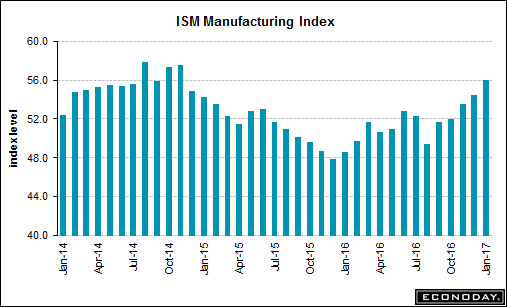 Markit's PMI Manufacturing index rose from 54.3% to 55% in January, showing strength similar to that of the ISM report. This strength was broad-based, with the exception of export orders, due to a strong dollar. The only concern is that it appears inventories are being built in expectation of an increase in orders later this year. What if these orders don't materialize? This will result in a rise in input costs without a corresponding increase in selling prices.
ISM and PMI Services Index
The Institute for Supply Management's service-sector survey, which represents a much larger percentage of overall economic activity, declined modestly to 56.5% in January from December's reading, which was revised down to 56.6% from 57.2%. While new orders and business activity remain robust, backlogs are not seeing the same strength, which stems our enthusiasm. Additionally, export orders are now in contraction territory. This index indicates a continued level of modest growth for the service sector.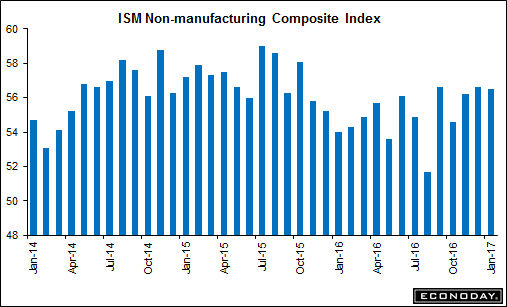 Markit's PMI Services index rebounded to 55.6 in January from 53.9 in December. Business activity picked up, as confidence in the outlook improved dramatically, with new orders on the rise. Again, this survey shows a continued modest level of growth for the service sector.
Factory Orders
Factory orders measure the change in dollar value for both durable and non-durable goods orders. This report updates the most recent durable-goods report with more information. Orders rose 1.3% in December, but the rise in energy prices led to a spike in nondurable orders, while durables declined, due to a drop in orders for defense aircraft.
Business investment, as measured by new orders for nondefense capital goods excluding aircraft, rose 0.7% in December, which marks three consecutive monthly increases. This is good news, as capital expenditures have been the missing link in this expansion cycle.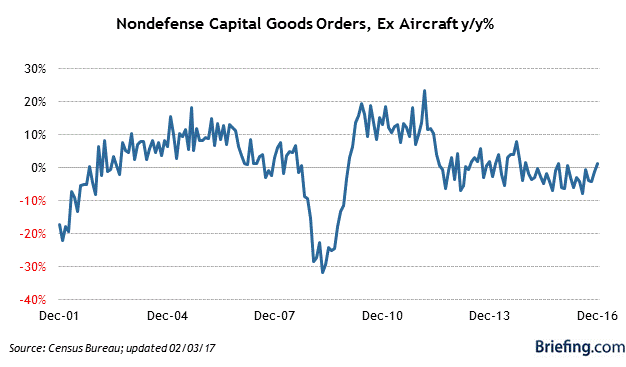 Conclusion
It appears that the lift in economic indicators we are seeing at the start of the new year has more to do with an improvement in sentiment than an improvement in end demand. We know that consumer and business confidence has strengthened, which is probably why we saw a notable increase in inventories as the year ended, but we need to see a subsequent increase in consumer spending for the rate of economic growth to ramp up.
The issue here is that real wage growth is now declining, and we should see a further deterioration in January when the upcoming Consumer Price Index report is released on February 15. Financial conditions have tightened at the same time as the recent rise in borrowing costs. The key variables in the equation are proposed tax cuts and healthcare legislation. I think how these are structured will determine whether or not the rate of growth reaccelerates or decelerates at a faster pace.
Disclosure: I/we have no positions in any stocks mentioned, and no plans to initiate any positions within the next 72 hours.
I wrote this article myself, and it expresses my own opinions. I am not receiving compensation for it (other than from Seeking Alpha). I have no business relationship with any company whose stock is mentioned in this article.