AbbVie (NYSE:ABBV) released its fourth-quarter and full-year 2016 operational results on January 27, 2016. Investors were left disappointed as the company failed to reach analyst estimated quarterly revenue numbers. This was due to unanticipated impact of foreign exchange fluctuations and lower-than-projected revenues from the hepatitis C or HCV franchise.
AbbVie has managed to earn revenues worth $25.6 billion in 2016, which is 13.3% higher than that earned in the previous year on an operational basis. Adjusted EPS was reported by the company to be $4.82, higher by 12% than that earned in 2015.
Compared to 2015, AbbVie suffered a hit of 150 basis points in its full-year 2016 adjusted gross margin due to unfavorable foreign currency fluctuations. Further, 50 basis points of the gross margin were lost as negative impact of partnership accounting. Research and development, or R&D, expenses also swooped up in 2016, as AbbVie had to make investments in risankizumab development efforts and research programs acquired from Stemcentrx.
So despite things having been difficult for AbbVie in 2016, why do I think that it is a buy in 2017? The reason is simple. AbbVie's key drugs, Humira and Imbruvica, continued to demonstrate solid performance in 2016. There are multiple promising investigational drugs in the company's pipeline. Further, since valuation of a biotechnology company is dependent mainly on its existing portfolio and research pipeline, AbbVie continues to be an attractive investment option. And while R&D expenses and partnership accounting negatively affected the profit margins in 2016, these expenses are expected to contribute to the future growth story of the company. So with that primer, I will dive into the top reasons why I believe AbbVie is a good investment option in 2017.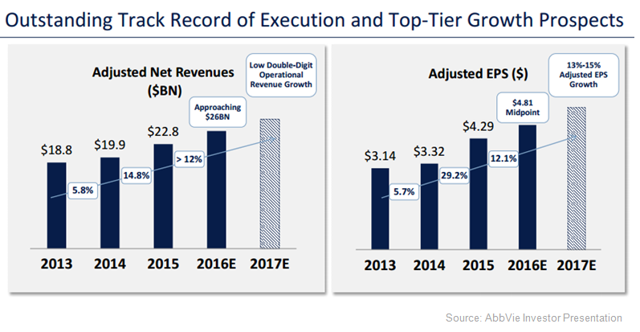 AbbVie is confident of reaching 50% operating margin by year 2020
In October 2015, AbbVie projected to increase its operating margin to greater than 50% by year 2020, which required the company to demonstrate an annual rise of 100-200 basis points in operating margins. Though it has fallen short of the required performance in 2017, the company remains confident in its ability to reach its long-term margin target. The increased annualization expenses related to Stemcentrx and Boehringer Ingelheim in 2016 affected operating margins by 120 basis points. Inclusive of the impact of these expenses, AbbVie projects 2017 operating margins to be around 43%.
AbbVie expects to benefit from the rolling off of the royalty stack related to Humira in 2018 and 2019. So that will help the company retain about 5% to 6% of Humira's total revenues. One-third of these royalties will expire at end of 2017, which will accrue as benefits in 2018. The remaining two-third will be expiring at end of 2018, which will be reflected in 2019 profit margins.
Together with Humira, AbbVie expects to expand the label for Imbruvica and Venclexta across multiple indications in the next four years. These positive developments will be coupled with ongoing improvements in the supply chain. Hence, despite projecting negative impact of around 200 basis points till year 2020 due to partnership accounting, AbbVie is confident of meeting its long-term margin targets.
The financial guidance for 2017 is indicative of the belief of the company in its growth potential. It has estimated its full-year 2017 adjusted EPS to fall in the range of $5.44 to $5.54. And a major contributor of this robust performance continues to be Humira.
Humira is still the most prescribed biologic in the world
Though Humira is facing stiff competition from other branded immunology drugs and indirect biosimilar competition in international markets, the drug managed to earn $16.1 billion in revenues. Humira's operational revenues across the world jumped year over year, or YoY, by 16%. USA continued to be the key contributor for this growth, with the drug witnessing 24% revenue growth on a YoY basis driven mainly by sales volumes, and to a smaller extent, due to changes in price. Further, the drug saw a revenue rise of 4.3% from international markets in 2016. In absence of the unfavorable impact from the Venezuelan currency fluctuations, Humira would have reported 7% YoY increase in operational sales in international markets.
Leadership across rheumatology, gastrointestinal disorder segment, and dermatology continues to get the drug closer to its 2020 revenue target of $18.0 billion. The drug has also managed to face indirect biosimilar competition in many international markets due to the high efficacy and differentiated safety profile, physician confidence due to longer association with the brand, and continued success in label expansion efforts. On June 30, 2016, Humira was approved by the U.S. Food and Drug Administration, or FDA, as the first non-corticosteroid therapy for patients suffering with non-infectious intermediate, posterior and panuveitis. The year 2016 saw the approval of the drug for the 10th indication.
But how long can patents protect Humira from generic erosion?
This is the question that has bothered investors since the start of 2016, who have consistently undervalued the company. The pressure of this patent expiration is so high that investors have chosen to ignore the 4.14% dividend yield offered by the company.
Despite losing its composition of matter patent in December 2016, AbbVie stays confident of protecting Humira from generic erosion in USA till year 2022 due to its formulation, method of use, and other related patents. Majority of analysts and investors believe that the earliest we can expect the entry of direct Humira biosimilars is October 2018. In either case, there is still some time for AbbVie to prepare for revenue erosion. But there is also a chance that investors may have over-estimated the impact on this brand due to the presence of alternative options. This is proved by how biosimilars currently marketed have managed to fare in terms of market share.
So we have the Remicade biosimilar, which is currently sold in 66 countries. Reimbursement is also been negotiated in 50 of these countries. And yet the biosimilar has managed to capture only 5% of the total immunology market share and 25% of Revlimid's share despite being present in international markets since late 2013.
While the Enbrel biosimilar has been in the market only for few months, it is already approved in 34 countries. It has also managed to secure reimbursement in 19 of these markets. But again, the market share numbers have not matched the hype. Till date, the biosimilar has managed to capture only 3% of the global immunology market share and only 14% to 15% of Enbrel's market share.
So while we cannot rule out the possibility of a direct biosimilar competition gravely affecting Humira's sales, the trends till date hint at lower level of generic erosion. The reason may lie in the distribution channel opted for biologics as compared to small molecule drugs. While small molecule therapies are marketed through retail pharmacies, biologics are sold only through specialty pharmacies. So biologics are dispensed based on their formulary position and are not easily interchangeable.
So what does the FDA guidance say about biosimilar interchangeability?
On January 12, 2017, the FDA issued draft guidance for defining what products can be interchanged with the original reference biologic under the Biologics Price Competition and Innovation Act of 2009, or BPCIA. While four new biosimilars have been approved in USA till date, none of them can be used as an interchangeable drug for the original biologic.
So the draft guidance states that the biosimilar manufacturer will have to conduct three switching studies comparing the drug with the reference product before the former is approved as an interchangeable. The guidance also insists on using U.S. reference product as a comparator.
Being a much higher standard than biosimilarity, it will prove difficult for manufacturers to develop interchangeable products. AbbVie is also not aware of any other company developing an interchangeable version for Humira.
But that does not mean that we can ignore competition from biosimilars altogether.
Now the question arises whether Humira's patent estate is capable of protecting the drug's revenue streams?
Humira is currently being protected by a patent estate comprising of 110 patents. On August 04, 2016, AbbVie sued Amgen (NASDAQ:AMGN) over infringing 10 of Humira's patents in its application seeking approval for biosimilar Amjevita. Amjevita was approved by the FDA for seven indications on September 23, 2016. AbbVie also believes that 51 more patents may also have been infringed. However, the company cannot contest these patents in the first round of litigation as the BPCIA law has given the right to decide the number of patents to be initially litigated to biosimilar applicants. AbbVie will however assert its remaining 51 patents when Amgen will initiate its 180-day notice of commercial marketing. So there is no escaping for Amgen from dealing with all of Humira's patents. This litigation can delay the launch of Amjevita to 2019.
AbbVie has also witnessed two wins in inter partes review related to the invalidity of patents covering broad formulations of Humira. So in January 2016, the U.S. Patent and Trademark Office's Patent Trial and Appeal Board had declined to review Amgen's application challenging Humira's patents. Further, in November 2016, the Patent Office also rejected Coherus Biosciences' (NASDAQ:CHRS) application for inter partes review of certain Humira patents related to its rheumatoid arthritis, or RA, indication.
Despite the wins, the future is far from simple for AbbVie. There are two more upcoming inter partes review challenging some method-of-use patents for Humira in the RA space. Since January 16, 2017, AbbVie is also fighting a case with Samsung Bioepis and Biogen (NASDAQ:BIIB) in the UK High Court of Justice. AbbVie's patent strategy of filing overlapping method-of-use patents to prevent biosimilar entry after Humira's main patents expire in Europe in 2018 is being challenged in this case.
In November 2016, ABBV had also attempted to settle with the biosimilar companies while it agreed to abandon the contentious patents. However, Biogen and Samsung Bioepis have continued with the trial as they claim that it is AbbVie's strategy to extend the litigation as long as it can manage. Then, just before court scrutiny, AbbVie drops its rights to the patents and files new patents in their place. This strategy helps fend off biosimilar entry due to high market uncertainty.
While the final results from thee litigations are yet not out, it is clear that AbbVie is committed to protecting Humira's revenues in future years. Hence, in totality, investors can conclude that the Humira revenue erosion will definitely be not as dramatic as they have seen in case of other small molecule drugs.
What about competition to Humira from other branded drugs?
Humira has always managed to stand tall despite facing competition from drugs with 10 different mechanism of actions for the last five years. Today, the competition has further intensified, and there are 14 different mechanism of actions dealing with various immunological diseases. And yet, Humira continues to be a preferred regimen due to its high performance, its utility across multiple indications, and high efficacy and safety profile. Humira has also continued to report solid revenue growth as it has effectively penetrated those segments with robust demand trends.
AbbVie has already negotiated with managed care organizations, securing majority of Humira's revenues for 2017 and even 2018. In 2016, the drug also saw a rise in rheumatology market share by around 50 basis points as compared to previous year while market share in dermatology and gastrointestinal disease segment has remained almost stable.
Humira's performance as a first-line therapy in multiple immunology indications has been exceptional. In the rheumatology segment, the drug accounts for 40% of the first-line market while in psoriasis, it has again captured 40% market share. The share in psoriasis segment is inclusive of share held by Celgene's (NASDAQ:CELG) Otezla. If we ignore Otezla, which is mostly used in mild-to-moderate psoriasis patients as a pre-biologic, Humira's share is as large as 60% in first-line psoriasis segment. Humira also accounts for 55% market share in the gastrointestinal disease segment, which mainly involves Crohn's disease and ulcerative colitis patients. If you want to know more about Humira, you can read Why Is AbbVie A Strong Buy In 2016? Part 1
This performance should be definitely considered while thinking of AbbVie as an investment option. Further, while investors tend to equate AbbVie with Humira, there are many other exciting things happening with the company.
I will discuss some of the other reasons supporting my preference for AbbVie in the next article of this series.
Disclosure: I/we have no positions in any stocks mentioned, and no plans to initiate any positions within the next 72 hours.
I wrote this article myself, and it expresses my own opinions. I am not receiving compensation for it (other than from Seeking Alpha). I have no business relationship with any company whose stock is mentioned in this article.