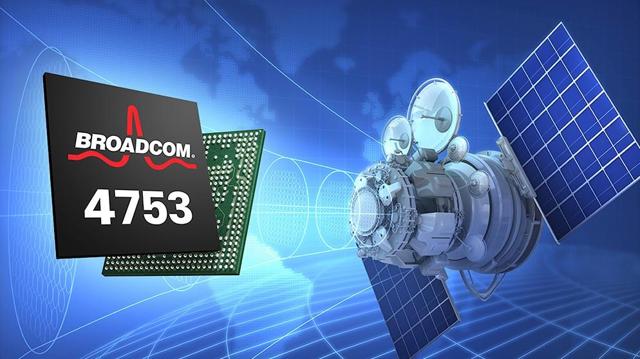 While Apple (NASDAQ:AAPL) has long been a favorite among growth investors, in recent years it's proven itself a very impressive dividend growth investment as well. That's courtesy of management's dedication to the largest cash return program in history.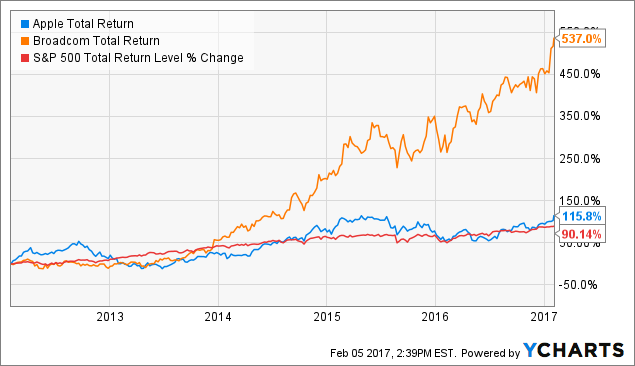 AAPL Total Return Price data by YCharts
However, since the passing of Steve Jobs, while Apple has managed to beat the market, its overall performance has failed to keep up with faster growing tech companies, including Broadcom (NASDAQ:AVGO), one of its major chip suppliers.
Let's take a closer look at both companies' dividend growth prospects to see just why Broadcom represents the better, if slightly riskier, long-term investment opportunity.
Apple: The World's Greatest Free Cash Flow Machine But With Slowing Growth Prospects
| | | | |
| --- | --- | --- | --- |
| Metric | Q1 2016 | Q1 2017 | YoY Increase |
| Revenue | $75.872 billion | $78.351 billion | 3.3% |
| Net Income | $18.361 billion | $17.891 billion | -2.6% |
| Shares Outstanding | 5.594 billion | 5.328 billion | -4.8% |
| EPS | $3.28 | $3.36 | 2.4% |
| Dividend | $0.52 | $0.57 | 9.6% |
| EPS Payout Ratio | 15.9% | 17.0% | 7.0% |
As you can see, while Wall Street took Apple's latest results as a reason to rally strongly, the actual results themselves aren't all that great.
Sales in Apple's holiday quarter rose, however, EPS growth was weak and purely a result of its epic rate of share buybacks.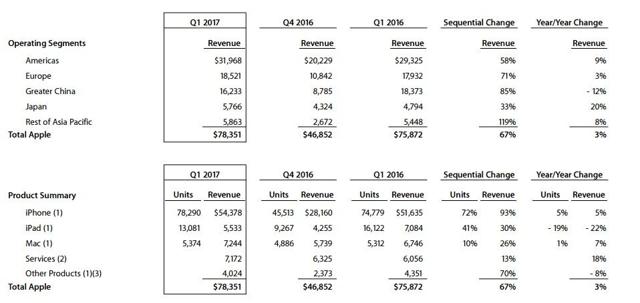 Source: Apple earnings supplement.
And while sales in four out of five regions rose, and it recorded decent growth in iPhone and Mac revenue, iPad sales continue to decline. Worse yet, China, once the supposed growth crown jewel of Apple's empire, continues to disappoint thanks to falling iPhone market share in the face of ferocious low cost competition from Chinese phone makers like Huawei. However, in fairness to Apple 4%, or 33%, of China's revenue decline was due to the strong dollar.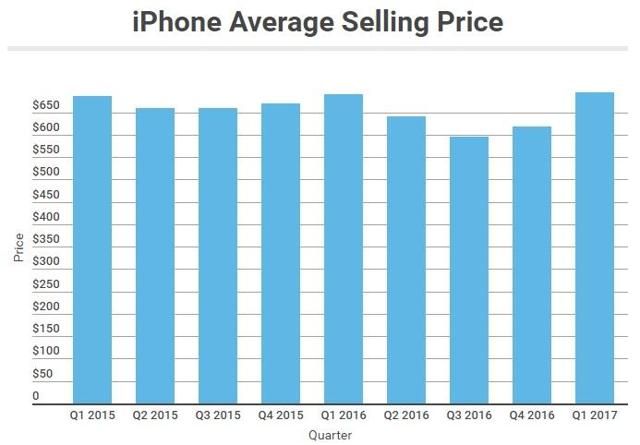 Source: Motley Fool
On the plus side, the iPhone, which represented 69% of sales in this quarter, actually saw its average selling price, or ASP, rise to record levels. That was due to a higher number of consumers choosing the higher end iPhone 7 Plus. Once again showing that Apple's premium brand is able to command prices that put other phone makers to shame.
However, in terms of operating margins those were hurt by higher R&D spending (a good thing), but most of all the continued negative currency effects of a strong dollar, which is up 25% since 2014.
On the other hand, dividend lovers will be pleased to see that Apple's payout ratio remains extremely low, which means that it should be able to continue hiking its payout at around 10% annually for the foreseeable future.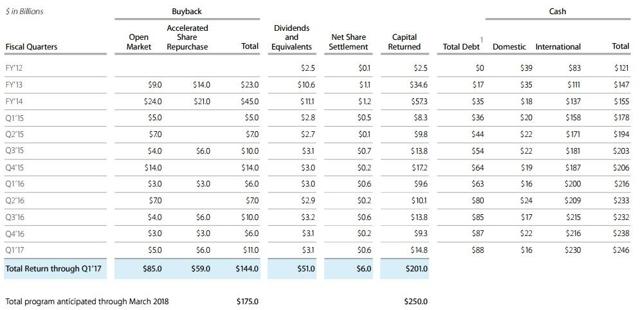 That's part of Apple's ongoing epic capital return program, which saw $15 billion in buybacks and dividends this quarter and has now surpassed $200 billion since it began back in 2013.
Further good news came from the company's services division which was the growth leader this quarter, with sales soaring 18% year-over-year to over $7.2 billion. That means in the next quarter or two, services, Apple's means of monetizing its sticky iOS ecosystem and massive installed base of iPhones and iPads, will likely become the company's second largest business unit.
And in the long-term services remains a big piece of the company's investment thesis. That's because, according to CFO Luca Maestri, the gross margins on services is higher than the company average. And with Apple planning to double its service revenues by 2020, that kind of highly profitable and recurring revenue should help to ensure slow but steady growth in sales, earnings and most importantly, free cash flow or FCF.
The key will be to continue improving the overall iOS customer experience to make sure that the Apple faithful remain content to live in the company's wall garden ecosystem.
On that front Apple is planning to upgrade Siri, to include deep learning and neural network algorithms to better improve its ability to understand human speech, become more useful, and continue to improve customer privacy and security.
In addition, to help offset weakness in China, Apple is planning on making a stronger push into India, which is expected to one day become the world's largest smartphone market. Specifically, the company is in the final stages of setting up factories in India to assemble iPhones. That's to get around laws that require at least 30% of phone components to be made in the country in order to allow Apple to open its first stores in the subcontinent.
Broadcom: A Far Better Growth Story
| | | | |
| --- | --- | --- | --- |
| Metric | 2015 | 2016 | YoY Change |
| Revenue | $6.824 billion | $13.24 billion | 94.0% |
| Adjusted Net Income | $2.926 billion | $5.32 billion | 81.8% |
| Adjusted EPS | $8.98 | $11.45 | 27.5% |
| Forward Annual Dividend | $1.76 | $4.08 | 131.8% |
| Adjusted EPS Payout Ratio | 19.6% | 35.6% | 81.8% |
Broadcom managed to generate sensational growth in 2016 thanks mainly to its merger with Avago. More importantly management rewarded dividend lovers with a truly epic payout hike, yet one that continues to be very well covered by adjusted earnings (earnings adjusted for merger costs) and cash flow.
And keep in mind that while the above payout ratio may appear to be much higher, that's the payout ratio on a forward basis. That means forward dividend divided by 2016's result. In other words, it doesn't take into account the strong growth Broadcom is likely to experience in 2017, especially after its $5.9 billion acquisition of Brocade Communications Systems (NASDAQ:BRCD) closes.
| | | | | |
| --- | --- | --- | --- | --- |
| Company | TTM Sales | TTM Adjusted Net Income | TTM FCF | Growth |
| Broadcom | $13.24 billion | $4.672 billion | $2.688 billion | 10.8% in Sales |
| Brocade (post divestitures) | $1.431 billion | $148 million | $203million | 3.2% in Adjusted Net Income |
| Broadcom + Brocade | $15.586 billion | $4.82 billion | $2.891 billion | 7.6% in FCF |
And speaking of the Brocade acquisition, while management is planning on divesting Brocade's IP Networking business, even accounting for that lost revenue the deal remains nicely accretive to sales and free cash flow. That's especially true given that this is an all cash deal, meaning no additional dilution.


Source: Broadcom/Brocade acquisition presentation.
Meanwhile the acquisition will further diversify Broadcom's business, making it better able to profit from the booming growth in cloud storage and less vulnerable to slowing smartphone sales.
That's important because currently 40% of the company's revenues are derived from smartphones (over 20% from Apple) mostly for its film bulk acoustic resonator, or FBAR chips. These are radio frequency filters that allow 4G LTE data access.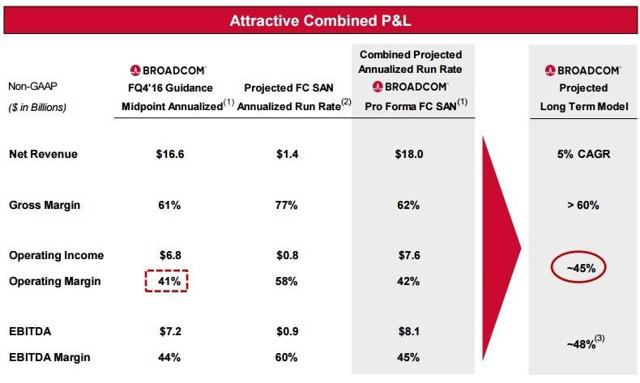 Better yet, thanks to the synergistic cost savings management thinks it can squeeze out, the Brocade acquisition is expected to help Broadcom achieve its long-term growth target of 5% organic growth and fantastic gross, operating and EBITDA margins.
Meanwhile the company's long-term growth runway appears decades long thanks to its strong presence in some of the hottest tech trends, including wireless data, IoT and cloud computing.
To give you a sense of the kind of coming market demand that Broadcom could be facing, research firm IDC estimates that between 2014 and 2020 data files will increase by 150 fold, or 131% CAGR.
Profitability: Excellent Management Teams Delivering Great Results
| | | | | | | |
| --- | --- | --- | --- | --- | --- | --- |
| Company | Operating Margin | Net Margin | FCF Margin | Return On Assets | Return On Equity | Return On Invested Capital |
| Apple | 27.2% | 20.7% | 24.1% | 14.5% | 34.7% | 21.1% |
| Broadcom | -3.1% | -13.1%/35.1% | 20.3% | -5.7%/9.4% | -14.7%/24.7% | -6.4%/15.4% |
| Industry Average | 19.2% | 14.3% | NA | 7.8% | 13.6% | NA |
A major factor in a successful dividend investment is strong profitability, especially in terms of FCF margin, because FCF is what ultimately secures and grows the dividend.
As you can see while both companies are extremely profitable, (adjusting for the one time charges associated with the Broadcom/Avago merger), Apple has the slight edge in terms of free cash flow generating ability.
Of course given that Broadcom is growing much faster than Apple its overall FCF growth rate is higher. Which means that when it comes to potentially delivering on faster dividend growth Broadcom has the edge over its largest customer.
Balance Sheet: Apple's Biggest Edge Over Broadcom
| | | | | | |
| --- | --- | --- | --- | --- | --- |
| Company | Debt/EBITDA | EBITDA/Interest | Debt/Capital | Current Ratio | S&P 500 |
| Apple | 1.19 | 42.9 | 33% | 1.23 | AA+ |
| Broadcom | 5.40 | 4.3 | 37% | 2.31 | BBB- |
| Industry Average | 1.47 | NA | 29% | 2.47 | NA |
Another very important factor to consider before investing in a company is the strength of the balance sheet. After all, if debt levels are too high then a company's financial flexibility, both in terms of capital returns as well as growth opportunities, can become limited.
And thanks to Apple's massive river of free cash flow, as well as $246 billion cash pile, it is the clear winner over Broadcom. Not just because of a much lower leverage ratio, a sky-high interest coverage ratio, and a near perfect credit rating, but also because it remains net cash positive, meaning that it can pay off all its debts at any time.
In fact, assuming that President Trump's promised 10% repatriation holiday becomes reality, I fully expect Apple to repatriate almost all of its foreign cash. After the repatriation tax that would potentially result in $207 billion becoming available bringing Apple's total domestic cash to $223 billion.
That could potentially pay off all of the company's $98 billion in debt, (Apple just sold another $10 billion in bonds) and still leave $125 billion remaining. That's enough to buy back 19.6% of the company's shares.
That in turn, would mean that Apple's FCF payout ratio would fall low enough to allow for two more years of double-digit dividend increases, even assuming no sales growth in 2017 or 2018.
Meanwhile, Broadcom's far less pretty balance sheet is, not surprisingly, a result of the fast pace of acquisitions and mergers it has been participating in over the past two years.
Investors are going to want to be very careful to make sure that management doesn't allow its debt levels to get to dangerous levels, specifically to the point where it would lose its investment grade credit rating and be forced to refinance its debts in the junk bond market.
That would cause interest costs to soar, hurting overall profitability and reducing its ability to continue its stellar dividend growth track record.
Dividend Profile: Where Broadcom's Superiority Shines
| | | | | |
| --- | --- | --- | --- | --- |
| Company | Yield | TTM FCF Payout Ratio | 10 Year Projected Dividend Growth | 10 Year Projected Total Return |
| Apple | 1.8% | 23.9% | 9.7% | 11.5% |
| Broadcom | 2.0% | 27.9% | 15.4% | 17.4% |
| S&P 500 | 2.0% | 39.5% | 5.9% | 9.1% |
Over the long term studies show that the total return of dividend growth stocks can be modeled by yield plus dividend growth. That's useful for investors to see whether or not a stock is likely to beat the market's historical 9.1% CAGR total return (if it can't it's not worth owning).
Fortunately for dividend lovers both Apple and Broadcom have very low payout ratios. That does not just mean their dividends are very secure, but also have plenty of growth runway ahead of them, even if sales were to stall completely.
However, given Broadcom's superior growth prospects, analysts expect it to have far better payout growth in the coming decade. And while such projections must always be taken with a grain of salt, at the same time given Broadcom's stellar dividend growth record, (24 consecutive quarters of dividend growth), I consider the above growth target reasonable.
However, while Apple may have the lower predicted dividend growth rate, keep in mind that this is mainly based on the company's short track record. Specifically, up until now management has prioritize buybacks (5.4% CAGR over the past five years) of highly undervalued shares over faster payout growth.
Should Apple shares pop closer to its fair value, management might be inclined to grow the dividend at far faster rates.
Valuation: Apple Remains Dirt Cheap But It Still Makes Sense To Open A Position In Broadcom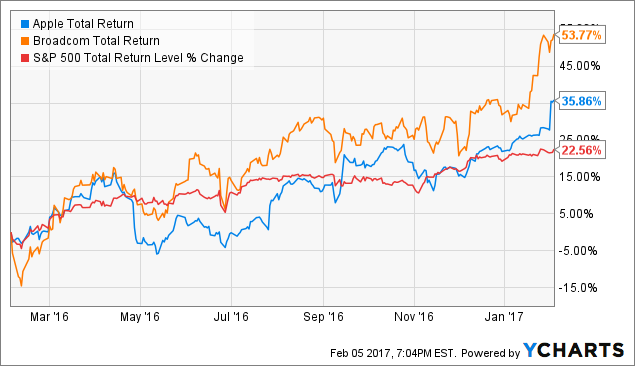 AAPL Total Return Price data by YCharts
Even the best companies can make terrible investments if bought at too high a valuation. And given that both Apple and Broadcom have vastly outperformed the market in the past year, many investors are worried that putting new capital to work might be a bad idea.
| | | | | |
| --- | --- | --- | --- | --- |
| Company | PE | Historical PE | Yield | Historical Median Yield |
| Apple | 15.4 | 15.4 | 1.8% | 1.9% |
| Broadcom | 18.0 | 19.1 | 2.0% | 1.2% |
| Industry Average | 20.6 | NA | 1.8% | NA |
However, in fact this concern, while valid, is likely overblown. That's because both Apple and Broadcom are trading at 12 month trailing PE, (adjusted PE in the case of Broadcom) that are both beneath their industry average, and below or equal to their historical norms.
More importantly for dividend investors, the yield offered by Apple and Broadcom remains at or far better than their historical median values.
This seems to imply that both Apple and Broadcom are trading at or slightly under fair value. And since buying a Grade A company at fair value is seldom a mistake, especially in the long term, this indicates that opening a position in either company is justifiable at this time.
| | | | | | |
| --- | --- | --- | --- | --- | --- |
| Company | TTM FCF/Share | Projected 10 Year Growth | Fair Value Estimate | Growth Baked Into Current Share Price | Margin Of Safety |
| Apple | $9.65 | 9.4% | $206.15 | 1.6% | 37% |
| Broadcom | $7.02 | 15.3% | $211.78 | 14.9% | 3% |
To verify whether or not this is true we can use a forward looking valuation metric such as a discounted cash flow analysis or DCF. While this method is far from ideal (due to difficulty in predicting long-term growth rates in the fast changing tech industry), a DCF can show us what kind of growth is currently priced into a company's shares.
In this case we can see that, despite Apple's recent post earnings pop, its shares continue to trade as if it has practically no growth ahead of it. That means a strong margin of safety that makes this stock not just a good candidate for initial positions, but also makes adding to existing positions a solid idea.
On the other hand, Broadcom appears to be fairly priced, with no margin of safety should it fail to meet the market's growth expectations. That verifies what our earlier analysis showed, that buying a starter position is OK, but wait for a pull back to add if you already own Broadcom.
Risks To Consider:
For Apple there are three main risks to watch for.
First, with Apple likely to remain "the iPhone company" for the foreseeable future, it will need to maintain market share in its most important and profitable markets. Specifically that means the developed nations where it remains the most premium smartphone choice. That will require continued innovation with iOS as well as improved integration of its important services, such as iTunes.
Next, Apple needs to prove that it can continue to grow its iPhone sales in rapidly growing emerging markets such as China and India. While its plan to open manufacturing facilities and stores in India is promising, at the same time India, like China, is a nation awash in cheap phone alternatives to its higher priced units.
As the world's aspirational smartphone brand, it's possible that the growing middle and upper classes in these countries could still prove a strong growth catalyst, but as we've seen with China in the past year, that is far from guaranteed.
Finally, negative currency effects are likely to become an ever bigger headache for Apple as it continues to diversify its sales away from its home US market. Rising interest rates are likely to only make the dollar stronger and could serve as a major growth headwind for several more years to come. That's especially true if other central banks, specifically in England, the EU and Japan don't raise their interest rates in the coming years, (and these economies are currently too weak to allow such increases).
Meanwhile for Broadcom one of the biggest risks is the furious pace of consolidation in the semiconductor industry as rising costs and slowing smartphone sales cause numerous big names to scramble for growth and economies of scale.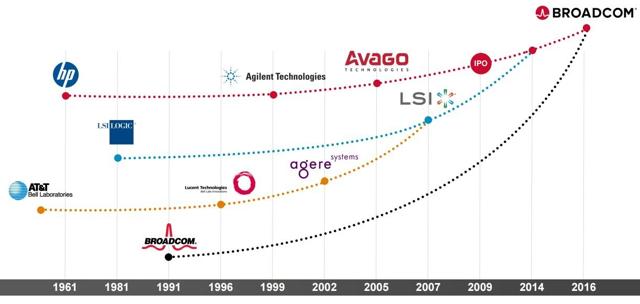 For example, In 2015 Avago bought Broadcom in a massive $37 billion deal that created the current behemoth. However, despite its CEO Hock Tan saying that additional acquisitions were "the furthest thing" from his mind, the company recently announced the $5.9 billion acquisition of Brocade Communication Systems.
What's more analysts expect that Broadcom may still have its eyes set on acquiring other chip makers, including Maximum Integrated Products (NASDAQ:MXIM) and or Xilinx (NASDAQ:XLNX).
Meanwhile rumors from earlier in the year had Broadcom considering a merger of equals with Qualcomm (NASDAQ:QCOM), according to MKM analyst Ian Ing. Of course since then Qualcomm has made its own mega-merger, acquiring NXP Semiconductors (NASDAQ:NXPI), for $47 billion.
That deal may have put the kibosh on any plans to merge with the much larger Qualcomm, at least for the short-term. However, with the Trump administration promising a 10% repatriation holiday that should free up mountains of offshore cash, we might see a fresh wave of M&A activity in the industry over the next few years.
The problem with that, as seen by Broadcom's overleveraged balance sheet, is that too rapid a growth pace exposes companies to large amounts of execution risk. That means that, in addition to potentially overpaying for acquisitions, a company might not end up being able to achieve the cost synergies that are often a key factor in the decision to purchase a rival.
Or to put it another way, while Broadcom's track record for acquisitions has been stellar so far and is a key reason that it has been growing so quickly, there is a very real risk that management ends up overreaching for future growth and cuts a bad deal that proves non accretive to shareholders.
In addition, while Broadcom has a well-established position in the wireless RF filter sector, keep in mind that this is a highly competitive industry. For example, while Broadcom dominates in the FBAR RF filter space, competing technologies, such as Skyworks Solutions' (NASDAQ:SWKS) Surface Acoustic Wave or SAW Filters, also are popular.
And because Broadcom has so much of its revenues tied to Apple, (which uses other RF filter suppliers as well), there is always the risk that it could exert stronger pricing pressure in the future, or even choose to not use its chips in a future iPhone iteration.
Bottom Line: Both Companies Are Worth Owning, But Broadcom's Longer, Stronger Growth Runway Makes It A Superior Long-Term Dividend Growth Story
Don't get me wrong, I'm in no way saying that Apple is a bad dividend growth stock or that you shouldn't own both companies (as I do in my personal portfolio).
However, given Broadcom's superior dividend profile, faster likely growth in the coming years, and shares that are still trading at fair value in a very frothy market, I believe that it represents the slightly better long-term dividend growth investment at this time.
That being said, Broadcom does represent a higher risk investment both to its more leveraged balance sheet and valuation's smaller margin of safety. So if your risk tolerance is low, or your time horizon short, (under five years), then Apple is probably the better dividend growth investment.
Disclosure: I am/we are long AAPL, AVGO, QCOM, SWKS.
I wrote this article myself, and it expresses my own opinions. I am not receiving compensation for it (other than from Seeking Alpha). I have no business relationship with any company whose stock is mentioned in this article.