Last week, I talked about how it was time for Advanced Micro Devices (NASDAQ:AMD) to step up to the plate. With shares of the company soaring after another strong earnings report, it now is time for new products to start adding to the top and bottom lines. The rally in shares has continued to new highs, putting the stock at a very interesting point for those that hold convertible notes.
Back in September, AMD launched a debt/equity sale to bolster the company's balance sheet and reduce future interest expenses. Originally, the convertible debt portion was to be $450 million, but large interest boosted the size to $700 million of 10-year convertible notes at 2.125% interest and an initial conversion rate of about $8 a share. On the quarterly conference call, management stated that underwriters exercised their 15% option, bringing the deal's total size to $805 million.
On Monday, AMD shares raced past $13 a share to a new 52-week high, making the name one of the past year's biggest winners. This rally also brings into play a key part of the convertible debt's terms, as detailed in the prospectus. There are more circumstances, but I believe they are "or" situations, and #1 is the most relevant:
Holders may convert their notes at their option at any time prior to the close of business on the business day immediately preceding June 1, 2026, only under the following circumstances:

(1) during any calendar quarter commencing after the calendar quarter ending on September 30, 2016 (and only during such calendar quarter), if the last reported sale price of our common stock for at least 20 trading days (whether or not consecutive) during a period of 30 consecutive trading days ending on the last trading day of the immediately preceding calendar quarter is greater than or equal to 130% of the conversion price on each applicable trading day.
130% of the conversion price turns out to be about $10.40 per share. As you will see in the chart below (I added red line to approximate that price), AMD shares have been above this key level for some time. Assuming a substantial crash doesn't happen, Monday will be the 17th time in 24 trading days during this calendar quarter that AMD shares will close above $10.40.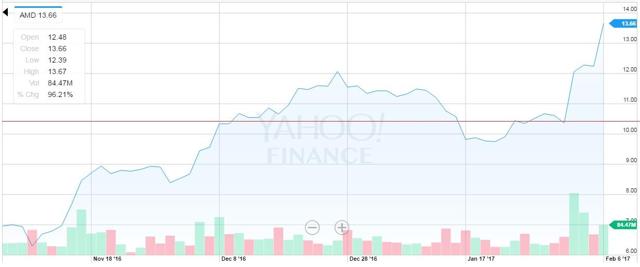 (Source: Yahoo Finance)
Holders of the bond are earning a little over 2% interest a year, but they can convert at $8 a share and sell the stock at more than $13 currently. That would seem like a no-brainer given the math, but these bond holders could also sell their bonds. In fact, FINRA quotes this specific bond issue at a last sale price of $182.50! These bonds have become extremely valuable thanks to the soaring stock.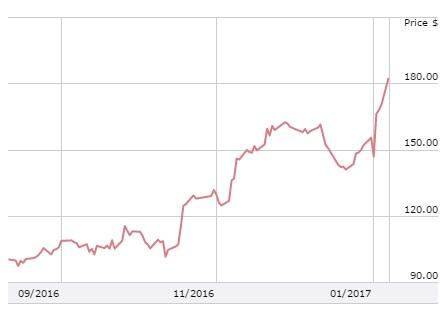 I'll be waiting to see if there is any color from management in the upcoming 10-K filing on this situation. If bondholders start to convert, that obviously means more dilution, but I think investors in AMD are used to dilution by now and this deal should be baked in. Additionally, more bonds converted means less interest expenses, and it also means the balance sheet would look better. Every few million saved adds to the bottom line, and that will make AMD's situation look even better moving forward.
Disclosure: I/we have no positions in any stocks mentioned, and no plans to initiate any positions within the next 72 hours.
I wrote this article myself, and it expresses my own opinions. I am not receiving compensation for it (other than from Seeking Alpha). I have no business relationship with any company whose stock is mentioned in this article.
Additional disclosure: Investors are always reminded that before making any investment, you should do your own proper due diligence on any name directly or indirectly mentioned in this article. Investors should also consider seeking advice from a broker or financial adviser before making any investment decisions. Any material in this article should be considered general information, and not relied on as a formal investment recommendation.