Welcome. In this article we'll take a look at the challenged shoe retailer DSW Inc (NYSE:DSW).
Recent Events
BlackRock established a position of 4.5M shares during the last four months. DSW announced a new store opening in East Brunswick, NJ during the month of December.
DSW is growing its store locations at a strong pace. They opened more than 21 new stores during 2016, expanding from their operating footprint of 468 stores as declared in Fiscal 2015's 10-K.
There's definitely a growth narrative here as this brick-and-mortar shoe retailer seems to be focused on creating an in-store experience customers will miss if they look online for their next pair of footwear. In a first-of-its-kind retail experience customers can have 3D Printed shoes customized to their feed right in the store thanks to DSW's work with technology company Feetz.
It looks like DSW is doing it right. They're not a stalled department store which can't figure out how to make the shopping experienced interesting (cough, cough, Sears Holdings (NASDAQ:SHLD)). I like the growth story and the company's historical operating results display a good conversion rate of cash earned from shoe sales into free cash flow available for owners.
Stock Valuation
I directed the proprietary Faloh Investment Discounted Cash Flows Model to evaluate the company's Fair Value based on the growth plan this company is undertaking. This makes the result of the Fair Value subject to the economy cooperating reasonably well and consumer spending not drying up during an economic downturn. However I think the company's price level, at $20.50 today, is robust at this level and investors getting in today will do well over the long-term.
Here is the FI DCF Model's result for DSW's growth scenario: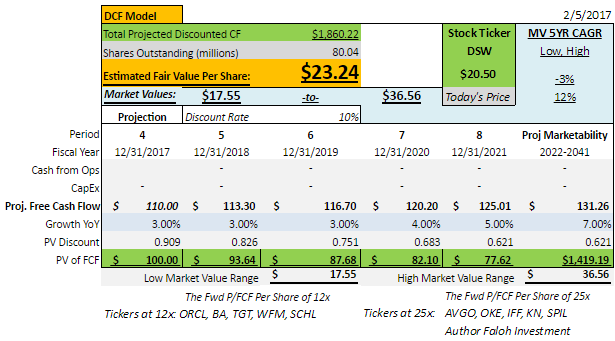 All-in-all I like DSW because they're truly engaging with today's retail environment: Its all about the experience. Its beneficial the company can create a good experience for consumers without enormous regular expenses. Since they're focused on the shoe niche, they don't need to run Las Vegas-like shows with performers in the aisles of their shop, they just need to staff the Feetz Customized 3D Print booth and maintain an attractive store and culture among the personnel.
Price target: $36.56 with a horizon of 5 years, making for a compounded annual growth rate of 12%. DSW offers a dividend yield of 3.90%. Altogether DSW is an attractive, if somewhat speculative, investment opportunity.
Appendix: DSW Inc
Source: Faloh Investment, YCharts
DWS Chart

Trial YCharts and make charts like these.
Disclaimer: This article represents the opinion of the author as of the date of this article. This article is based upon information reasonably available to the author and obtained from public sources that the author believes are reliable. The author does not guarantee the accuracy or completeness of this article. This presentation is the author's interpretation of the information contained in the article. The author may close his investment position at any point in time without providing notice. The author encourages all readers to do their own due diligence. This is not a recommendation to buy or sell a security.
Please click the + icon next to my user name and follow me, Faloh Investment, as I work to keep you informed on further developments as the market continues to present major value opportunities.
Disclosure: I/we have no positions in any stocks mentioned, and no plans to initiate any positions within the next 72 hours.
I wrote this article myself, and it expresses my own opinions. I am not receiving compensation for it (other than from Seeking Alpha). I have no business relationship with any company whose stock is mentioned in this article.