Just under three weeks back, I had acknowledged that while the euro did have some long-term issues that need to be dealt with, the currency is in for quite a bullish run in the meantime.
My suspicions were confirmed. The euro has gone on to rise against the greenback from $1.064 to just under $1.08 at the time of writing. It would not be unrealistic for the currency to test the $1.10 mark in February: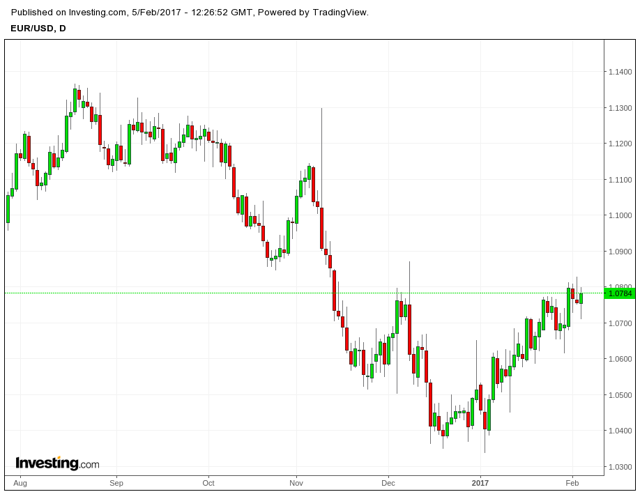 Due to lower than expected wage growth in the United States being recorded in January, the greenback has been sliding against major currencies for four consecutive weeks. In this regard, it is of little surprise that the euro has been given a much-needed boost.
However, sentiment surrounding the euro itself stands to propel the currency higher. For instance, German finance minister Wolfgang Schäuble has publicly voiced criticism of the euro's current levels, arguing that the currency is too low for the German economy which has resulted in a significant trade surplus, even as other eurozone countries continue to grapple with significant deficits.
While growth in the eurozone continues to be characteristically uneven, economic sentiment in Germany will invariably drive the euro trend looking forward. Specifically, Germany has been coming under pressure to increase imports by increasing domestic demand through expansionary fiscal policy.
Indeed, we see that imports into Germany (in EUR terms) are at a significantly higher level than they were this time last year: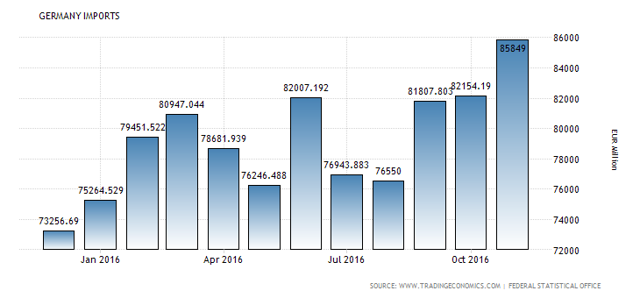 Source: Trading Economics
Moreover, with Germany's election race narrowing, there is a good chance that we could see further fiscal stimulus in a bid to boost growth and inflation in advance of the election result, and this has boosted German 10-year yields up to 0.45%.
In summary, while the long-term nature of the euro is still a concern, sentiment on the currency is broadly positive, and I accordingly expect higher levels from here.
Disclosure: I/we have no positions in any stocks mentioned, and no plans to initiate any positions within the next 72 hours.
I wrote this article myself, and it expresses my own opinions. I am not receiving compensation for it (other than from Seeking Alpha). I have no business relationship with any company whose stock is mentioned in this article.