By Nicole Sherrod, Managing Director, Active Trader, TD Ameritrade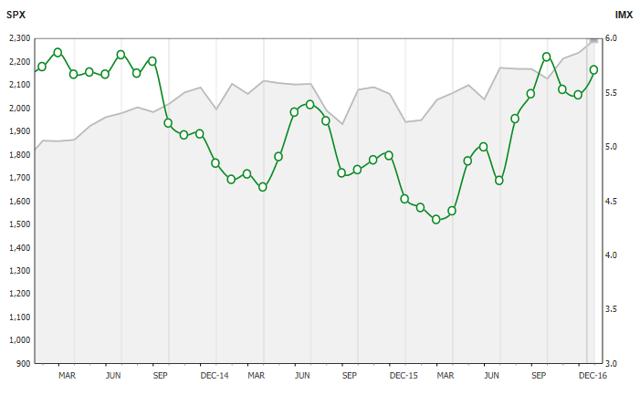 Optimism marked the start of the year, with retail investors once again embracing equities after backing off from bullish bets during the holiday season.
Retail traders tracked by TD Ameritrade were net buyers of stocks in January, according to the Investor Movement Index, or the IMX SM. The January reading climbed to 5.71, up from 5.48 in December, and not far from the two-year high of 5.83 posted last October. January became the first month since October to show a gain for the index after consecutive months of declines.
Now nothing ever goes straight up, so it's important to look at the overall trend, not just the month-to-month readings. And here's the takeaway: The IMX has stayed above 5.4 now for five-straight months, the longest stretch at these levels since mid-2014.
Why do investors seem more comfortable with equities now than they were a year ago, when IMX was well below 5? It could have something to do with the record highs posted by all the major indices in January. There's been lot of optimism in the market, especially in the financial, industrial, and materials sectors, based in part on hopes that the new administration in Washington might push through tax cuts, regulatory reform, and infrastructure spending.
We saw that optimism possibly reflected in some of the stocks retail investors bought early in the New Year. These included JP Morgan Chase & Company (NYSE:JPM) and Bank of America Corp. (NYSE:BAC), both of which reached new 52-week highs during the period. The financial sector would potentially benefit from higher interest rates, something the Fed has forecasted for this year, so perhaps that's on retail traders' minds.
Additional popular names bought in January included Chesapeake Energy Corp. (NYSE:CHK) and Macy's, Inc. (NYSE:M). The energy sector actually took a dive in January due in part to continued flat oil prices. But President Trump gave the go-ahead to the Keystone XL pipeline during the month, perhaps a sign of less regulatory burden to come on the industry. Macy's dropped sharply from recent highs posted late last year, but it's possible some investors saw value in the stock, especially when the holiday shopping season looked pretty strong overall.
At the same time, it's not too surprising that retail investors, who, as we know, can be cautious, didn't dive into equities enough to test the recent two-year IMX highs even as the markets themselves forged new all-time records. What might have held them back? Well, the U.S. dollar remained at relatively high levels throughout the month, which may have raised concerns about the strength of U.S. exports as the year goes on. The Fed raised interest rates in mid-December, and promised more hikes later this year. And perhaps our intrepid traders also had an eye on events in Washington, D.C., where policy changes became a major focus after January 20.
Keep in mind, too, that the January IMX only reflects the markets through Jan. 27. It was in the last week of the month when markets began to show signs of a pullback and a bit more volatility crept in. Any selling by retail investors at that time isn't reflected in the data.
In the accompanying video, you'll get my take on the January IMX reading, and learn which other stocks retail traders were buying and selling during the month. Speaking of selling, there was one major holding that hit the net-sell list in January, and it just happens to be the most widely held stock among TD Ameritrade clients. You can probably guess the name of this one. Looks like investors are taking profit on that big name and a few others as some stocks near record highs.
Remember, this sophisticated index is a tool that lets you see what hundreds of thousands of actual traders were doing in January across all markets. Things got pretty exciting with the inauguration of a new president and a big month of earnings action, so we'll see what February holds.
Nicole
Watch this video to get Nicole's take on the January IMX
Click here for a copy of the report.
Inclusion of specific security names in this commentary does not constitute a recommendation from TD Ameritrade to buy, sell, or hold.
Historical data should not be used alone when making investment decisions. Please consult other sources of information and consider your individual financial position and goals before making an independent investment decision.
The IMX is not a tradable index. The IMX should not be used as an indicator or predictor of future client trading volume or financial performance for TD Ameritrade.
Past performance of a security, strategy or index is no guarantee of future results or investment success.
TD Ameritrade commentary for educational purposes only. Member SIPC.
Disclosure: I/we have no positions in any stocks mentioned, and no plans to initiate any positions within the next 72 hours.
I wrote this article myself, and it expresses my own opinions. I am not receiving compensation for it. I have no business relationship with any company whose stock is mentioned in this article.