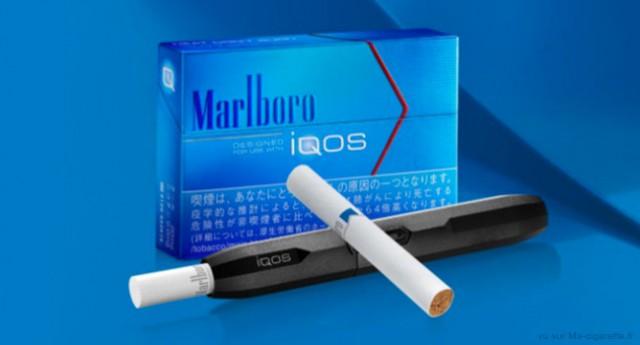 For investors who follow Philip Morris International (NYSE:PM) this most recent quarter was a pivotal quarter. It is becoming obviously clear that the sales of Reduced-Risk Products (RRP's) and specifically IQOS and HeatSticks, are on the verge of exploding higher. The company has been pouring enormous resources into RRP's, and the investments are beginning to bear fruit. Investors who have shunned Philip Morris because of currency headwinds should reassess the situation, as I believe that IQOS will drive enormous shareholder value in the next few years.
At the end of 2014, Philip Morris International launched its IQOS device and HeatSticks in Nagoya, Japan and Milan, Italy. By 2015, IQOS was launched across the entire countries of Japan and Italy. In addition, IQOS was launched in Switzerland and a few other test cities in Russia, Portugal, and Hungary. Today, IQOS is available in 20 countries with an expected 10 to 15 more countries by year end 2017.
Now that we have sales data from these initial markets for a full year coming from the year end earnings release and conference call we see that 2016 RRP revenue for Philip Morris was $733 million. HeatSticks volume in 2016 was 7.4 billion sticks, which was maximum capacity. IQOS has been so popular in Japan, one of the two initial test markets, that Philip Morris was forced to ration the IQOS device in Japan last June, in an attempt to prevent there being a shortage of HeatSticks.
Market share in Japan averaged 4.9% over the fourth quarter, and totaled 5.5% at quarter end. This is up from 3.5% in the third quarter of 2016, and zero at the end of 2014 when IQOS was first launched in the test city of Nagoya, Japan. The growth has been truly astounding and explains why Philip Morris has needed to ration in that market. What is happening in Japan is proof that smokers are rapidly adapting to this new technology, and investors can begin to make assumptions about global growth potential now that they see what has happened in Japan.
HeatSticks capacity is currently 15 billion sticks. Philip Morris is increasing CapEx for 2017 by $300 million, with the increase going towards increasing capacity of IQOS and HeatSticks. Capacity is expected to grow to 32 billion sticks this year, with annual capacity reaching 50 billion by early next year.
With sales of HeatSticks increasing from near zero in 2014, to 7.4 billion sticks in 2016, and to an annualized rate of 50 billion by early 2018, it becomes obvious that IQOS, has the potential to become an enormous driver of growth for Philip Morris International. It is no wonder that Wells Fargo analyst, Bonnie Herzog, thinks that IQOS will add an incremental $27 per share of value to Philip Morris International's stock price.
We can look at this slide from the Q4 earnings presentation and see that HeatSticks volume is soaring in the few markets where it has been launched. Another interesting thing is that the market share outside of Japan is still incredibly small. Philip Morris obviously has significant room to grow IQOS even in the countries where it already exists.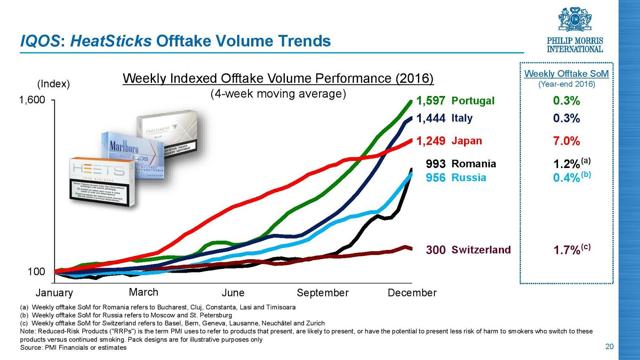 Source: PM Q4 conference call investor slides
Another interesting slide from the Q4 earnings presentation is this one, which shows the conversion rates of smokers who have tried IQOS, with upwards of 70% of users either predominantly, or fully converted after trying IQOS.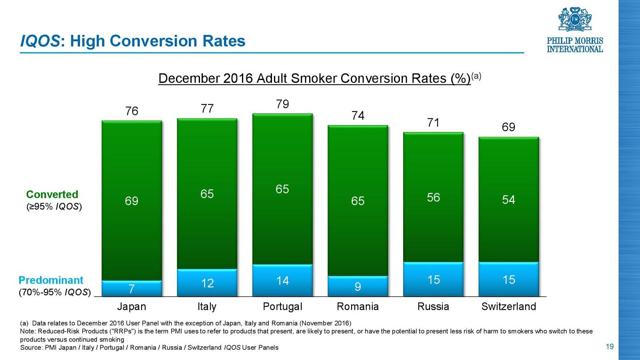 Source: PM Q4 conference call investor slides
Investors need to know that IQOS is also very heavily being promoted. In fact, the device sales, which are currently 22% of total RRP sales, are currently yielding a negative margin. Over time, as more and more people adopt the new technology, Philip Morris won't need to promote as heavily, and profits will dramatically improve. Essentially we have a rapidly growing startup inside of an already giant free cash flow producing machine.
Something I think investors should truly focus on is that the company feels that once IQOS market share reaches 3% globally, the sales growth will shift from being linear to being exponential. This is because once they hit that 3% market share level, the users of IQOS will then become the ambassadors of IQOS. Considering the growth in market share in Japan from nothing to 5.5% in only about a year and a half, I think investors today need to immediately begin pricing in the potential for IQOS to globally become an enormous profit source for Philip Morris.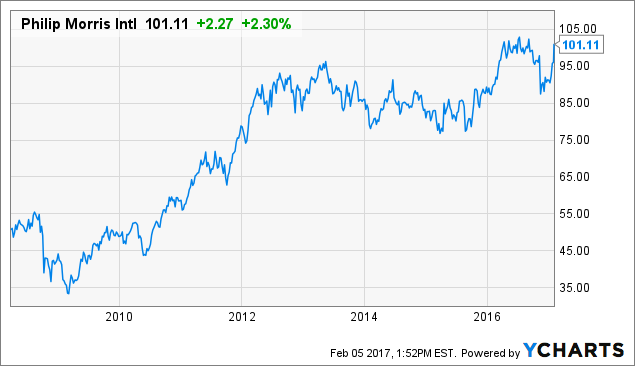 Disclosure: I am/we are long PM.
I wrote this article myself, and it expresses my own opinions. I am not receiving compensation for it (other than from Seeking Alpha). I have no business relationship with any company whose stock is mentioned in this article.