I had the pleasure of a having a chat with Jeff Abbey and John Menditto from Argos Therapeutics Inc., (NASDAQ:ARGS) this past week on topics surrounding the critical phase 3 trial ADAPT, for rocapuldencel-T. Their lead drug candidate, rocapuldencel-T (formerly known as AGS-003), is in its final stages of its phase 3 trial for the treatment of metastatic renal cell carcinoma (NASDAQ:MRCC), with key upcoming data reviews by the Independent Data Monitoring Committee (IDMC) happening in February (16-18th) and a subsequent potential meeting in May-August 2017.
For a great overview of both Argos and background into Roca-T, please see The Game Changer's late December 2016 article in order to better follow along with the discussion below. In addition to that, management recently held an Investor Day presentation in December that outlined much of the background data into their drug development strategy and future plans.
Important note: The answers provided below are not direct quotes from the conversation, but summaries based on notes taken during our discussion. Answers may have added interpretation to them, and are not a word-for-word account of what was said.
Question: In the phase 3 ADAPT trial, are patients being switched as needed from combo therapy using sunitinib and Roca-T to another checkpoint inhibitor and Roca-T, and how will this affect label expansion for Roca-T assuming approval?
Answer: Yes, patients can be switched from sunitinib to another approved drug due to either progression or sensitivity to sunitinib. We don't think the label should be limited to combination treatment with sunitinib only. It will be a benefit to see Roca-T's effect when used with other treatments.
Question: Are you seeking a monotherapy label with Roca-T, and if not, are there reasons why it does not appear to be as effective on its own relative to its use in combination therapy?
Answer: We believe the future of treatment in this field is going to be combination therapies. In a phase 1 study looking at Roca-T in monotherapy, we found it was difficult to carry out the study as a monotherapy due to Roca-T's novelty and there being an existing effective standard of care available to patients. We saw some effect, but think treatments will be combination based going forward.
Question: Can you comment on your potential market size for Roca-T, market penetration, along with your facility expansion plans going forward?
Answer: It would be optimistic to say we can treat more than 10,000 patients per year eventually with Roca-T. Penetration will depend heavily on our overall survival benefit with Roca-T, which is yet to be seen from our ongoing trial. Our facility capacity plans are taking into consideration future label expansion of our drug candidates into other solid tumor treatment areas. Our manufacturing process is transferable to the production of other treatments we may have approved in the future, so that is where the capacity number comes from. For example, in kidney cancer, the adjuvant market is a huge opportunity. Patients diagnosed with early stage kidney cancer who had resection surgery to remove the tumor, later go on to develop metastatic cancer within a year in many cases, and there are no approved treatments out there to address this problem. If we could carry out a trial to look at preventing the progression of metastatic kidney cancer post resection surgery in early stage patients, and see a benefit with our treatment, that could be a great market opportunity for us.
Question: Based on phase 2 results, majority of the effect seen seemed to be due to efficacy in the intermediate risk factor group, whereas the poor risk factor group did not show much benefit relative to historical survival norms. Are there reasons you are looking into to explain this result, and will this affect your marketability of Roca-T to poor risk factor patients (phase 2 result graph shown below)?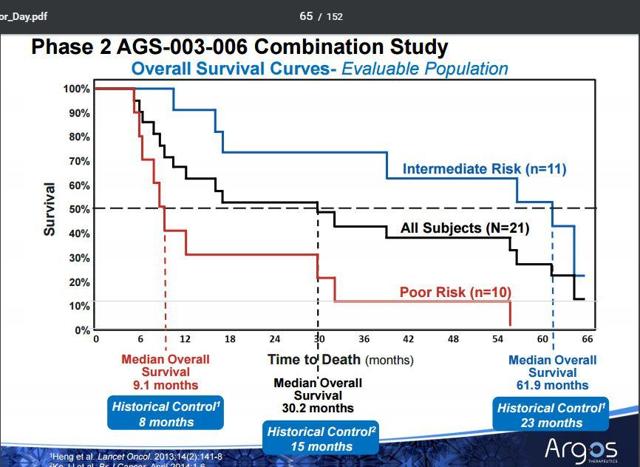 (Source: Argos 2016 Investor's Day Presentation)
Answer: There are three ideas behind this result. The first is that some of these poor risk factor patients are too advanced in their disease progression to really benefit from a standard of care treatment or combination treatment with Roca-T. The second is due to the study design in the phase 2 trial, which saw 5 poor risk factor patients progress quite early and not receive the full 5 doses of combination treatment with Roca-T. These patients were taken off sunitinib and Roca-T and placed onto more rigorous 2nd and 3rd line treatments for their progression. We think there are some patients within this group that may have seen a benefit if they continued to be treated with Roca-T. In our phase 1 single agent study looking at Roca-T, which started just before sunitinib was approved, we enrolled majority poor risk patients, and overall survival of the poor risk factor and intermediate risk factor groups was quite similar in this study. The poor risk patients had median OS of ~16 months, while the intermediate risk patients had median OS of ~17-18 months. This gives us confidence for our phase 3 trial which is enrolling both less poor risk patients, and only poor risk patients with 4 risk factors. These patients will also be staying on Roca-T when switched off sunitinib treatment due to progression, so we are dosing through progression and should be getting at least 5 doses into each poor risk factor patient.
Question: From the latest 10 K (page 42), it says you are going for approximately a minimum 6 month survival curve separation between treatment and control arms in phase 3. Will achieving at least that much separation be viewed as a success for phase 3?
Answer: That was the target used for median OS to come up with the trial design. We could see a case where the median OS is less than 6 months, but because of the overall survival curve separation throughout the trial, it could be significant enough to still be viewed as a positive result. It doesn't necessarily mean that if we don't see 6 months difference that the trial is unsuccessful, we will also be looking at the area under each survival curve to decide if it was a success.
Question: One of the main questions we have now as we entered 2017 is with regards to your upcoming IDMC meetings, with the first being scheduled in mid February, and the other potentially being in June. Based on how long the trial has been going on for now since the first patient was dosed and the last patient being enrolled in October 2015, we are getting into that timeframe where the historical survival norms in the control arm (~20 months) should have enough events to show a significant separation from the combo arm if there is in fact a positive effect due to Roca-T treatment. Do you have any comments on this timeline, and what you expect from your next meeting, along with the potential for a second meeting in mid summer 2017? Also looking at how many events should have already occurred by June, would it be correct to say that the June meeting is a pivotal one where an effect should be seen and the trial should be called by the IDMC?
Answer: Based on recently published data and historical survival norms for intermediate and poor risk factor patients, we do expect our control arm patients to have an average survival of ~20 months. This means, based on when our trial started we should be seeing close to 75% of events having occurred in our control arm by now (February). We would expect from the February IDMC meeting to have the date set for the next IDMC meeting, which should be the final data readout meeting. This second meeting should happen around June, but could be earlier such as May or a little later such as July/August. If we don't have final data in the summer, then its likely that either the control is surviving much longer than expected, or our combo arm is not performing much better than control resulting in a lack of curve separation.
Question: How did patient enrollment look for the phase 3 trial, when did most patients enroll during the multi year enrollment window?
Answer: We enrolled the majority within the last 2 years of the window, with the last patient being enrolled in October 2015. This was later then we wanted originally, and looking at the pace of enrollment and when it was completed, we think we are in the right place now with our phase 3 trial event progression and potential data readout by mid summer.
Question: Can you offer any comments on financing and cash on hand for the year?
Answer: All options are being looked at to maintain a good cash position for when data arrives. We want to maintain a good cash position going into a potential summer data readout. With final data coming soon, that may be a better opportunity to finance as well. We will know more after the February IDMC meeting in regards to timing of final data release, and that will also impact our timing with financing decisions.
Question: What price tag are you considering for Roca-T looking at potential survival benefit and assuming approval for combo treatment?
Answer: The main thing will be what the survival benefit will be for patients, greater benefit will lead to a greater price. Currently there is large premium pricing in oncology. On a per year basis, pricing could be somewhere in the range of $100-200K. The premium price would stem from our treatment being highly individualized, being made specifically for each patient, and the relative limited toxicity of our drug compared to other immunotherapy products.
Question: If results do not come in positive from the ADAPT trial, how will that impact your drug platform, and the direction you are taking with precision immunotherapy?
Answer: Assuming that the IDMC in February recommends a meeting in June for a review of final data from phase 3, that likely means we did have some separation between the control and combo arm in our trial. We also set the goal for the trial higher than some other dug trials do with our approximately 6 month minimum target in OS benefit, whereas other oncology drug trials may be aiming for a 2 month benefit to show an effect. Due to this, even if we do not reach our primary endpoint, we do expect to see significant separation between the two arms and gather robust data on risk factor group performance and where to proceed from that point. The data from this trial, if not enough on its own, should still be useful to support approval down the line, and will also give insight into which combo treatments worked better than others due to patient progression/switching during the trial. Overall we are expecting lots of positive data from the trial.
Summary
Argos may bring the first precision immunotherapy product to market with Roca-T. Its hard to say, based on the limited patient population their phase 2 trial, whether results will be positive, but based on the more intermediate leaning patient base in phase 3, along with a ~6 month separation goal, management seems to have set the stage for a positive outlook going into mid 2017. There is always the risk that a significant benefit is not shown between control and combo arms, along with the lingering financing needs to maintain cash on hand to get through the year. However, Argos offers an interesting near-term, high-reward opportunity should things go as planned in phase 3.
Disclosure: I/we have no positions in any stocks mentioned, but may initiate a long position in ARGS over the next 72 hours.
I wrote this article myself, and it expresses my own opinions. I am not receiving compensation for it (other than from Seeking Alpha). I have no business relationship with any company whose stock is mentioned in this article.