When I wrote an article on Coca-Cola (NYSE:KO) last year, I had cited relatively low levels of net income growth as being a concern for the company.
At the risk of stating the obvious, any informed investor who buys Coca-Cola is buying the stock as an income play - not for growth. Coca-Cola is a dividend aristocrat since it has raised its dividend for the last 54 consecutive years, with a yield of 3.37% being among one of the highest among these elusive companies. In this regard, Coca-Cola is geared towards investors looking for asset preservation - not necessarily capital gains.
However, I had also voiced my concern that funding for those dividends must come from somewhere. In other words, if Coca-Cola is not able to grow net income over the long term, then it will have difficulty in sustaining profitability, which would sooner or later put the company's dividend at risk.
Previously, I had forecasted that should Coca-Cola grow its net income by 10% per year through to 2020, we could be looking at an eventual target price of $51 in the next five years. On the other hand, no growth in net income would lead to a downside to $37 (both scenarios assuming a 27x P/E ratio).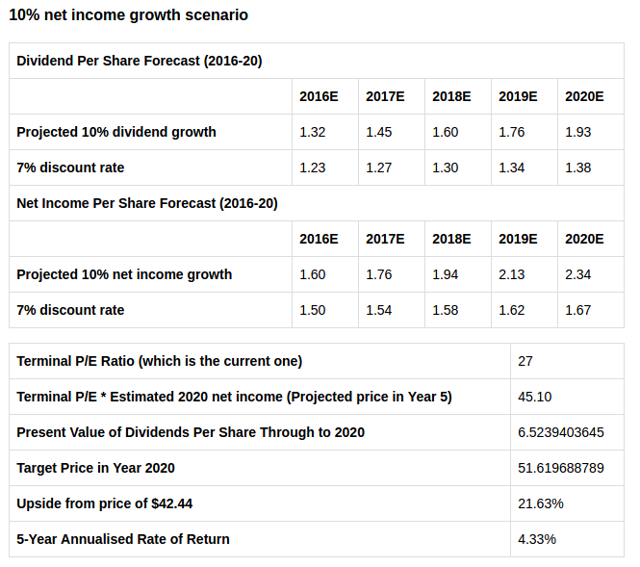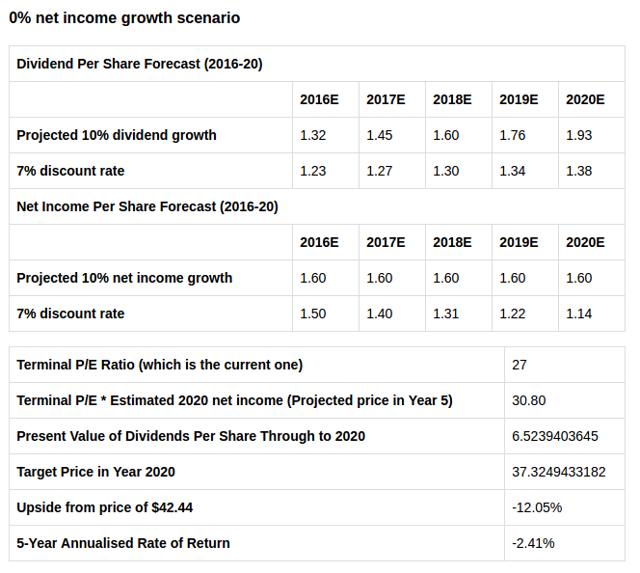 On the basis of the company's Q3 earnings release for 2016, we see that diluted net income per share has fallen by 27 percent relative to the same period in 2015: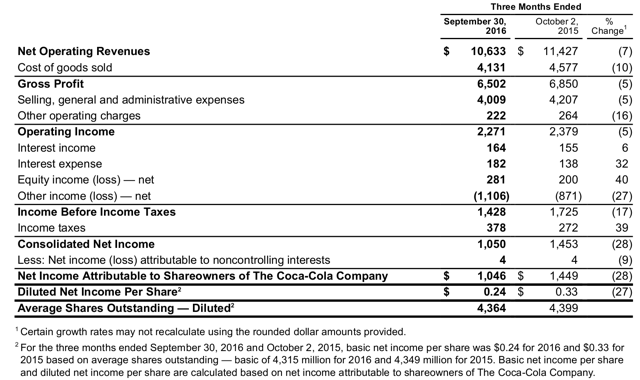 Source: Coca-Cola Q3 Earnings Release
On a nine-month basis, we also see that there was no growth in net income relative to the previous year: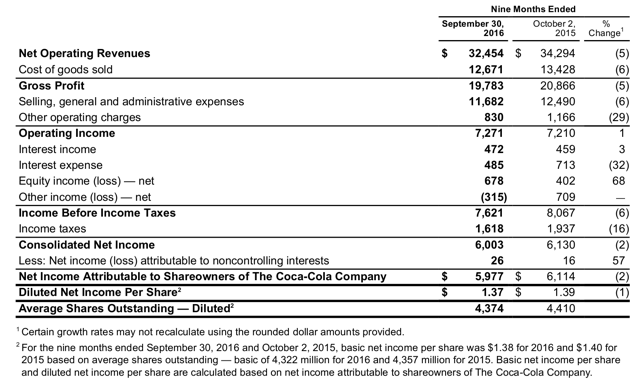 Source: Coca-Cola Q3 Earnings Release
2016 has somewhat of a challenging year for retailers with substantial international operations, in that a strong dollar had placed significant pressure on revenues outside of the United States. Nonetheless, should Q3 be indicative of the year overall, then Coca-Cola could well report no growth in net income relative to 2015. In this regard, we would not expect to see much upside from the current price of $41.
Ultimately, an investor could be inclined to look at Coca-Cola in one of three ways: 1) decide that its dividend will always remain intact and continues to be a great play in this regard, 2) anticipate a rebound in price and hold Coca-Cola for significant gains, or 3) conclude that if income growth is a priority, then there are probably better options out there on the market.
Coca-Cola is a company that is ultimately in a stage of refranchising. With a focus on redirecting investment away from bottling and distribution, and more towards its Concentrate business, which is a higher profitability segment. Only time will tell if the cost savings from the former will lead to greater profitability overall.
My concluding thoughts are this: While I don't necessarily think that Coca-Cola is in danger as such - and its franchising efforts could well prove to be successful - the company has seen little in the way of growth over the past three years.
Of course, investors could bet on a rebound, but as just two examples - the same could be set of oil companies such as Chevron (NYSE:CVX) and ExxonMobil (NYSE:XOM) - both of which currently pay a higher dividend yield and could well have a higher margin of safety priced in. Coca-Cola is clearly a brand-name company that will stay around for the long term, but there are likely other companies that could well produce more sustainable income growth going forward.
Disclosure: I/we have no positions in any stocks mentioned, and no plans to initiate any positions within the next 72 hours.
I wrote this article myself, and it expresses my own opinions. I am not receiving compensation for it (other than from Seeking Alpha). I have no business relationship with any company whose stock is mentioned in this article.