"The Constitution is not an instrument for the government to restrain the people, it is an instrument for the people to restrain the government - lest it come to dominate our lives and interests." - Patrick Henry


The overall market rose nicely last week as both the ADP and BLS monthly jobs reports showed much better job growth than anticipated with particularly strong job creation numbers coming from small business and other sectors of the economy. The Atlanta Fed's GDPNow also ratcheted up its forecast for first quarter GDP growth to 3.4% from 2.3% previously. This is welcome news as the first quarter has been slow for many years with a couple of negative years over the past half decade. Stronger economic growth lifts all ships, including biotech.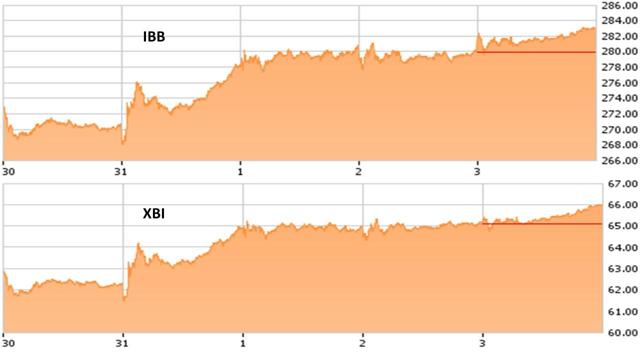 The biotech sector easily beat the overall market in the week just passed as well. The main biotech indices rose just over 2.5% over five trading sessions. The pledge of the new administration to streamline the FDA and speed up the drug approval process on Tuesday was well received by the industry and the markets. M&A activity also is off to a good start across the sector so far in 2017 as well.
The Medicines Group (NASDAQ:MDCO) was a big winner on Friday rising some 20% on the day. The name was buoyed after Amgen (NASDAQ:AMGN) reported successful results in a cardiovascular outcomes study for its new cholesterol drug Repatha. This could widen the potential audience of this type of cholesterol drug which would be good news for the company's cholesterol candidate inclisiran which is in Phase 3 trials. Inclisiran works by turning off PCSK9 synthesis in the liver. The stock has done very well since being selected for inclusion into the model-20 stock Insiders Forum portfolio in mid-December. Provided inclisiran does march toward approval, further upside seems likely in our opinion. That being said, I would not be surprised to see some profit taking as Friday was a huge one day move off the news from Amgen.
Speaking of Amgen, it was a big week for the biotech pioneer. Beside the good study results, the company also reported better than expected earnings numbers on the week. Profits came in at $2.89 a share, a dime above expectations. Revenues rose almost eight percent year-over-year, more than $200 million above the consensus as well.
In addition, Amgen's CEO stated the company was actively looking for acquisitions, both large and small, and removed the previously stated $10 billion cap on deals in a meeting with analysts. Amgen has an approximate $40 billion cash hoard to do such deals. M&A has already had a good start to 2017 Amgen could just one more player on the hunt. Increased M&A activity was one of three reasons I thought 2017 would be a good year for the biotech sector which is still my view.
Acadia Pharmaceuticals (NASDAQ:ACAD) had a big rise this week. On Friday, The StreetInsider had a blip that the company had received an offer from AstraZeneca (NYSE:AZN). Pfizer (NYSE:PFE) also has been reported in the company's drug Nuplazid but might not want the whole company.
Acadia has been in the model-20 stock portfolio of the Biotech Forum portfolio for almost a year now. Over that time, the shares have risen 85% but we still see potential upside in the name. Nuplazid should eventually garner ~$1 billion in peak annual sales to treat the psychosis in Parkinson's. It also is in late stage trials to treat similar symptoms in the Alzheimers and Schizophrenic populations.
There is anecdotal evidence that the drug already is seeing some "off label" use. Our take is that the stock is worth $45 to $50 a share in a straight buyout scenario. If a "bidding war" erupts between two or more interested suitors, we could see it going as high as $55 to $60 a share. The Baker Bros. own over 20% of the company, so we view the likelihood a takeout gets done before summer as likely.
Cowen & Company says "statements from President Trump about high drug prices will remain just that while politicians focus their energy on the 'repeal and replace' of the Affordable Care Act" according to a client note that came out last week. It says Washington is too preoccupied with changing the ACA to focus on pricing. This has been my own view for some time and I concur with it, something I articulated in a recent article "Is There A Method To Trump's Madness?"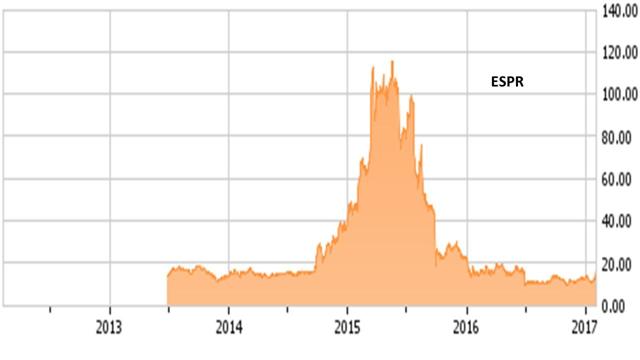 Is the tide finally starting to turn in the analyst community on Esperion (NASDAQ:ESPR)? As can be seen by the chart above, the stock has certainly seen better days. However, Friday JMP Securities and Needham reiterated Buy ratings on the stock. It was the positive analyst view on the stock since mid-October. There has been a rash of Hold or Sell ratings on the stock over the past six months. Citigroup is still not optimistic on Esperion and reissued its own sell rating on the shares on Friday as well. The stock was buoyed Friday on Repatha's news from its cardiovascular study as Esperion has its own cholesterol drug candidate that has had a hard time moving through the approval process. That compound just started a large scale cardiovascular study in January.
Alnylam Pharmaceuticals (NASDAQ:ALNY) saw its first analyst action in a few weeks late last week. On Thursday Ladenburg initiated the shares as a Buy with $75 price target. The next day JMP Securities reiterated its own Buy rating with a $69 price target. This biotech concern has several important trial readouts on a couple of compounds that should be out in early to mid-summer.
IntelliPharmaCeutics International (NASDAQ:IPCI) received its first analyst rating commentary I can find since July last week as well. Maxim Group and Aegis Capital both reissued Buy ratings with price targets of $6 and $8 respectfully on Friday. Earlier this month the FDA accepted for review the NDA for the company's compound Rexista, an abuse-deterrent formulation of the opioid oxycodone. It now has a PDUFA date of September 25th.

In today's Spotlight feature to start the week we revisit a small and very volatile biotech stock and company called Argos Therapeutics (NASDAQ:ARGS).
Company Overview:
As can be seen from the stock chart below, the shareholders of Argos have had a bumpy ride since the company went public in early 2014. The stock trades for approximately half of what it did at its debut and a third of its all-time highs. The stock currently sports a market capitalization of approximately $175 million.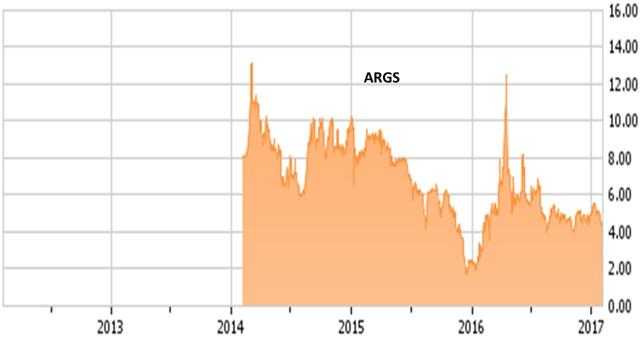 Argos is focused on the development and commercialization of individualized immunotherapies for the treatment of cancer and infectious diseases in North America and is based in Durham, NC.
Pipeline:
The firm's Arcelis proprietary process uses RNA isolated from the patient's disease sample to program dendritic cells to target disease-specific antigens. The company has two primary compounds in development, of which AGS-003 is the most important to the company's near and medium term future.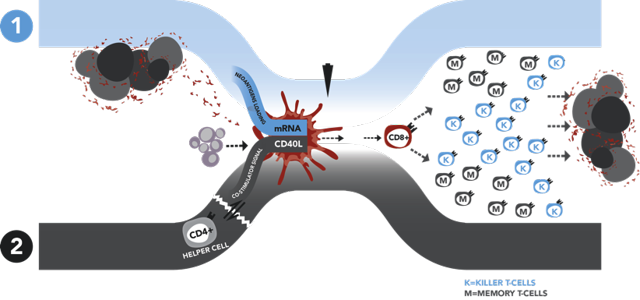 AGS-003:
This is an individualized immunotherapy that captures both mutated and variant antigens that are unique to each patient's tumor and specifically designed to induce an immune response targeting that patient's particular tumor antigens. This compound is currently in two late stage trials. It has a Phase II study for early stage renal cell carcinoma, results that should be posted by the end of the first half of this year. It has a larger and more critical Phase III ADAPT trial for metastatic renal cell carcinoma which should come out in the same time frame. Some interim data for the ADAPT trial should come out at the Genitourinary Cancers Symposium which runs from February 16th to February 19th this year. This data could be a potential catalyst for the stock when disclosed, one way of the other.
AGS-004:
This is an earlier stage compound that is not currently germane to the investment case for Argos Therapeutics at this time.
Analyst Commentary and Balance Sheet:
Given the small market capitalization, the company gets light coverage from the analyst community. Five analyst firms have reissued Buy ratings over the past year, all with price targets north of $10 a share. A Beneficial Owner increased their stake in the firm in a series of transactions in September and October but I see no outright purchases by officers or directors of late. The last analyst rating commentary was on January 30th when FBR Capital reiterated their Buy rating. The company raised $15 million last summer and has stated it has funding on hand to fund operations through the second quarter. My guess is they will wait until key trial results are disclosed before initiating another funding round. The company ended the third quarter with just under $70 million in cash and marketable securities on hand.
Outlook:
Argos is a very high risk/very high reward "Tier 4" biotech concern. There are some key upcoming catalysts, but an investor buying a stake in the firm now is placing a bet that AGS-003 will deliver positive trial data and move forth through the approval process. It is only for investors willing to make a small, speculative investment ideally through a well-diversified biotech portfolio.

Note: To get these Biotech Forum Daily Digests as soon as they are published, just click on my profile, hit the big, orange "Follow" button, and choose the real-time alerts option.
The Biotech Forum is currently having its last day of a "Super Bowl" promotion. From now until midnight EST today, you can take advantage of a 14-day, risk-free trial into the fourth most subscribed to of the 70 offerings available through Seeking Alpha's Marketplace. Read our reviews and come see what our 500 member community is all about.
Disclosure: I am/we are long ACAD, AMGN, IPCI, MDCO.
I wrote this article myself, and it expresses my own opinions. I am not receiving compensation for it (other than from Seeking Alpha). I have no business relationship with any company whose stock is mentioned in this article.