I've recently discussed the key reasons I don't think Sanofi (NYSE:SNY) is poised to outperform in 2017, so in this article I will focus on a quantitative valuation of the company to show why I think SNY is fairly valued.
Base Case
DCF analysis, with inputs slightly below analyst estimates, shows that Sanofi is not trading at an attractive risk/reward.
I used the Excel template offered by Bloomberg, but I adjusted consensus estimates to reflect my conservative view on their Diabetes franchise.
As discussed in my previous articles, I said:
" I think the diabetes dynamics in 2017 are well appreciated by investors while I think there are two key sources of downside for the diabetes business over the period 2018-2020 which the market has overlooked:

1) Sanofi still retains a very good coverage for Lantus and Toujeo in 2017 in the Medicare Part D segment of the diabetes market. I believe this situation is unsustainable, because it was helped by the fact that negotiation with Medicare for 2017 was done before the entrance of Basaglar into the market. With the biosimilar launched in December 2016, I believe the Medicare Part D formulary will follow the example of CVS and UNH, excluding Lantus and Toujeo for 2018 and providing further rebates to Novo Nordisk (NYSE:NVO) to maintain its products on the portfolio.

2) The pressure from biosimilars will further intensify from 2020, with the entry of a second biosimilar from Merck (NYSE:MRK)/Samsung and a third from Mylan (NASDAQ:MYL)/Biocon (OTC:BCNQY), giving leverage to the payers to exert further pressure in the space. Thus, I don't believe the diabetes business could come back or grow before the end of decade, especially in absence of innovation coming in the space from the Sanofi R&D."
Thus, I reflect conservative assumption in my sales estimates for these two franchises, especially in 2019 and 2020.
Here are my key assumptions for the estimates of Sales, EBITDA Margin and FCF:

Sources: Bloomberg & My Own Valuation Model
As you can see, these estimates are slightly below consensus in terms of sales growth for 2018-2020, while I assume a similar EBIT margin compared to sell-side estimates.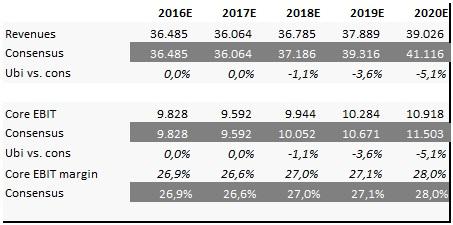 Sources: Consensus Comparison vs. My Own Valuation Model
To generate a DCF Analysis, I used 2 different methodologies:
PERPETUITY GROWTH METHOD: I used fair assumptions for the perpetual growth rate and the WACC. In details, I used a perpetual growth rate of 1%, which is in line with the Bloomberg estimate and I assumed a WACC of 8%, that is in line with the peers one.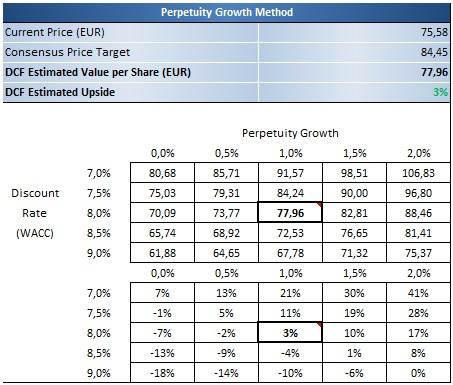 Source: Bloomberg
As can be seen in the table above, Sanofi is undervalued by only 3% based on the Perpetuity Growth Model. In addition to that, the sensitivity analysis shows significant upside (i.e. 25%), only assuming unreasonable estimates for WACC and perpetual growth rate.
EBITDA MULTIPLE METHOD: this analysis reveals a similar result for Sanofi. The company still looks undervalued by about 11%. I assumed an EBITDA exit multiple of 10X, which is a reasonable assumption because it's below the peers' multiple (i.e. 11x EV/EVITDA 2017) but above the Sanofi's historical multiple, as shown by the following tables.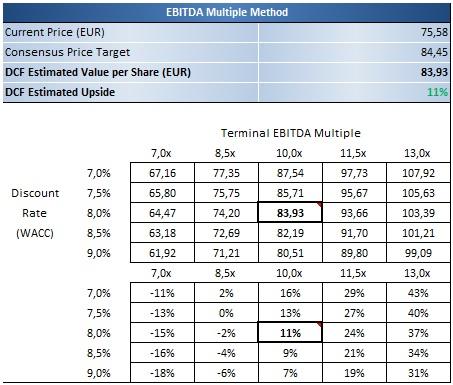 Source: Bloomberg
In terms of multiple valuation, it's worth noting that Sanofi is trading above its 5 year average historical EV/EBITDA (absolute and relative valuation), as shown by the following analysis.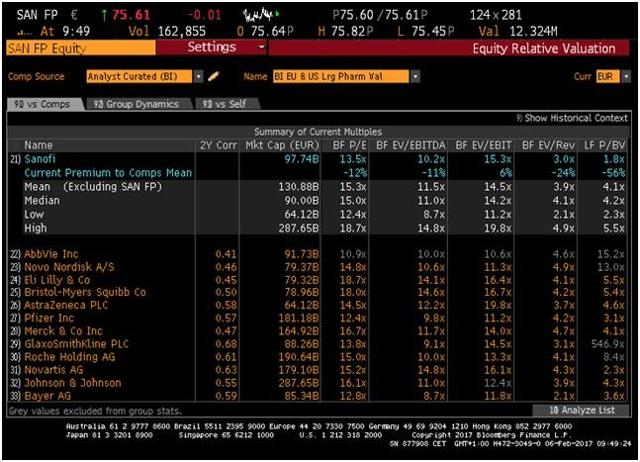 Peers' P/E and EV/EBITDA 12 months forward. Source: Bloomberg.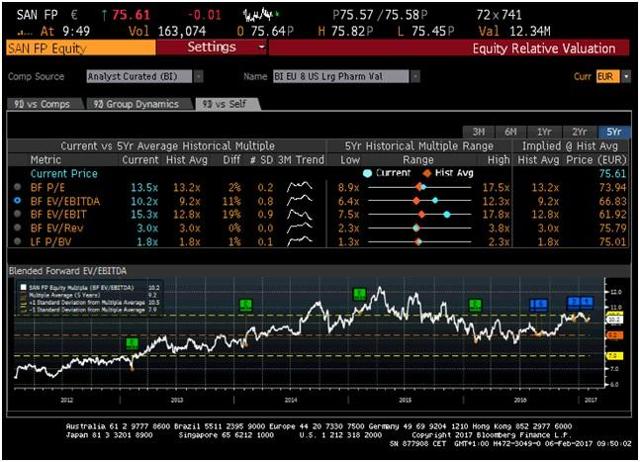 Sanofi' Current vs. 5 years average P/E (absolute analysis). Source: Bloomberg.

Sanofi's Current vs. 5 years average P/E (relative analysis vs. peers). Source: Bloomberg.
Lastly, a sensitivity analysis on this EBITDA Multiple Method shows that the implied perpetuity growth in my valuation of SNY is about 1.6%, which isn't a conservative expectation for a company that will face further pressure in its biggest franchise over the next 5 years.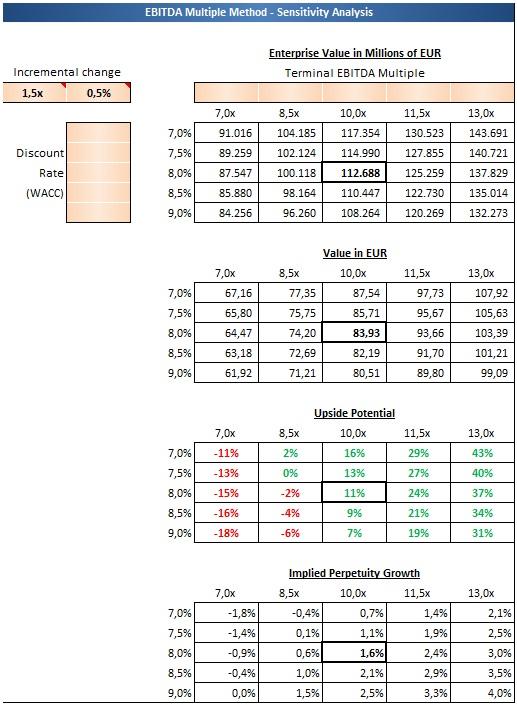 Source: Bloomberg
Bear Case
Lastly, I modeled also a downside scenario. The key differences in terms of assumptions are:
I assume revenue growth of about 0% in 2020-2021, which is below consensus. The key reason behind this assumption is that I consider a worst case scenario in which Sanofi's Praulent will be removed from the US market in 2018. As a reminder:
"In January 2017, Amgen (NASDAQ:AMGN) was granted an injunction by the US District Court, blocking Sanofi/Regeneron (NASDAQ:REGN) from selling Praluent in the US. The judge has delayed the injunction application by 30 days, and Regeneron is poised to appeal the sentence in order to block the injunction at least until the appeal takes place, which usually requires at least 12-18 months. Assuming a worst-case scenario of Praulent being removed from the US market in case Sanofi/Regeneron also loses the appeal in 2018, Sanofi could lose around $2B of sales."
I assume a limited improvement in the EBIT margin over 5 years, which is materially below consensus.
I assume a 0% perpetuity growth rate and 9x EBITDA exit multiple, in line with Sanofi's historical multiple.
As a result of these assumptions, my estimate for 2020 revenue is 9.5% below consensus and my estimate for 2020 EBIT is 13% below consensus.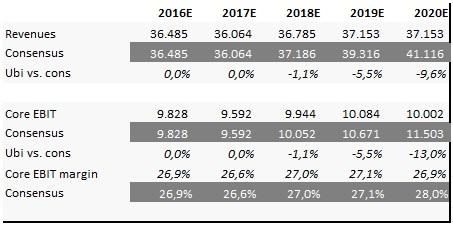 Sources: Consensus Comparison & My Own Valuation Model
Under this worst case scenario, Sanofi is overvalued by approximately 22% (Perpetuity Growth Method) and by approximately 9% (EBITDA Multiple Method), as shown by the following analysis: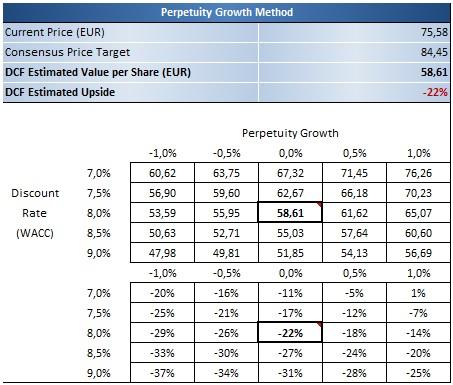 Source: Bloomberg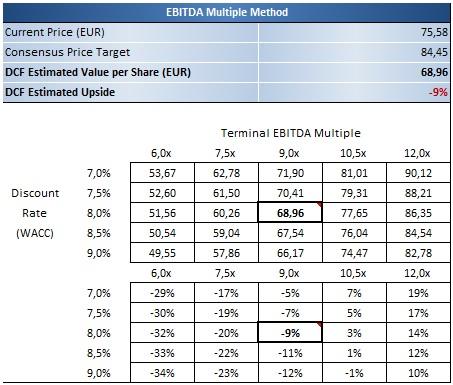 Source: Bloomberg
Q4/2016 results & FY 2017 guidance
Investors seem downbeat about Sanofi's FY 2016 results:
Street expects €9.3B for Q4/2016 revenues, 1.5% growth over prior-year period.
Street expects €1.22 for core EPS, around 5% decline over 2016 EPS of CHF 6.27.
Investors expect that Sanofi will meet its 2016 guidance (i.e. 3-5% core EPS growth at constant exchange rates).
For 2017, street expectations are that Sanofi will reiterate its guidance for a 2017 EPS in line with 2015 (€5.64) at constant exchange rates.
2017 consensus EPS is around €5.55, but I think street estimates are underestimating that Sanofi is likely to benefit in 2017 of a forex tailwind of at least 4-5%. Thus, I would not be surprised if Sanofi's consensus for 2017 EPS will require some upward revision after the FY 2016 results when the market will appreciate this tailwind.
Conclusion
From my previous articles, it's clear that, despite I like the company's exposure to Vaccines and Rare Disease, I still see a lot of headwinds for the company in 2017 and beyond.
In addition, as shown by this quantitative analysis, I believe Sanofi is not trading with an attractive risk/reward setup. Even assuming that the management will achieve results in line with consensus for the next couple of years, there will be less than 10% of upside for the stock.
In a worst case scenario, with pessimistic assumptions for two key franchises (e.g. Diabetes and Praulent), the downside risk should be more than 20%, which doesn't look attractive compared to less than 10% of upside in the base case.
Despite my concerns about the long term threats and opportunities for Sanofi, especially in the Diabetes market, it's worth noting that FY'16 results are likely to be a solid set of results and they could be well received by the market.
Disclosure: I/we have no positions in any stocks mentioned, and no plans to initiate any positions within the next 72 hours.
I wrote this article myself, and it expresses my own opinions. I am not receiving compensation for it (other than from Seeking Alpha). I have no business relationship with any company whose stock is mentioned in this article.
Additional disclosure: Not investment advice. I am not an investment adviser.