Brinker International (NYSE:EAT) has been struggling for some time now to maintain its revenue base. Weak traffic across the industry has put many restaurant chains in a similar spot but Brinker seems to be suffering a bit more than others. A very tough Q2 report has Brinker down near its lows again and given the information in the report - traffic, in particular - even falling analyst estimates still look too high. Despite the fact that EAT is near its lows, at 14 times this year's earnings, it is still too expensive.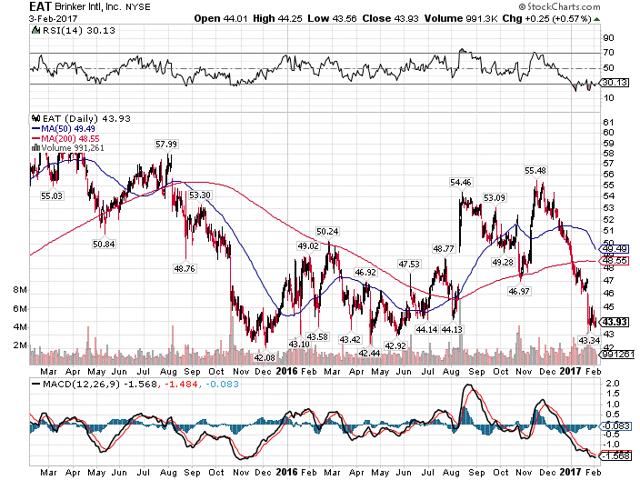 Total revenue was down 2.2% as EAT continued to grapple with very weak comp numbers. Chili's saw a -3.3% showing that came from a 3.2% gain from price/mix but a whopping 6.5% decline in traffic. That is a catastrophic loss in traffic that no chain can withstand and it simply exacerbates a problem that Chili's has faced for many quarters now. Menu refreshes haven't proven to be enough and the chain continues to struggle.
Maggiano's fared a bit better as pricing and mix accounted for a 1.7% gain but traffic fell 2.5%. The same story is true for Maggiano's but the magnitude is smaller as it has struggled less than Chili's. But struggle it has and both chains produced sizable comp losses on top of comp losses in the comparable quarter last year. In other words, EAT is stacking losses on top of losses and with no end in sight, I think people that own this stock are taking a big leap of faith that it can turn traffic around.
And that's the problem; pricing and mix are great but they only matter to the extent that people actually come in the door. That is the single toughest thing for any retail or restaurant business to accomplish and right now, EAT simply isn't doing it. But this isn't a one-quarter story; this has been happening for many quarters now and as traffic falls, so do sales and margins as it loses leverage on fixed costs. In short, there is no reason to buy this stock until traffic turns around and right now, things appear to be deteriorating further, not improving.
Speaking of margins, unit-level profitability fell 100bps in Q2 despite lower costs of goods sold due to some favorable commodity pricing and menu mix I already mentioned. Labor and restaurant operating expenses were roughly flat in dollar terms to last year's Q2 but deleveraging from lower overall sales meant that margins fell. This is the problem with perpetually lower comp sales; things like restaurant operating expenses are largely fixed and that means until traffic turns positive, we'll continue to see quarters like this with respect to margins.
What's worse is that lower sales cause G&A costs to deleverage as well and that number rose about 30bps as a percentage of revenue in Q2. That helped send total operating income down 160bps against last year's already-weak Q2 to just 8% of revenue. That multiplies the downside impact of lower revenue but there is no end in sight. EAT's principal issue is that it cannot get people into its stores and I haven't heard anything that makes me think it has a fix. Management seems unhappy with results so perhaps something will come of it but is a festering problem that EAT clearly cannot fix, at least not anytime soon. Until EAT can arrest the decline of traffic, there is absolutely no reason to own this stock.
That said, the stock is now at a level of support that has served bulls very well in the last couple of years. The $42 to $44 area has provided EAT something to bounce off of a bunch of times but I'm not convinced it will happen again. There are many headwinds to EAT's profitability, not the least of which is perpetually rising labor rates, which I haven't even mentioned yet. This is an industry problem, of course, but issues such as this have greater impacts to companies that are struggling, and EAT is certainly struggling. With pressure on margins from lower and lower comps as well as labor rates, I simply don't see an upside case here.
Despite this, the stock is still going for better than 14 times this year's earnings. That's way too high considering all the problems EAT has. Sales and EPS are going to be solidly negative this year and may indeed be so next year as well. Regardless, even if earnings rebound next year by the 9% analysts are looking for, the stock is still expensive at better than 1.5X its growth rate. In short, EAT doesn't deserve the benefit of the doubt and it looks like this could be a short candidate in the near future. I'll wait until it breaks support at the $42 level but I do think that will happen; there are simply too many issues, and until traffic turns around, the bias is firmly to the downside.
Disclosure: I/we have no positions in any stocks mentioned, but may initiate a short position in EAT over the next 72 hours.
I wrote this article myself, and it expresses my own opinions. I am not receiving compensation for it (other than from Seeking Alpha). I have no business relationship with any company whose stock is mentioned in this article.