This Monday morning, Diamond Offshore (NYSE:DO) reported 4Q16 results that exceeded top- and bottom-line expectations. Revenues of $391.9 million beat by $32.8 million, while EPS of $0.53 came in well above consensus $0.40 - aided by a $0.26/share benefit from a contract dispute settlement.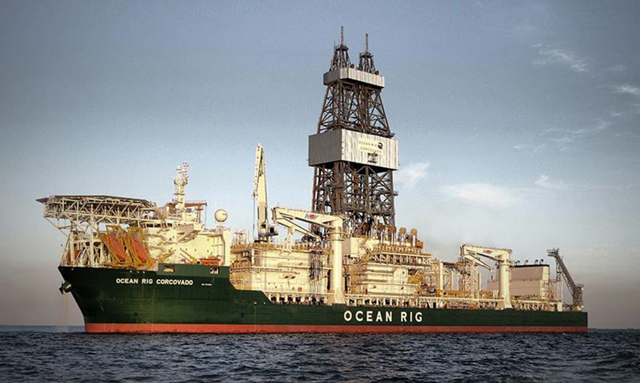 Credit: Offhsore Energy Today
The offshore drilling industry is nowhere near its comfort zone. But Diamond once again proved that it can navigate the downcyle and preserve its resources well.
It is remarkable, in my view, that 94% of the company's ultra-deepwater rig days are currently under contract in 2017, given the sizable and long-lasting demand headwinds that offshore drilling has been facing. In the past quarter, Diamond also was able to secure a three-month extension on the Ocean Valiant in the North Sea and a new, short-term contract for the Ocean Monarch in Australia later in 2017.
I don't believe any of these contracts will be enough to excite Diamond's investors, considering their short-term nature and that the undisclosed day rates are likely to be reduced. However, for offshore drillers nowadays, no bad news can be considered good news. Sequential backlog deterioration this quarter was in line with what we have seen this year so far: $3.6 billion vs. $4.1 billion last quarter and $4.4 billion in 2Q16.
On the cost front, drilling expenses came in 7% below 3Q16 levels, even though revenues grew sequentially by 15%. This resulted in operating profit of $104.1 million in the quarter that was nearly double the income from 3Q16, which underscored the importance of Diamond's cost management efforts during this rough cycle. In the end, the solid $0.53 in EPS finally broke a sequential decline trend that had persisted since Q415.
Lastly, I was satisfied to see an improvement in Diamond's balance sheet this quarter. As the graph below suggests, total cash balance is hovering above $150 million once again (the improvement partly driven by Diamond's use of its credit line earlier in 2016), and net debt continues to improve. As the company manages to generate positive cash flow, it seems like Diamond's cash is safe for now.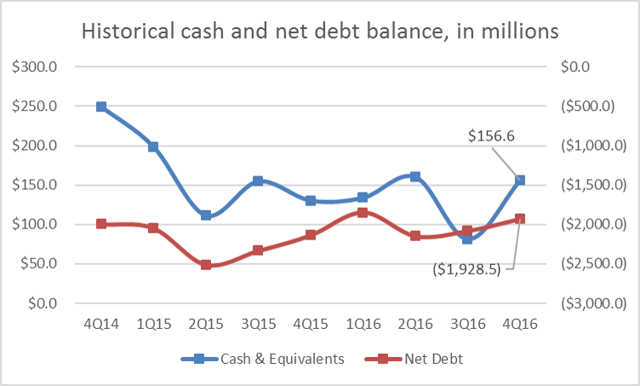 Source: DM Martins Research, using data from company reports
First Impressions
I do not believe that Diamond's results this morning were good enough to excite those who, like me, are not yet ready to invest in the distraught offshore drilling business. This is, in fact, unlikely to happen any time soon.
But I believe the company's 4Q16 results sent yet another signal that Diamond will probably be one of the few thrivers to eventually emerge stronger from the long downcycle. DO, therefore, is a name to keep an eye on.
Note from the author: follow me as I build a risk-diversified portfolio designed and back-tested to generate market-like returns with lower risk. I call it the Storm-Resistant Growth portfolio. The very early results have already exceeded my expectations. Take advantage of the 14-day free trial, and get immediate access to the community.
Supporting Documents
Disclosure: I/we have no positions in any stocks mentioned, and no plans to initiate any positions within the next 72 hours.
I wrote this article myself, and it expresses my own opinions. I am not receiving compensation for it (other than from Seeking Alpha). I have no business relationship with any company whose stock is mentioned in this article.