Remember when you and all of your friends used to spend the day hanging out at the mall? Running around without those modern leashes called cellphones, getting into the sort of trouble only young, dumb teenagers can. Playing at the arcade, eating overpriced greasy food, checking what today's definition of cool is, promising your date that "someday" you'll buy her that expensive jewelry and catching the latest movie on the big screen.
All in all, you probably remember something far more glamorous than reality was, and for many, that neighborhood hub of bustle and activity might look something like this today.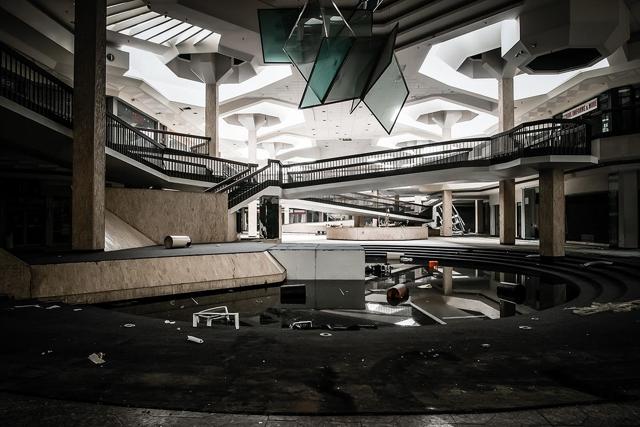 (Randall Park Mall: North Randall Ohio 2014. Courtesy of Johnny Joo)
It isn't big news that more recent history hasn't been terribly friendly to malls. The combined powers of e-commerce, a recession and social networking have changed many of the social aspects that made malls popular, big and profitable.
Despite changes in consumer preferences and habits, brick-and-mortar malls are far from dead. While many Class C malls continue to struggle and go into bankruptcy, modern malls are being built that barely resemble the malls of yesteryear.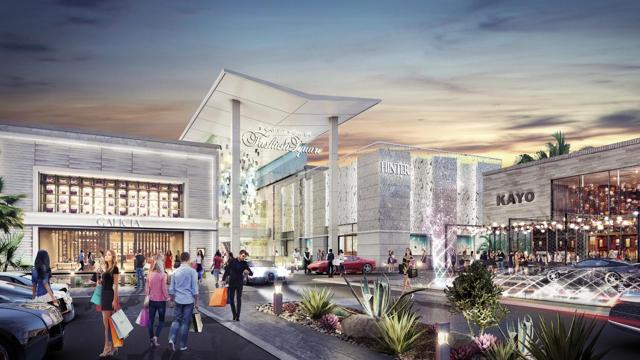 (Scottsdale Fashion Square redevelopment as imagined. Courtesy of Fashion Square)
Macerich Co. (NYSE:MAC) is a REIT that is working on building and rebuilding modern luxury malls. The newest project announced by MAC is an update and addition to Scottsdale Fashion Square, already one of the top malls in the country in terms of sales per square foot; it only sits at number 11 on Macerich's list. Macerich hopes to attract more sales per square foot, more tenants and higher rents.
According to the press release, the changes will include:
"Current development plans include a dramatic, high-visibility arrival point off Goldwater Boulevard, creating a grand entry into the luxury wing, which will be flanked by sweeping, two-level luxury flagships and an internationally acclaimed restaurant with spill-out café seating. Among the elevated amenities for visitors will be a dedicated luxury valet with a private lounge and house car, platinum-level concierge, personal shopping experts and style consultants, bespoke art installations and fine furnishings, resort-level restrooms, plus a signature fountain and lush gardens influenced by renowned landscapes from around the world."
Macerich understands that it needs to make its malls destination places. Instead of attracting troublesome teens, these malls attract tourists and special occasion shoppers who are willing to pay luxury prices.
The addition will also include Class A office space, luxury residential and a hotel. This will help diversify tenants beyond just retail.
What This Means For Investors
This particular redevelopment is expected to cost $250 million and have a stabilized yield of 8%. Since it is a joint venture, Macerich will pay half and get half. It is expected to come online in 2018. Between 2017 and 2018, the company has an additional $815-880 million worth of developments/redevelopments coming online ($511-546 million is its portion) with another $500 million+ in its "shadow pipeline".
This means that Macerich will be adding $671-929 million in assets (its share) at close to an 8% yield over the next two years.
Additionally, same-store growth is projected to be over 4.5% this year, and there is good reason to believe that growth rate can be maintained next year. It is my belief that this growth is not currently factored in to Macerich's $10 billion valuation.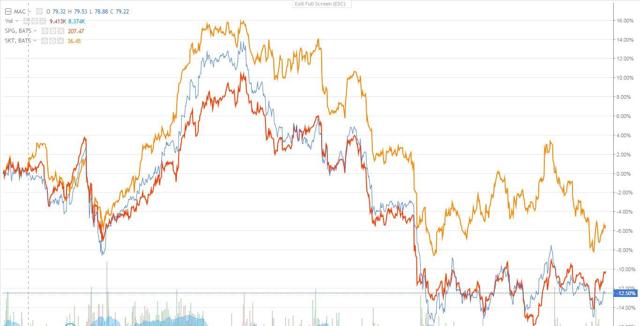 (Mall REITs collapsed at the end of 2017. Source: TradingView)
Mall REITs in general underperformed the second half of 2016, due to difficulties in the retail sector. With REITs facing additional headwinds due to rising interest rates, prices have remained depressed, and might fall more.
While some of this pullback is justified, it appears that mall REITs are currently on sale. For long-term investors, this provides a buying opportunity.
What About Amazon (NASDAQ:AMZN)
Any discussion of retail is incomplete without addressing e-commerce and the alleged death of brick-and-mortar retail. It is true that many malls are struggling, and the growing portion of people turning to e-commerce for their shopping is a significant factor.
Yet, despite that, Macerich's top 10 malls average sales of $983 per square foot. Its next 10 average $695 per square foot. The company's total average is $626 per square foot. Clearly, its properties are providing the tenants with solid business.
While e-commerce has changed the shopping habits of consumers, it has not completely replaced brick and mortar, and it will not. As long as people still enjoy going to the mall, the retailers will exist and will still pay rent.
Macerich and its tenants have chosen to compete with e-commerce by focusing on a higher end experience. Macerich has been disposing of its lower performing malls, such as the Cascade and Northgate malls, which both produced sales of less than $430 per square foot.
This sale provided the company with $100 million in net proceeds to redeploy towards its redevelopment efforts. This improves the quality of the portfolio while supporting management's argument that the actual value of its assets is higher than the market is giving it credit for.
Despite challenges to brick-and-mortar retail, Macerich is growing its bottom line and will continue to do so.
Conclusion
I consider Macerich's current price a discount to its value and have initiated a long position. The company is doing an excellent job improving the performance of the underlying assets and it will lead to solid internal growth for the next three years.
While long term, brick and mortar will face increasing competition through e-commerce, the market has overreacted. While its stock price has plummeted, the underlying property value and income stream remain strong. With a yield over 4%, investors can take advantage of a decent yield, with capital gains upside over 2017 and 2018.
Sources: Macerich SEC filings, Johnny Joo Photography, fashionsquare.com
Disclosure: I/we have no positions in any stocks mentioned, but may initiate a long position in MAC over the next 72 hours.
I wrote this article myself, and it expresses my own opinions. I am not receiving compensation for it (other than from Seeking Alpha). I have no business relationship with any company whose stock is mentioned in this article.