Last week, purely as a result of my friendship with an oil and gas industry veteran, who currently works for one of the major U.S. pipeline companies, I was on top of news that former FERC Chairman Norman Bay abruptly resigned and set a Feb. 3, 2017, retirement date. This friend also explained to me there were only three FERC commissioners and that you can't have a quorum with less than three. Given Mr. Bay's ideologically different views than President Trump and after being striped of his chairman status, he did in fact officially resign on February 3, 2017.
This was a big deal as Energy Transfer Partners (NYSE:ETP) was awaiting approval of its 3.1 Bcf/d Rover pipeline, Williams (NYSE:WMB) for its Atlantic Sunrise project, as well as a number of other pipeline projects that are awaiting final FERC sign off. As an aside, having looked through the 119 pages of FERC document for ETP's Rover, I understand why this process can take years given the number of hoops that need to jumped through and hurdles that need to be cleared. Moreover, due to stringent environmental protections put in place to protect birds and other animals, if these projected were delayed then it was possible that President Trump won't have been able to appoint and have a new FERC member confirmed by the Senate in order for pipeline companies to have enough time to fell trees to clear the physical pathway by the April 1, 2017. Without an ability to fell the trees, these multiple billion projects could have been delayed by upwards of nine months. However, as a good civil servant, Mr. Bay and the commission adverted the optics of partisan politics and they were able to vote and ultimately approve both the Rover and Atlantic Sunrise pipelines.
Now as someone who has been fairly closely following the natural gas industry since the summer of 2015, with varying levels of intensity, names like Rice Energy (NYSE:RICE), Gulfport (NASDAQ:GPOR), Range Resources (NYSE:RRC), Chesapeake Energy (NYSE:CHK), Cabot Oil and Gas (NYSE:COG), and Southwestern Energy (NYSE:SWN) have constantly been on my radar screen. In fact, we made money trading Range, and Cabot on a few occasions. Yet for some reason, perhaps because of its larger market capitalization, Antero Resources (NYSE:AR) was never on my watch list.
That said, solely because of the quorum risk and its impact on the Rover pipeline and tree felling season, I finally took a closer look at Antero. And, boy, I'm sure glad that I did. This past Friday, after Rover was approved, albeit with a lot of conditions, we picked up a healthy slug of Antero shares at $26.07.
Below are some important qualitative Q3 2016 comments from President and CFO Glen Warren. Antero's firm commitments enabled them to realized higher netback because they sell their gas into markets that trade in line with Nymex Henry Hub less firm transportation costs of $0.46 MMBtu. So AR's realized prices were well ahead of local producers that sell for Dominion South, and TETCO prices.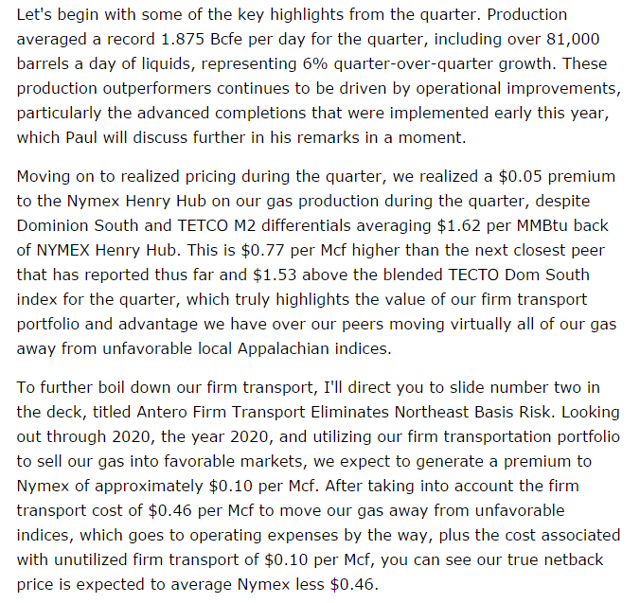 Moreover with 81,000 barrels per day of NGLs, there is upside optionality to rising prices.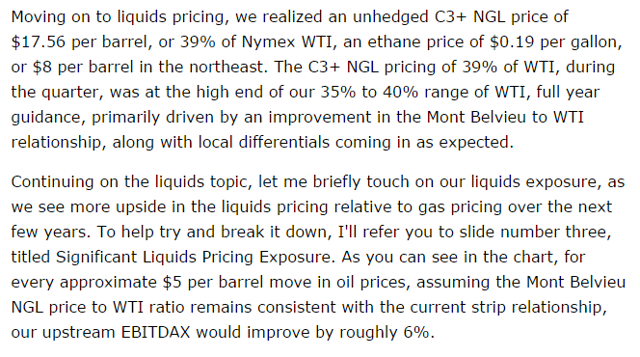 Finally, here is an important quote from Glen Warren:
I think it's also important to point out, as highlighted on slide number four, titled Largest Core Inventory in Appalachia, we are the largest holder of core acreage in Appalachia. Over 587,000 net acre core position is only 15% developed and includes 4,300 undeveloped horizontal drilling locations. With 435,000 net acres, we are also the largest holder of core liquids-rich acreage by a factor of over 2 times our next closest peer.
Next look at Antero's slides. Enclosed below and because Antero's February 2017 investor slide deck is so thorough, this is really a straight forward thesis for me to share. Again, I have identified it as my best natural gas idea for 2017, at $26 per share.
Incredible reserve growth: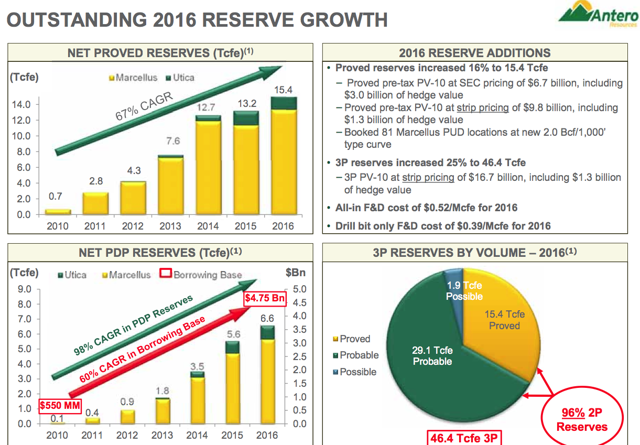 Great production growth: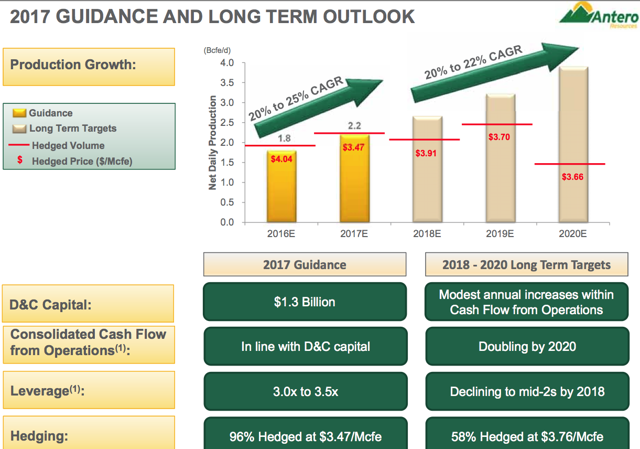 The marquee foothold in the Appalachian core: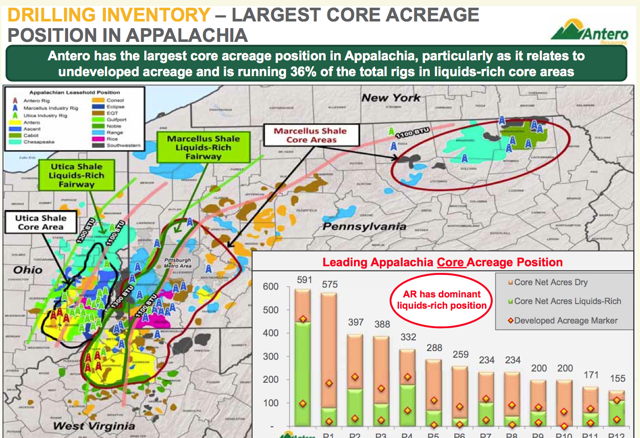 A low cost breakeven structure: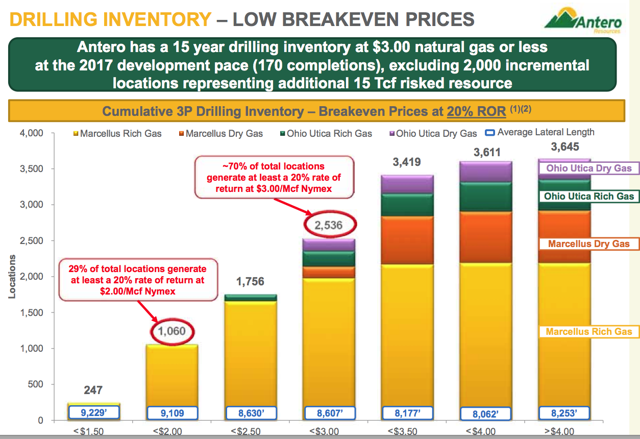 Better drilling efficiencies from economies of scale and technological advances: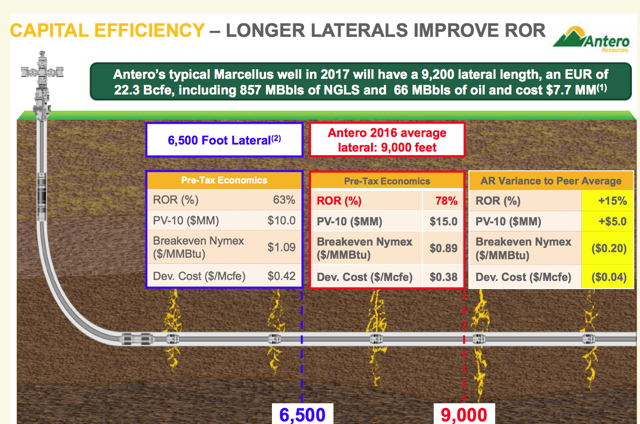 Great production growth despite running much fewer rigs: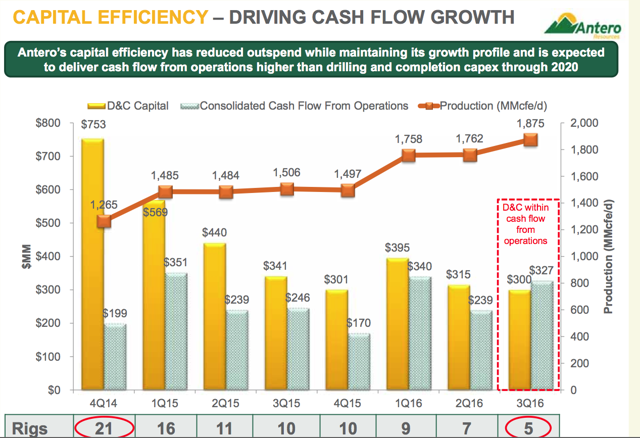 The best firm takeaway capacity, given its acreage, to get its product to market for the best netbacks: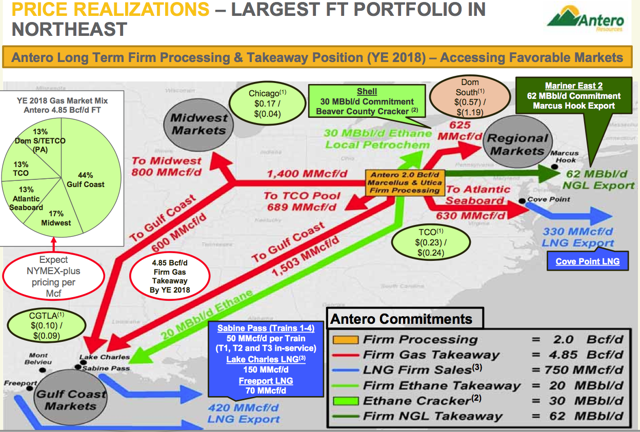 And finally, strong production guidance, with NGL liquids, and 95% of 2017 volumes fully hedge at favorable prices: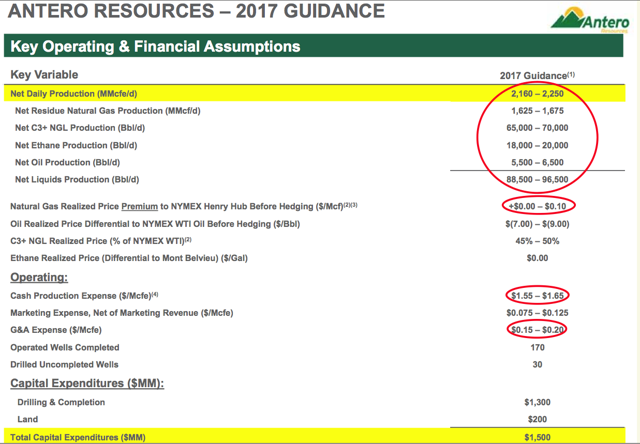 All are juicy Q3 Q&A pieces of information.
Well costs have come way down from 2014.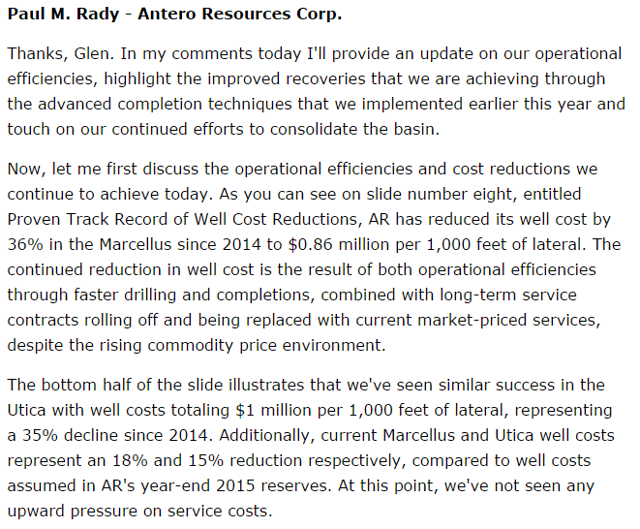 Utica is at capacity on REX, so they are only drill enough to maintain 600 million cubic feet per day.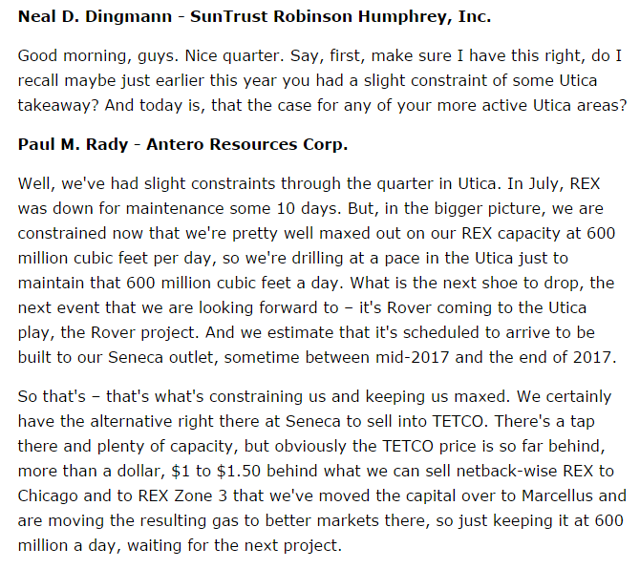 Comments on Mariner East II: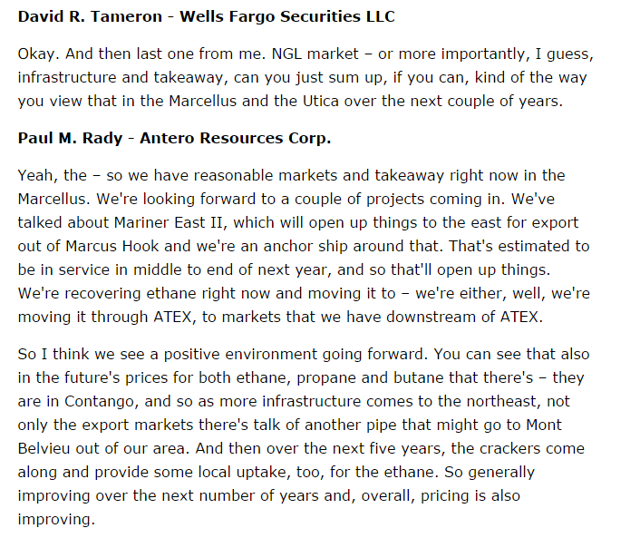 Firm capacity enables Antero to take advantage of distressed gas during seasonally high inventory periods.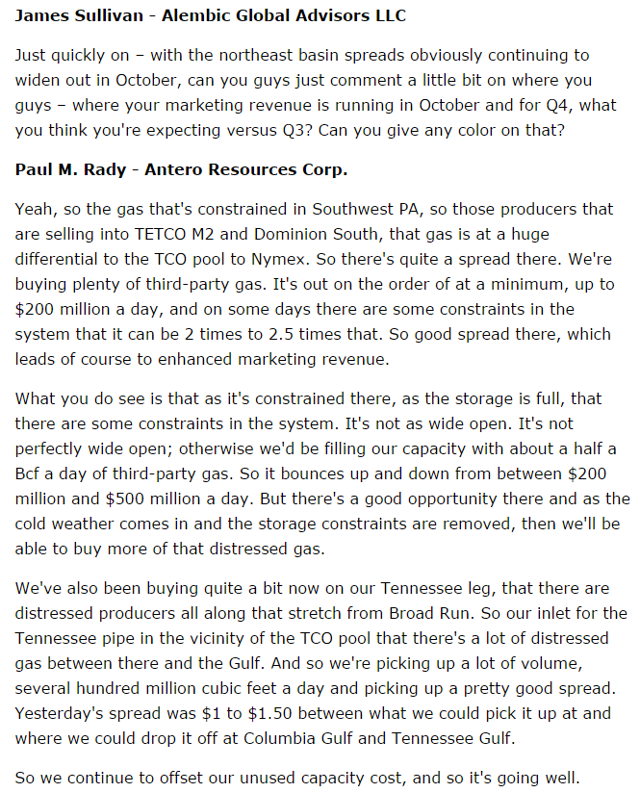 Below are the details or Antero's firm takeaway capacity: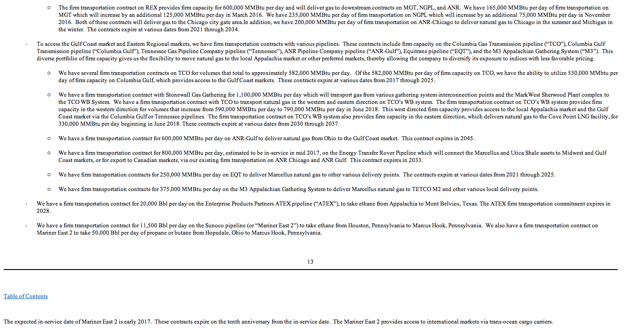 With only six weeks of winter left and adequate natural gas inventories, despite the much chronicled current natural gas structural supply/demand deficit, Antero's 95% locked natural gas prices north of $3.55 look pretty smart right about now.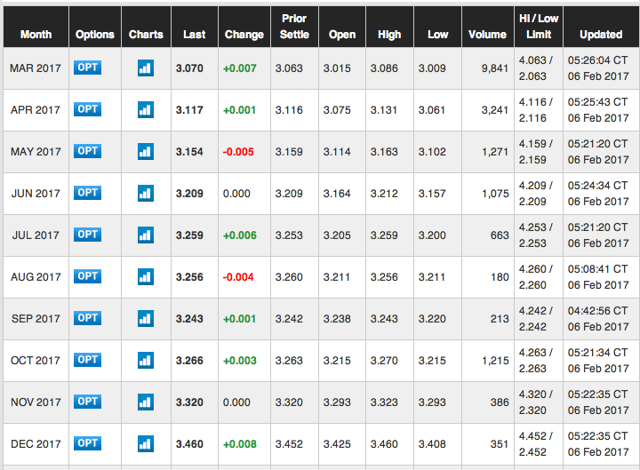 As we can see, there are only six weeks of inventory draws left and not enough to materially move natural gas prices higher. We will have to wait for the power burn season for that prospect.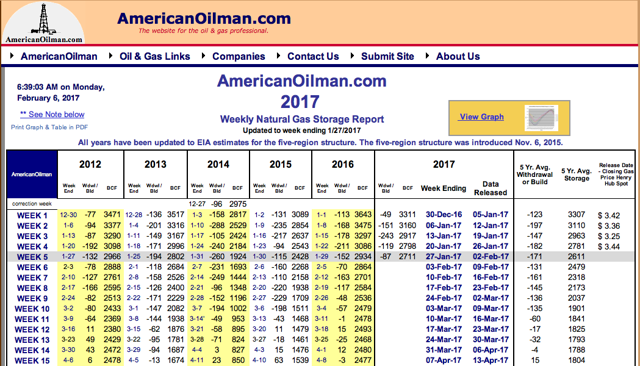 Antero's natural gas production is fully hedged for 2017 and well hedge through 2022, yet its stock some how fluctuates with the price of natural gas. Given that management has no intention of selling major acreage, this is puzzling, and price risk is off the table.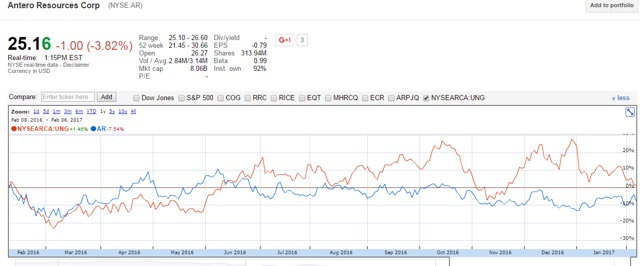 Source: Google Finance
And finally, there is a name snapshot showing how Antero is key shipper on Rover.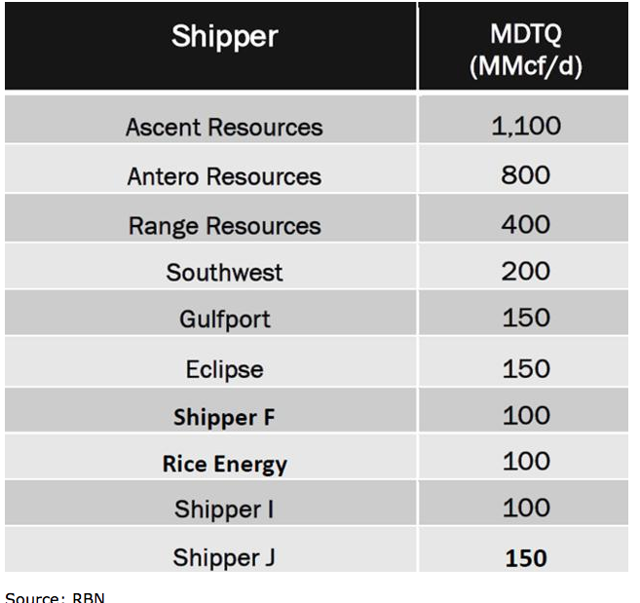 Takeaway
We got long shares on Antero last Friday at $26.07 (a 5% portfolio position) and love the idea. Antero has the perfect combination of low cost production growth, ample low cost reserves, the best firm takeaway capacity in the Appalachian region, and now has confirmation that Rover should be in service by Q4 2017, just in time for winter. Also, Sunoco Logistics' (NYSE:SXL) Mariner II should come online in 2017 and help NGL prices. Moreover, Antero's excellent and well-priced hedge book combined with its growing NGLs portfolio make this an attractive investment at $26.
Disclosure: I am/we are long AR.
I wrote this article myself, and it expresses my own opinions. I am not receiving compensation for it (other than from Seeking Alpha). I have no business relationship with any company whose stock is mentioned in this article.