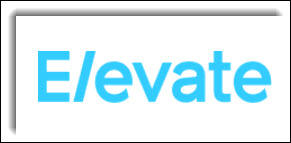 Quick Take
Online consumer finance company Elevate Credit (NYSE:ELVT) has filed its latest S-1 amended registration, seeking an as-yet-undisclosed amount and terms in an IPO.
Elevate is a fast-growing online lender to consumers in the non-prime, underbanked sector.
Management has performed well in the past few years, which has coincided with an ultra-low interest rate environment.
However, the combination of rising interest rates and the maturity of the company's main credit facility one year from now in January 2018 lead me to question its performance potential given potentially higher cost of funds and more restrictive covenants.
Company
Fort Worth, Texas-based Elevate is the 'spun-off' company from the original Think Finance, founded in 2001 to provide online financial services and access to credit for underbanked consumers through a variety of products, including payday loans.
Elevate was spun off from Think Finance in 2014, but its CEO, Ken Rees, was also CEO of Think Finance since 2004.
Think Finance became well known as an ultra-high cost of credit provider, with APRs (Annual Percentage Rate) on its loans reaching as high as 365%, and the company receiving some measure of negative press as a result.
Elevate has since gone to some lengths to show that its average APR has dropped, being quoted in a Wall Street Journal article in June 2016 as describing it as "153% in the first quarter [of 2016], down from 251% in 2013."
Elevate operates three product lines:
Rise - installment loans in the U.S.; 36% to 365% APR; weighted average 158%
Sunny - installment loans in the UK; up to 288% APR; weighted average 236%
Elastic - lines of credit in the U.S.; $5 fee per $100 borrowed plus up to 60% APR; weighted average 89%
Elevate's major stockholders include Sequoia Capital (27.2% stockholder pre-IPO), Technology Crossover Ventures (22.2%), 7HBF No. 2 Ltd. (14.1% - Harvison Brothers) and Linda Stinson (10%).
Market and Competition
The market for underbanked consumer finance is quite large, in the many billions worldwide, although online lenders such as Lending Club (NYSE:LC), Funding Circle, Prosper, Kabbage, SoFi, Avant and even Goldman Sach's (NYSE:GS) Marcus platform have either launched, continue to provide consumer loan services in some form or have exited the market altogether.
These online lenders hope to make money by having lower acquisition costs than retail banks for consumers or businesses, as well as developing improved methods for underwriting, thereby reducing their loan losses.
According to the Philadelphia Fed, the size of the U.S. consumer credit market in 2Q 2015 was $3.4 trillion.
Provenir estimates that the U.S. has 113 million adults that have non-prime credit scores, so are potential customers for products such as Elevate's.
In the aftermath of the 2008 financial crisis, many main line banks exited or sharply reduced their lending activities to consumers, as consumer credit quality dropped.
Below is a Philadelphia Fed chart showing consumer loan charge-off rates in the context of the financial crisis: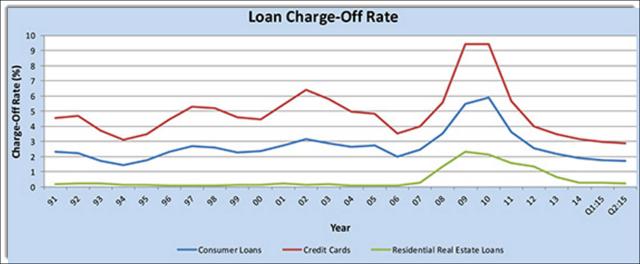 (Source: Philadelphia Fed)
Companies such as Elevate and others previously mentioned stepped into the market vacuum left by banks and have grown their loan portfolios substantially as a result.
Financials
Elevate's recent financial results can be summarized as follows:
Impressive revenue growth
Strong gross margin growth
Strong CFFO (Cash Flow From Operations) growth
Below are the company's operational results for the past two and ¾ years (Audited GAAP for full years):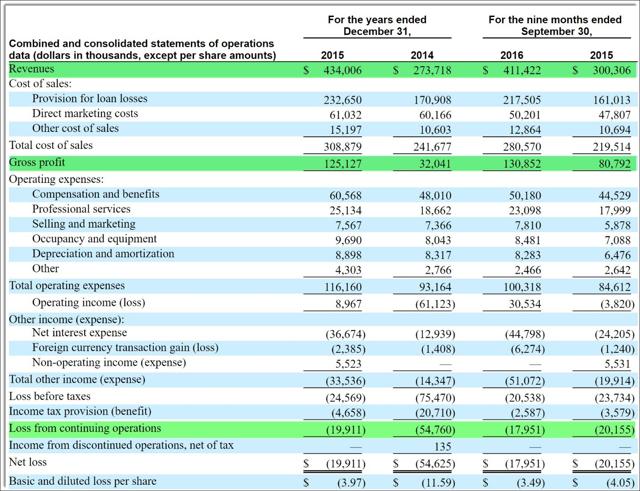 (Source: Elevate Credit S-1)
Revenue
To 3Q 2016: $411.4 million, 37% increase vs. prior
2015: $434 million, 59% increase vs. prior
2014: $273.7 million
Gross Margin
To 3Q 2016: 32%
2015: 29%
2014: 11.7%
Cash Flow from Operations
To 3Q 2016: $175 million cash flow from operations
2015: $128.4 million cash flow from operations
2014: $55.6 million cash flow from operations
As of September 30, 2016, Elevate had $53.5 million in cash on hand, loans receivable of $360 million net of allowance for losses and notes payable net of $451.6 million.
Elevate's loan portfolio performance and acquisition costs are as follows:

(Source: Elevate Credit S-1)
A few relevant takeaways:
The number of new consumer loans has increased while the customer acquisition costs have been trending downward, a good signal that management is getting more efficient at acquiring new customers as the company scales its operations.
Net charge-offs as a percentage of revenue have also been trending downward, from a recent high of 54% in 4Q 2015 to 48% in 3Q 2016. Notably, 2Q 2015 saw a 42% figure, so it is difficult to know if that was an anomaly. In any event, management appears to be improving its underwriting capabilities as the size of its portfolio grows.
IPO Details
Elevate has filed to raise an undisclosed amount in its IPO and has not provided an expected share price range or proposed post-IPO market cap.
It intends to use the proceeds as follows:
We expect to use approximately $ million of the net proceeds to repay a portion of the outstanding amount under the VPC Facility and the remainder for general corporate purposes, including to fund a portion of the loans made to our customers.

Pursuant to our financing agreement, the outstanding borrowings under the VPC Facility were used to finance customer loan growth for our Rise and Sunny products and for working capital. Our financing agreement will mature on January 30, 2018, and, as of September 30, 2016, the $330.8 million outstanding under our financing agreement generally bears interest at the 3-month LIBOR rate plus 13-18%.
Notably, VPC "has the option to convert [$25 million of] the [non-Facility] notes into equity prior to" the IPO.
As of September 30, 2016, the company had $27 million in common and convertible preferred stock outstanding.
Elevate has not indicated an underwriter for the offering.
Commentary
Elevate has not provided pricing or valuation details for its IPO, so my final opinion will necessarily hinge on that information once it is available.
With a 2016 revenue run rate of approximately $550 million, the company will surpass publicly-held Lending Club ($2.5 billion market cap) in revenues and other important aspects such as operating cash flow.
Elevate is showing impressive financial performance in recent reporting periods since it 'spun out' from its predecessor Think Finance.
Management has dramatically grown revenues, gross margin and cash flow from operations.
Additionally, its loan portfolio performance appears to be improving as the company expands, with decreasing customer acquisition costs and net charge-offs featuring prominently among the metrics.
Elevate says its growth strategy is composed of several elements:
Grow current products into dominant brands
Widen borrower spectrum with new products focused on near-prime consumers
Expand relationship with existing customers
Expand strategic partnerships
Extend into additional markets
One important aspect that concerns me about short-term online lenders such as Elevate is the rising rate interest environment.
The cost of Elevate's 'Rise' and 'Sunny' divisions term note capital (VPC Facility) is 3-month LIBOR rate plus:
15% up to $75 million balance
14% of $75 million to $150 million
13% for balance above $150 million
Each 1% rate increase on Elevate's current $360 million loan portfolio increases its funding costs by $3.6 million per year. The VPC Facility matures on January 30, 2018.
So, depending on your outlook for interest rate rises, a prospective investor might be concerned that in the current forecast rising rate environment, Elevate is at some risk for exposure.
How much risk and how fast it can change is difficult to forecast, but I would not be surprised to see a 1% increase by 1Q 2018, thus increasing Elevate's net interest expense.
Further, since its main term loan facility matures one year from now in January 2018 and assuming interest rates have increased, Elevate's loan terms and covenants may also change and become more restrictive, potentially making it more difficult for management to expand into near-prime consumers which could sharply reduce its loan margins.
While I am impressed by management's growth of revenues, gross margin and cash flow from operations as well as its growth strategy, I am mindful of the potential squeeze that Elevate may face next January.
When we know more about the IPO pricing details, I will provide an update.
I write about technology IPOs, M&A, follow-ons and secondaries. If you want to receive future articles automatically, click the +Follow link next to my name at the top of this article.
Disclosure: I/we have no positions in any stocks mentioned, and no plans to initiate any positions within the next 72 hours.
I wrote this article myself, and it expresses my own opinions. I am not receiving compensation for it (other than from Seeking Alpha). I have no business relationship with any company whose stock is mentioned in this article.