Shares in British telecom giant BT plc (NYSE:BT) have taken a hammering this year on the back of an escalating accounting scandal in its Italian business and a slowdown in one of its operating segments. That was the catalyst sending the stock down some 20% on 24 January, with results released a few days later showing a 37% drop in reported pre-tax profit and a 59% drop in reported earnings per share. Now yielding 4.7% on trailing twelve month basis and trading at under 11x earnings this looks like a good opportunity to get onboard for the long-haul.
BT Italia & Profit Warning
The first headline item was a negative development in the ongoing accounting scandal affecting BT's Italian operations. In short the company was made aware by a corporate whistle blower over the summer that profits were being overstated using a variety of accounting tricks. Initially BT estimated that this would result in a non-cash hit of around £145m, however in the latest update this figure had ballooned to £545m.
An £8bn hit to the market-cap (which was around £40 billion pre-news) seems a steep price to pay for losses of £545m. After all given that BT Italia is such a minuscule fraction of overall group earnings it's pretty hard to see how much further it can go, although there's a possibility of a much deeper underlying issue across the group. As of Q3 2016/17 the Global Services segment under which BT Italia is grouped accounts for 20% of the top-line but only 5% of overall EBITDA: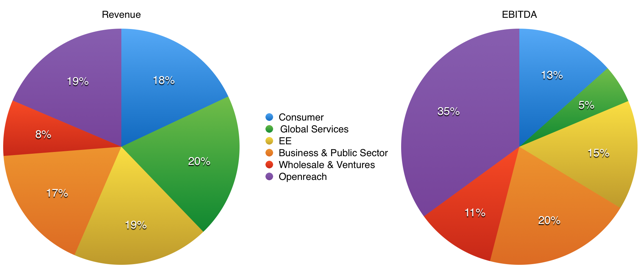 The second reason for the drop was due to the operational performance of its Business & Public Sector segment. Historically this segment has benefited from the huge cashflows provided by the ambitious public sector IT schemes of the 1997-2010 New Labour government. With new public sector contracts now drying up underlying revenue was down 6% in the segment excluding the effects of the EE acquisition, and looking ahead to Q4 BT are guiding for a double digit year-on-year drop in EBITDA (again excluding EE). As you can see from above this segment accounts for a more significant 20% of overall group EBITDA.
Despite the justified negativity there's still plenty of reasons to be happy with the underlying business. The Consumer segment's transformation from a stodgy fixed-line/broadband provider to include TV and mobile has been a success courtesy of discounted English Premier League and Champions League football viewing for broadband customers. The move toward quad-play has not only halted BT's slipping share of the U.K. broadband market, but now means they're getting the bulk of new broadband additions as well.
In addition last year's acquisition of EE has transformed BT's mobile offering given EE's 33% share of the U.K. market and ownership of the largest 4G network in the country. Throw in the Openreach cash cow's 50%+ EBITDA margin and ultimately overall group cash flows remain strong, with the company consistently converting around half of cash from operations into free cash flow.
Given that even revised 2017/18 free cash flow guidance of £3.1 billion would put the current market-cap at around 10x that figure it seems like an unduly harsh drop, especially once you compare that valuation to BT's telecom peers on both sides of the Atlantic.
A Possible 5.5% Forward Yield
Pre-announcement the shares were trading with a trailing-twelve-month dividend yield of around 3.65%. That doesn't sound particularly noteworthy for a telecom but it's reflective of the recent dividend and earnings growth history. Over the past five years the company have grown both at an average annual rate of around 13%.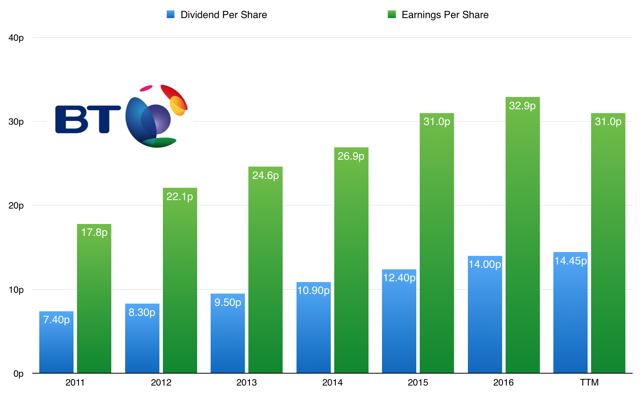 Right now the shares are at 10.75x forward earnings estimates with a TTM dividend yield of 4.7%. With management sticking to their 10% dividend growth targets for 2016/17 and 2017/18 then income investors could potentially be looking at a forward yield of around 5.5% in the next fiscal year.
Okay so it's one thing to guide for eye-opening growth rates but how does that stack up to reality? Well on the current cash flow score the dividend is well covered given estimated 2017 free cash flow of £2.5 billion. The prospective distribution of 15.4 pence per share for FY 2016/17 (year ended March 2017) equates to around £1.5 billion in cash outflow, leaving post-dividend free cash flow of around £1 billion.
The two large concerns with respect to the 10% growth target come from current debt levels and the pension deficit. After factoring in cash & equivalents of £2.4 billion net debt stood at around £9 billion at the end of 2016, with approximately £6.6 billion due over the next five years and the bulk of the outstanding amount after 2025. The current pension deficit - a legacy of the days of state ownership and an era in which final salary pension schemes were commonplace - is also currently at around £9 billion.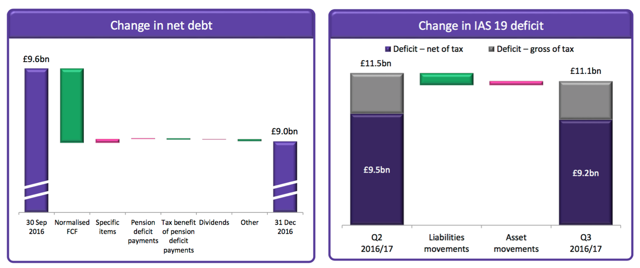 (Source: BT Q3 2016/17 Results)
To combat the gap management have been diverting cash flow toward in recent years - £875m during 2014/15 and £880m in 2015/16. You can see the quandary there for income investors; between the debt load and plugging the pension deficit there's not a huge slice of the post-dividend free cash flow pie to go around.
Potentially mitigating that is the aforementioned EE deal which BT expect will realize significant cost synergies through avenues like cross-selling products and offering BT Sport content to EE users. For 2017/2018 management are forecasting normalized free cash flow to grow to approximately £3.1 billion, albeit revised-down from the pre-announcement figure of £3.6 billion.
Assuming 10% dividend growth for the current fiscal year and 2017/18 we're looking at a forward per share distribution of 17 pence. At the current share count that would be equal to approximately £1.7 billion in cash outflow. Subtracting this from management's free cash flow estimate would therefore leave £1.4 billion in post-dividend free cash flow to go towards a combined net debt and pension deficit of £18 billion. It's touch and go affordable, though even the current trailing twelve month distribution of 14.45 pence per share leaves investors with an attractive current yield of 4.7%.
Outlook & Current Valuation
Pre-announcement the shares were trading at 13.4x earnings with a 3.65% trailing-twelve-month dividend yield. That's pretty much bang on the historical average from an earnings multiple perspective (excluding one-offs from 2009 which caused the P/E to go haywire) and with a fairly unremarkable dividend for a blue chip telecom stock. The stock is now trading at under 11x earnings with a TTM dividend yield of 4.7%. Even if management's dividend growth plans prove to be too optimistic that looks attractive given the prospect of some multiple expansion down the line to go with the current level of distributions.
All-in-all given the discount to its historical earnings multiple and global peers, and an attractive enough carrot dangling by way of the dividend, BT looks a solid candidate for value and income investors alike.
Disclosure: I am/we are long BT.
I wrote this article myself, and it expresses my own opinions. I am not receiving compensation for it (other than from Seeking Alpha). I have no business relationship with any company whose stock is mentioned in this article.