This piece summarizes an innovation and attempts to quantify if the impact is revenue significant for the company. Given the conclusion that this grocery business is merely a drop in the bucket (albeit a high-margin drop) at the behemoth that is Amazon (NASDAQ:AMZN), we find that the innovation does not change our investment thesis. We remain on the sidelines of this high-growth, difficult-to-value, and seemingly expensive company.
The NY Post reported an interesting piece on the future of grocery shopping, led by Amazon. The grocery store concept from Amazon is nothing new. In fact, tests have been running for a while. There is a retail location in Seattle that has no checkout line; simply tap your cellphone when you walk in and it tracks your purchases via sensors. Customers are then charged via their Amazon account. Even the rumor that more than 2,000 of these types of next-gen grocery stores might be opened is nothing new; the WSJ reported back in Dec. 16 that the Amazon Go experience could be rolled out across the country.
What is interesting about the NY Post article is it implies a move away from the convenience store prototype with a limited scope of goods for sale. The Go experience would have worked well for to-go meal-boxes, but would not have been a replacement for traditional grocery store shopping; rather it would only be a supplement to it. But the new potential format is rumored to be 10k and 40k square feet and could have up to 4,000 items and perhaps even pharmacies. Sounds a lot like a regular grocery store, with one key difference, there may only be a max of 10 people working in it, and that lack of staff may lead to mouth-watering margins of greater than 20%. Grocery store margins are notoriously low, closer to 2%, even the high-end specialty stores don't reach the 20% to 40% that these stores may see.
We note that many grocery stores carry 15,000 to 60,000 SKUs (according to FMI), so at 4,000, this may still be a very limited offering, and not a total replacement to traditional stores. That said, many of the items sold in grocery stores could be sold from the traditional online platform and do not need to be sold from the Go locations, meaning Amazon could still capture 100% of your grocery spend.
While the 2k stores previously announced were the smaller sub-2k square feet format, it's interesting to consider what could happen if a significant portion of these were rolled into the larger format store.
If we assume that a quarter of the stores carry 10% of the SKUs of the national average and see similar revenue/SKU, then we could see a billion in annual sales, and of course, great margins at the 20% level. While Amazon may stick to higher value items, may increase SKU count, particularly if stores actually reach 40,000 square feet. This calculation is just to get an idea of how significant this may be.
Time for some back-of-the-envelope math: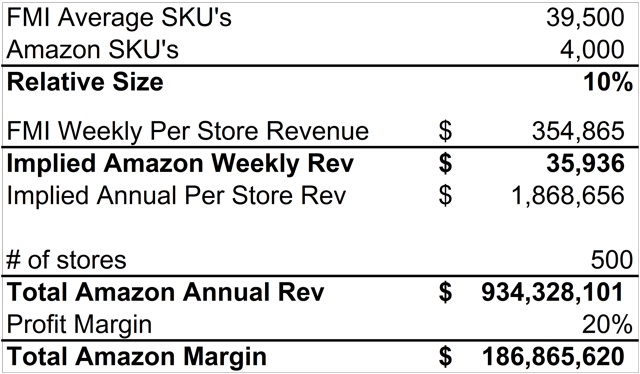 Amazon is forecast to do $166B of sales this year, with about 20% growth over the next couple of years, totally dwarfing $1B from sales of grocery products. While that $1B may actually be $2B or $3B depending on the aggressiveness of assumptions, it's a drop in the bucket compared to the behemoth that Amazon is. More important may be the read-through on other grocery stores, will they be forced to follow suit? The job loss in a robotized world could be massive. Also, if these margins do truly exist, Amazon has the ability to turn 2k stores into many more at a staggering speed. Grocery stores should view this as a real threat.
While we don't usually cover high growth stocks at Smart Dividend Stocks, we do cover grocers such as Whole Foods (NASDAQ:WFM), which may be on the receiving end of such innovation. We'll continue to keep our eye on industry moving dynamics. Don't forget to subscribe to keep abreast of future developments.
Disclosure: I/we have no positions in any stocks mentioned, and no plans to initiate any positions within the next 72 hours.
I wrote this article myself, and it expresses my own opinions. I am not receiving compensation for it (other than from Seeking Alpha). I have no business relationship with any company whose stock is mentioned in this article.