(Note: This write-up was first published on Thursday, February 2nd. Daily Pain is part of the premium daily series we publish along with Daily Natural Gas Update. If you are interested, you can sign up here.)
By Pain Capital
On the surface, today seemed like a rather quiet day, but to the keen observer, today was far from quiet.
Under the surface, I noticed quite a bit of interesting fund flows I like to go over today. The rotation between sectors, the Trump-driven post presidency trades, and some of the macro shifts currently taking place.
Be mindful that my commentary will probably prove to be completely useless from a trading perspective, but my observations of fund shifts and sector rotations might give us some insight into where the crowd is headed next.
Rotation from Energy (NYSEARCA:XOP) to Tech (NASDAQ:QQQ) and Back to Energy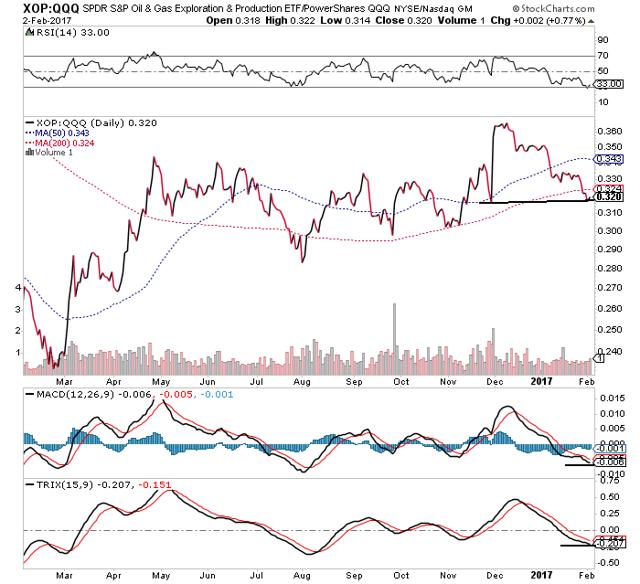 This has been a key chart I've been sharing with keen observers over the last several days. This is a chart of the S&P 500 oil & gas companies relative to the tech sector QQQ. After the OPEC meeting, XOP materially outperformed (evidenced by the ratio chart), but since then, the gains have moderated, and at the start of the year, we can clearly see the funds rotate back into the tech sector.
Without fully understanding the full context of this at the start of the year, I had a hunch that fund managers largely window dressed their portfolios for year-end. Tech stocks, the darling of Wall Street since 2009, underperformed its cyclical counterparts, and most fund managers that were extremely overweight trimmed and rushed into the energy names. We saw that effect play out, and the vice versa came true when 2017 started.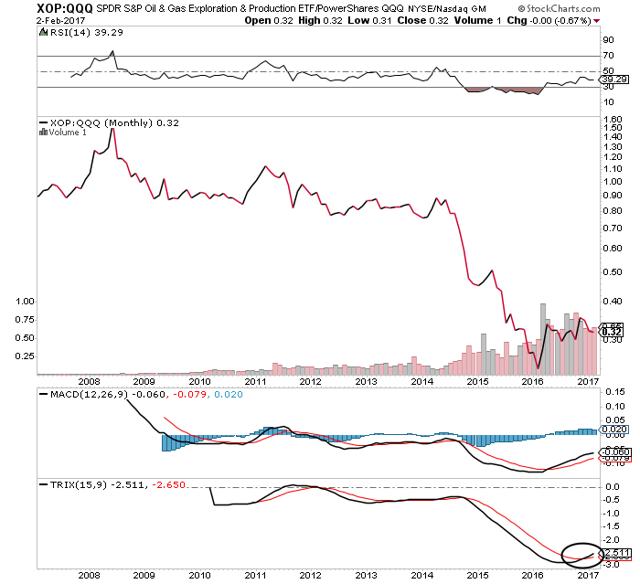 On a longer-term basis, the ratio of energy outperformance to QQQ was mild. The underperformance started in 2014 is attributed to the downturn in oil prices, but we saw some glimmer of hope at the end of 2016. TRIX broke out on a multi-year downtrend, and according to this signal, we are at the inflection point of when oil and gas producers will begin to outperform tech names.
It is based on this fact-less hunch that I believe we could see fund managers gradually sell down growth names and reallocate into cyclicals. Clearly, we need more evidence to prove this point, and I could point to the long oil thesis as one primary example, but I'll leave the tea leaf reading as is for the time being. It's an observation and nothing more.
Lastly, if you have not seen the energy research, you can view this folder here to download the reports.
The Dollar Trade Continues to Unwind
The basis of many of my investment themes requires the crowd to be overly consensus on one side. The long Dollar trade coming into 2017 was by far one of the most consensus trades I had seen, and the recent weakness is a testament to the idea that the wisdom of the crowd is wiser.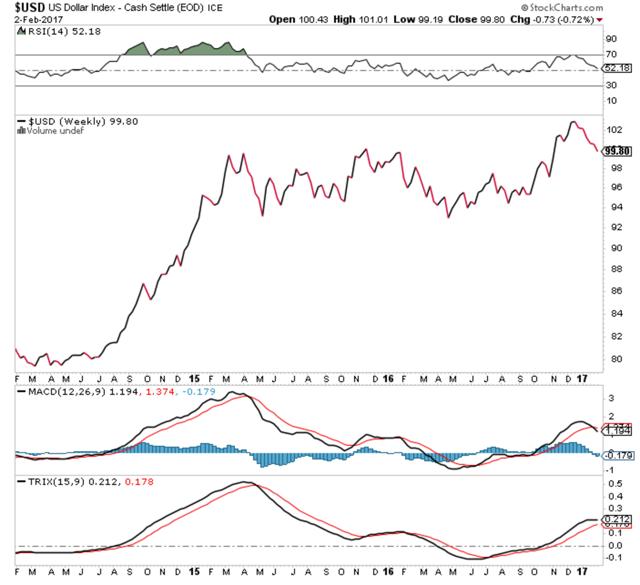 To put it more bluntly, the long Dollar trade has likely met its match. I say this because, in the currency market, macro forces drive fundamentals. Technical trends develop far before the actual implications are understood. Why is it that global inflationary indicators are showing inflation on the rise, and deflationary thematic ideas selling off?
Sure, we could use the argument that the market is not always right (e.g. the moves post Trump's victory), but I could argue it's the effects following the initial move that give clarity into the future rather than the initial reaction.
The Fed was also reluctant to raise interest rates as the Trump presidency presents a global tail risk most economists won't dare to predict. As a result, what makes the Dollar appealing anymore?
Sure, Trump's America First policy could result in a stronger economy, but is it positive for investments? Is it positive for Wall Street? Or will Trump's policies shift the wealth effect from Wall Street to Main Street? Will Trump want a weaker Dollar to boost US manufacturing and export?
There are far too many unanswered questions at the moment for anyone to have a clear view of where the Dollar is headed, and my reasoning is that the crowd simply got too overconfident about the uncertain future and the other side became too obvious.
Last but not least, I'll leave you with a couple currency pairs I've been watching, and you can tell me where you think the next move will be. Remember, giant macro trends don't stop on a dime.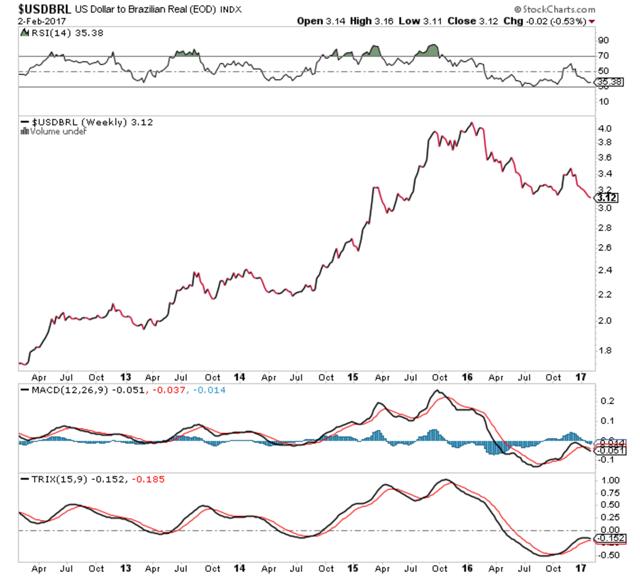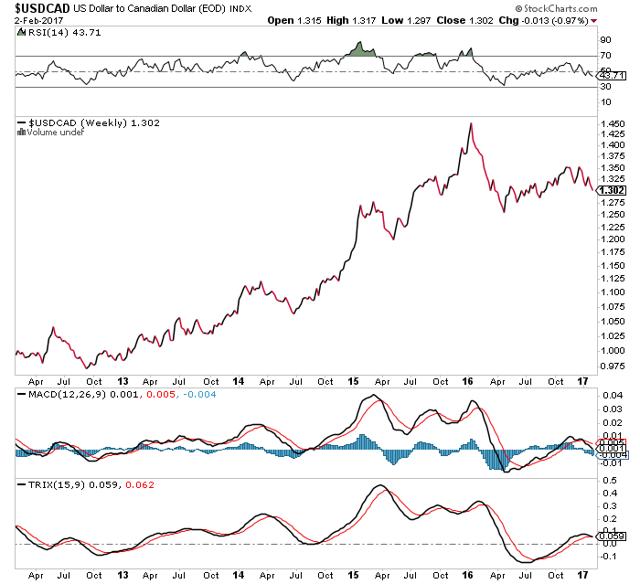 To put it simply, the technical outlook does not support a stronger Dollar going forward.
Other Interesting Things I looked At
Here are some of the other interesting things I'm paying attention to.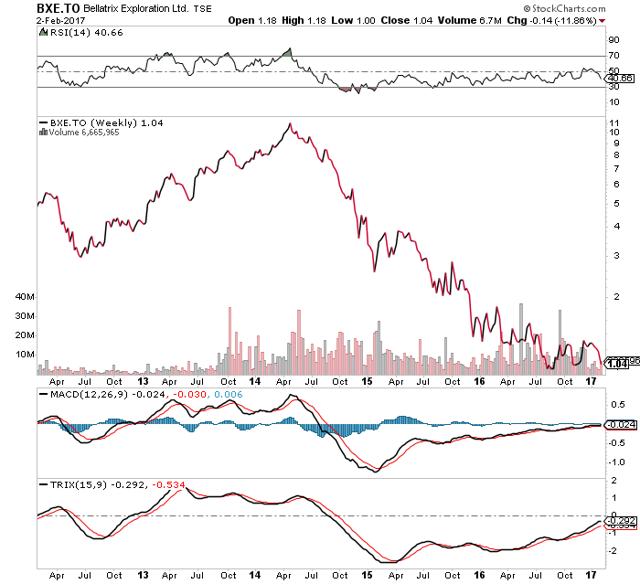 Bellatrix (NYSE:BXE) is at a crucially important level. It's a big bottom if it can hold, and from the ratio to natural gas, I think there's a good chance. Also keep in mind that the latest sell-offs have been driven from the US exchange, and that's likely due to pressure from the delisting date on 2/4.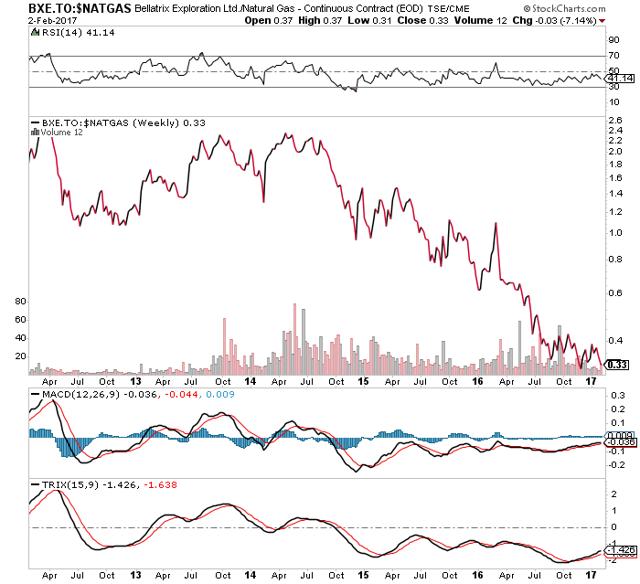 Whatever the case, BXE needs to hold these major technical levels.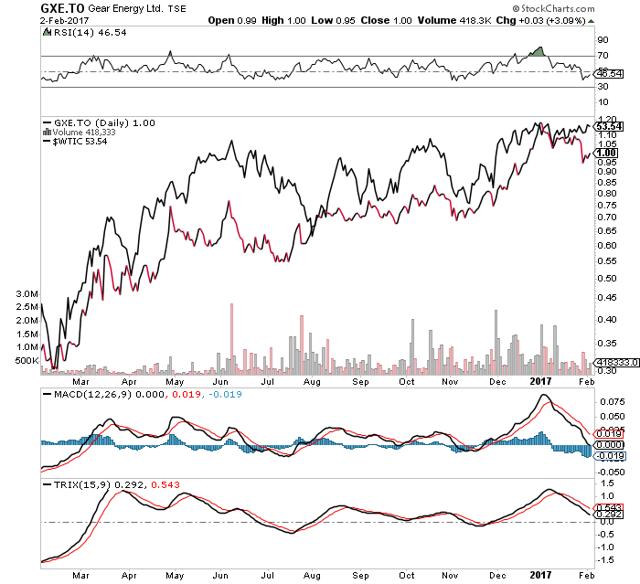 Divergence between Gear (OTC:GENGF) and WTI (NYSEARCA:USO) should close soon. I'll be watching relative strength from Gear to confirm this. In the meantime, I'm a buyer of Gear, and added 100k shares in my own personal account over the last three days.
Disclosure: I am/we are long GENGF, GXE.TO, BXE.
I wrote this article myself, and it expresses my own opinions. I am not receiving compensation for it (other than from Seeking Alpha). I have no business relationship with any company whose stock is mentioned in this article.
Editor's Note: This article covers one or more stocks trading at less than $1 per share and/or with less than a $100 million market cap. Please be aware of the risks associated with these stocks.