Investment Thesis
There are many factors influencing the oil and gas playground for 2017. Many of them are pointing towards a favorable year. The first game changer in favor of a more productive year is the fact that many projects have been put on the shelf or completely cancelled over the past 2 years. According to the Deloitte Oil & Gas industry outlook (downloadable PDF), $620 billion in projects through 2020 are estimated to have been deferred or cancelled as a result of the downturn.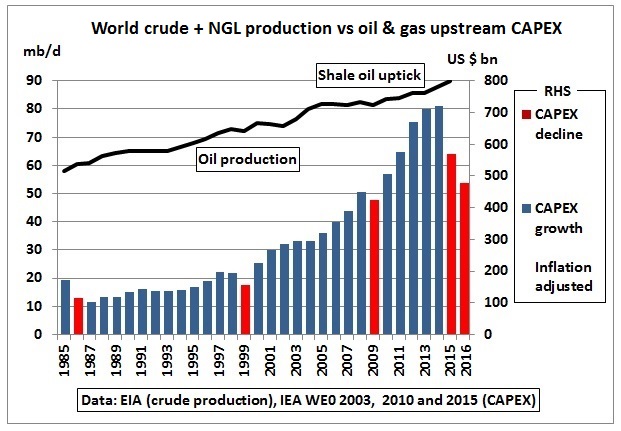 Source: Crude Oil Peak
These budget cuts didn't have much impact in 2014 and 2015, but it will eventually affect the world's production on the long term. On the one hand, we will have a less supply offered and on the other, increased demand as we continue to have a growing economy. While the global economy isn't surging, the U.S. GDP growth is quite steady from quarter to quarter: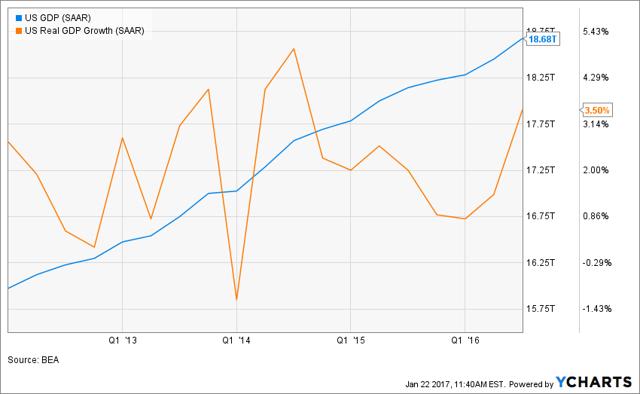 Source: Ycharts
With steady economic growth, the demand for oil should also grow. Hence the theory that it could reach $60-$70 per barrel is not completely wacky.
The second game changer is the fact that Saudi Arabia, the most influential OPEC member, is now forced to issue bonds to support its budget. In late 2016, Saudi Arabia raised $17.5 Billion in sovereign bonds, its highest level ever. While the country wanted to declare war on North American based oil companies with lower oil prices, it is now stuck between a rock and a hard place as it suffers the result of lower profit margins. I have written it before and I'll write it again: Price wars never see winners, but generate lots of casualties. Saudi Arabia is far from filing for bankruptcy, but this graph still defies imagination: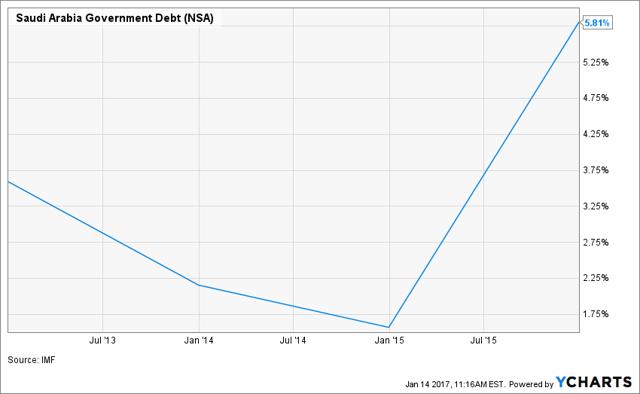 Source: Ycharts (debt in % of GDP)
We will all agree that a debt totaling 6% of GDP would be accepted by many countries. However, Saudi Arabia is not taking this change of situation lightly. For this reason, they participated in November in another OPEC production meeting while all members decided to lower the number of barrels produced. This deal also includes non-OPEC members such as Russia. While there is still uncertainty around Russia's power to influence private companies and their production or Iran's production plans for 2017, oil prices have been favorably affected since then.
By using the 7 dividend investing principles, I've selected two companies that are currently undervalued and should benefit from a bullish 2017 oil environment. The 7 investing principles have been defined according several academic studies and have been proven right in the market following my investing strategy over the years. I determine a fair value for each company by using a double stage dividend discount model (DDM).
Exxon Mobil (NYSE:XOM)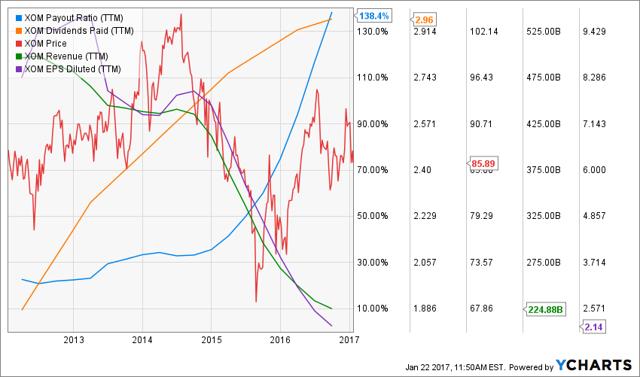 Source: ycharts
It is an ideal time to invest in XOM as it hasn't recovered its pre-oil crisis price yet. Management has made sure to continue increasing its payouts during the most recent crisis as they want to send a strong signal to the market that they can manage what is coming. In April 2016, management increased their dividend payout by 2.7%. It is a symbolic increase as it won't change much your portfolio yield. However, it is important to note the company has over 100 years of uninterrupted dividend payments and 34 years of consecutive dividend hikes.
In their third quarterly 2016 update, they show positive earnings of$6.2 B and cash flow generation of $16.9 B including asset sales. Exxon is the world's largest oil producer and will continue to lead its peers with over 50% of its production coming from long-life assets in 2018. The company has successfully adapted to the $40-$50 price per barrel environment. While its financial performance hasn't been stellar for the past 2 years, the company has passed the survival question mark. Keep in mind that XOM also holds $51 billion in offshore accounts.
XOM keeps a heavy focus on cash flow generation and the dividend payment is not at risk: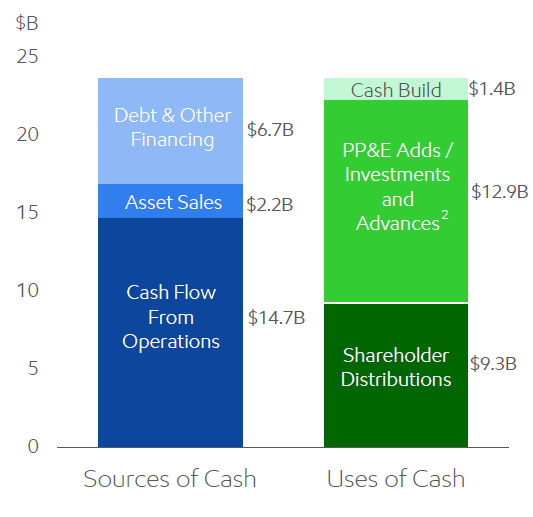 Source: XOM Q3 presentation
I would rather see XOM taking on additional debt ($6.7 billion) instead of selling their assets in order to cope with a temporary situation. I also appreciate the fact management continues to spend money on other projects ($14.5 billion in capex as per the Q3 2016 presentation).
Valuation
To evaluate XOM's fair value, I use a double stage DDM giving me the share value while considering them as a dividend paying machine. I used the following numbers for my calculations:
I didn't use a high dividend growth rate for the first 10 years as I think the company will have to navigate through a few speed bumps in the upcoming years. However, I expect the economic environment to support a strong growth rate in the future. Here are the results of my calculations:

Source: Dividend Toolkit Calculation Spreadsheet
According to my calculation, XOM is currently trading at a 10% discount. Considering the current stock market, it could be a good investing opportunity.
Helmerich & Payne (NYSE:HP)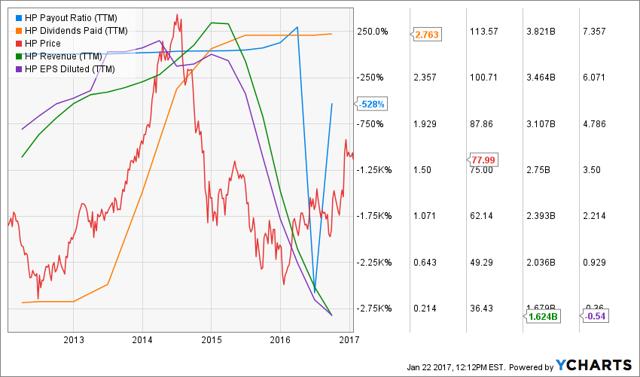 Source: Ycharts
While XOM is my favorite pick in the oil and gas industry, Helmerich & Payne is not far behind. Obviously, the best time to buy HP would have been at the beginning of 2016 as the stock soared 72% over the past 12 months. One of the main reasons why HP is doing so well is that it seems their time in hell is over. In fact, for the first time since the oil price crashed back in 2014, the number of rig projects is back on an uptrend: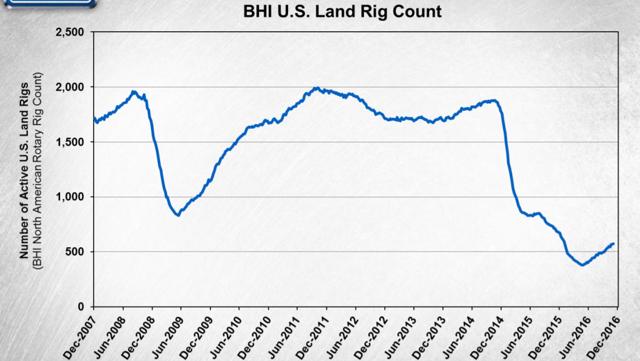 Source: HP Capital One 2016 Energy Conference
According to HP, the company owns about a 25% market share followed by 16% for Nabors Industries (NYSE:NBR) and 15% for Patterson-UTI Energy (NASDAQ:PTEN). The company is not only the leader in its industry, but it also shows a low debt ratio compared to their capitalization: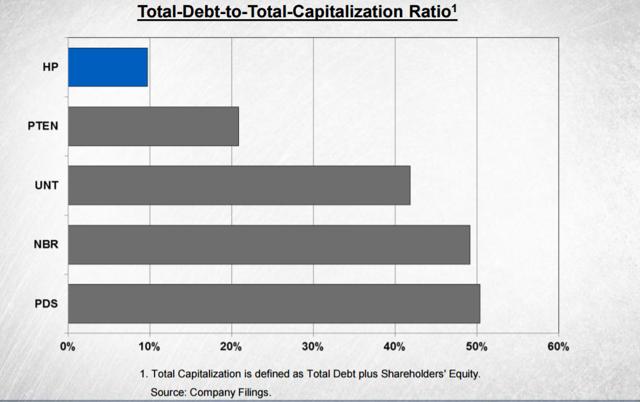 Source: HP Capital One 2016 Energy Conference
Since HP is a leader in high tech drilling and own the largest rigs in terms of power, it will be the first company to benefit from new contracts in the upcoming rebound of oil prices. I think the barrel will finish higher in 2017 than it is right now. But this growth will not be achieved without volatility.
In 2016, HP was able to increase its dividend by $0.01 to show its commitment to shareholders. While the company is currently losing money, it is still generating a positive free cash flow (from $50 million toward the beginning of January to nearly $500-$550 million in 2016).
Valuation:
I've used the same growth rate as XOM and HP is also a dividend aristocrat with 44 consecutive years with a dividend increase.

Here are the results of my calculations:

Source: Dividend Toolkit Calculation Spreadsheet
As you can see, HP is currently trading at a 15% discount. It seems like a better deal than XOM when you consider the potential upside. However, XOM shows a more diversified business model (which is fully integrated), while HP is still dependable on exploring companies to offer its drilling services.
Overall, expect high volatility for both stocks this year, but I'm confident both will finish in positive territory.
Disclaimer: The opinions and the strategies of the author are not intended to ever be a recommendation to buy or sell a security. The strategy the author uses has worked for him and it is for you to decide if it could benefit your financial future. Please remember to do your own research and know your risk tolerance.
Disclosure: I am/we are long XOM, HP.
I wrote this article myself, and it expresses my own opinions. I am not receiving compensation for it (other than from Seeking Alpha). I have no business relationship with any company whose stock is mentioned in this article.
Additional disclosure: I hold XOM and HP in my Dividend Stocks Rock portfolios.