There are some things in life you can try and ignore in the hope they go away. More often than not, they get worse and you eventually have to do something about them. My trade in Under Armour (NYSE:UA) (NYSE:UAA) is one such thing.
I bought UAA at $28.5 in the end of January. I'd already researched the company back in November and wanted to buy some in my long-term account under $30. The plan was to buy in three tranches from $28.5 down to $25 and to hold for the $40s. But as Mike Tyson said: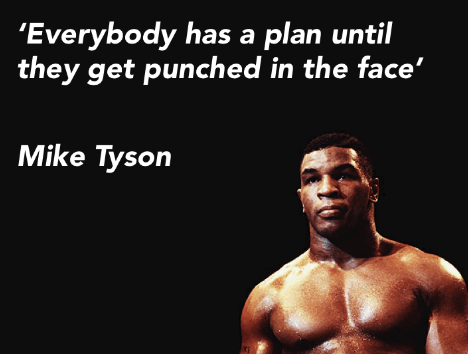 The negative earnings report on the 31st of January and the subsequent 25% drop were the market equivalent of a punch to the chin. Down, but not out, it's time for plan "B".
How Bad?
The first question to ask is, what is the driver of the fall and how bad things can get? Is UA in big trouble?
Q4 earnings missed on the top and bottom line, and its slowing growth is plain to see: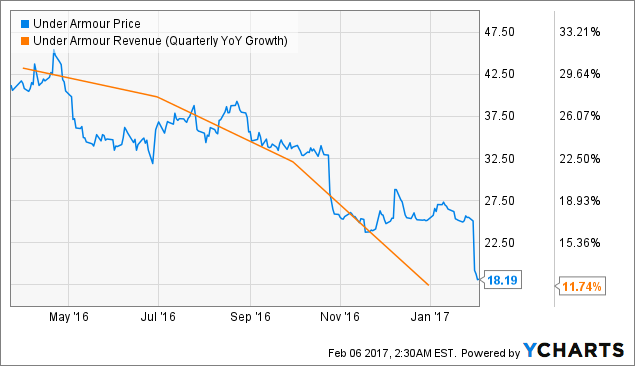 Growth leveling off was inevitable at some point, but the current gradient is worrying. Revenues last quarter in North America grew only 3% YOY faster than Nike (NYSE:NKE). For a growth stock in which 18 months ago its P/E ratio was over 100, this slowdown is devastating.
One other concern is the downgrade of UA's credit by S&P. Growth companies need access to debt. If a company's credit status is "junk", and interest rates are rising, the debt will get more expensive.
So far there has been only one bond issue, which was a $600m offering in June 2016 with a 3.25% coupon. It is trading at $0.91, which is more or less where it was before the downgrade. This shows that investors are not panicking yet. Indeed, Moody's maintained its Baa2 rating.
However, if UA wants to grow and break into international markets, it will need to borrow more and it won't get away with issuing more debt at 3.25%. The route forward may involve coupons closer to 4% or issuing more shares, which at current prices will bring a lot of dilution.
So to answer the question posed in the title of this section, the simple answer is "bad, but survivable". UA will bounce back at some point. I won't panic and dump my holdings at the first opportunity. On the other hand, I won't hold long term for new highs either.
Averaging Down
This isn't the first time I have been caught by a gap down on earnings, and I'm sure it won't be the last. As I only bought a partial position, I have had the opportunity to average down and improve my average.
When any stock has such a large move lower, participants are presented with the same options and emotions. This creates similar outcomes. Take Gild (NYSEARCA:GLD) for instance: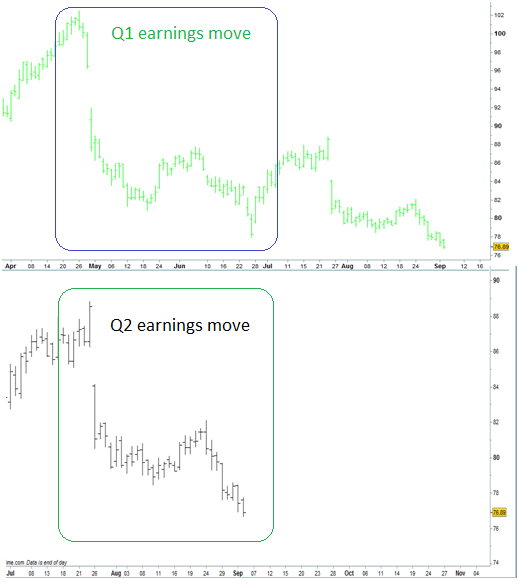 The day after I pointed out this chart, Gild squeezed over 7% back to $81 before falling again, just as the previous earnings reaction projected.
UA also looks to be following a previous pattern after earnings: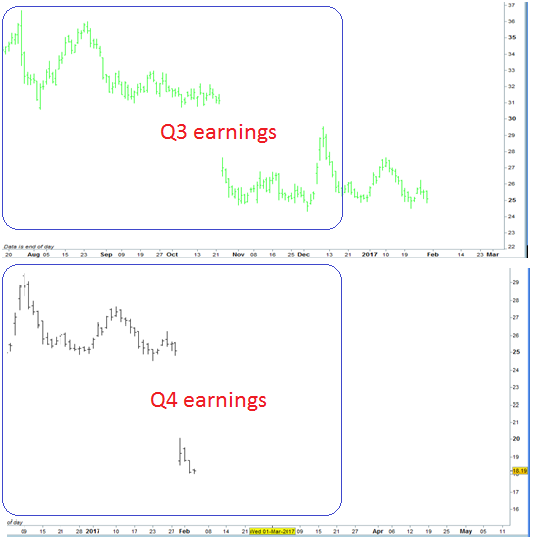 This suggests price should stabilize and travel sideways before spiking higher. More importantly, it means there is probably no need to guess where the bottom is; a lower risk entry can be taken once price stabilizes.
Please note I am using charts of UA class C shares as there is more historical data to analyze. I will buy UAA shares whenever UA targets are hit.
Another view of the technicals shows good support at the $17.5 gap fill and the 61.8% Fibonacci retrace of the prior uptrend.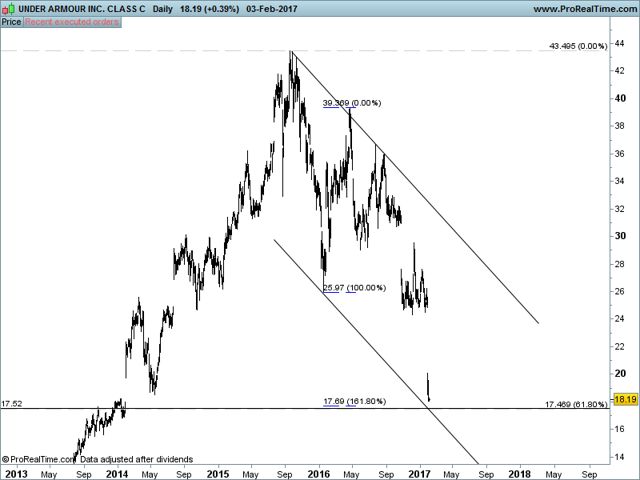 There is also a channel and a harmonic pattern in this area. All in all, there is a decent probability of stabilizing and bouncing from around $17 back to the low $20s.
I plan to add two positions around $17.5 once its stock price stabilizes. This would give me an average of around $20 and let me exit at a break-even on any move higher to the low $20s. This is my plan "B". If price continues lower without stabilizing, I will not add and will stop out below $16.
Longer term, I see the possibility of $12.5 possible based on harmonic patterns, measured moves and the gap there. This would give UA a P/E ratio in the 20s and I would consider trying longs again at that point.
For now, I simply want to get out of this trade without taking another punch to the face.
Conclusions
Losses are part of trading. It's best to treat them as a business expense and face up to them. My strategy with my UA position is to average down and exit on the next squeeze higher.
I'll be happy to dig myself out of this hole before it gets too deep.
Disclosure: I am/we are long UAA.
I wrote this article myself, and it expresses my own opinions. I am not receiving compensation for it (other than from Seeking Alpha). I have no business relationship with any company whose stock is mentioned in this article.