In my previous article on GrubHub (NYSE:GRUB), I said that while this is a first rate company, with great growth and a solid balance sheet, I thought the stock was way too expensive, and my rating was a sell (please consider: GrubHub: Great Company, But Is The Stock Worth It?).
Like I said back then, the stock was way ahead of company fundamentals, and as a result I thought the stock would underperform. In fact, I specifically said I expect GRUB to underperform for many years.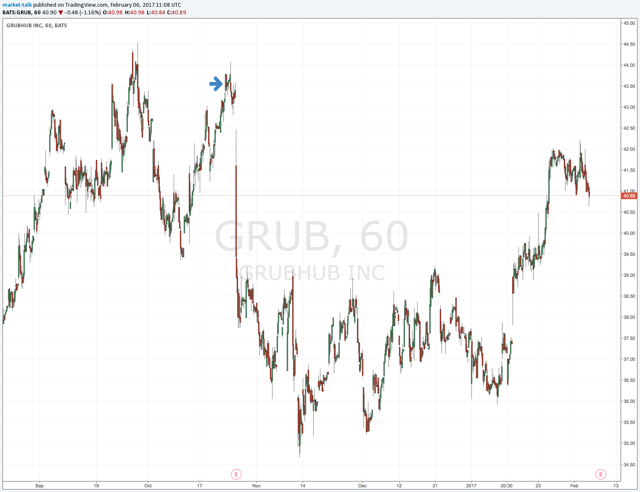 As the chart above depicts, GRUB has been one of the stocks that missed the current rally. To be honest, I am not blaming management in any way. The fault is with the market for giving GRUB such a high valuation.
Is GRUB a Trump-trade stock?
While every company will benefit if taxes are lowered, not all companies will benefit the same.
Companies who do most of their business in the U.S. pay up to 40% of their profits in taxes. So if taxes are lowered to 20% for example, then EPS will increase dramatically for many companies. This is indeed true for GRUB.
| | | | | |
| --- | --- | --- | --- | --- |
| | Q3'16 | Q2'16 | Q1'16 | Q4'15 |
| Income Before Tax | 20,767 | 22,512 | 17,331 | 15,639 |
| Tax Expense | 7,585 | 9,707 | 7,398 | 4,351 |
| Tax rate | 36,52% | 43,12% | 42,69% | 27,82% |
| Net Income | 13,182 | 12,805 | 9,933 | 11,288 |
| Tax Expense at 20% | 4,15 | 4,50 | 3,47 | 3,13 |
| Net income | 16,61 | 18,01 | 13,86 | 12,51 |
The above table shows the income before tax, tax expense and net income as reported for GRUB. As you can see, in many instances the tax paid is above the 40% rate.
Below the net income row, I have added two rows. The one row says tax expense at 20%, and depicts the tax the company would pay under a 20% tax rate, and below that the net income.
In the first case, total net income for the past four quarters was $47,2 million, while in the second case with a 20% tax rate, net income increased to $61 million.
Indeed that is a big difference, but will it be enough for the stock to rally? I think not. Here's why.
GRUB's current market cap today is $3.5 billion. If we divide $47 million by that figure, the stock has a trailing P/E of about 74. That is a very rich P/E folks (and it's the same number shown on Yahoo for trailing P/E).
If we divide the market cap by $61 million (the 20% tax rate figure), then the trailing P/E is lowered to 57! Folks, that's still a very rich number.
So in my opinion, even if the tax rate is lowered to 20%, GRUB would still be a very expensive stock, and I do not think a lower tax will benefit the stock by much. If there is any benefit, it will probably be a one time uptick.
And given how many other companies also operate in the same space, I am surprised the market still gives GRUB such a high valuation.
Groupon (NASDAQ:GRPN) with Ordeup also is in the same space, as is Amazon (NASDAQ:AMZN) with its PrimeNow delivery service, and Yelp (NYSE:YELP) also is another major player in the space with its eat24hours.com site.
However I'm not worried so much about competition. I think the market is big enough and there is room for all participants. My beef is simply that GRUB's growth comes at a very high price for my investment pallet.
GRUB is set to announce Q4 results on the 8th of Frbruary. Analysts are modeling revenue of $492.4 million for 2016 and $619.5 million for 2017. EPS is expected to come in at $0.91 for 2016 and $1.15 for 2017.
Yes these results are impressive, however investors have to realize that the market is charging a very extreme P/E for this growth.
I therefore reiterate my sell rating for the stock. Not because it's not a solid company, but because it's still an expensive stock, even if the tax rate is lowered.
Disclosure: I/we have no positions in any stocks mentioned, and no plans to initiate any positions within the next 72 hours.
I wrote this article myself, and it expresses my own opinions. I am not receiving compensation for it (other than from Seeking Alpha). I have no business relationship with any company whose stock is mentioned in this article.