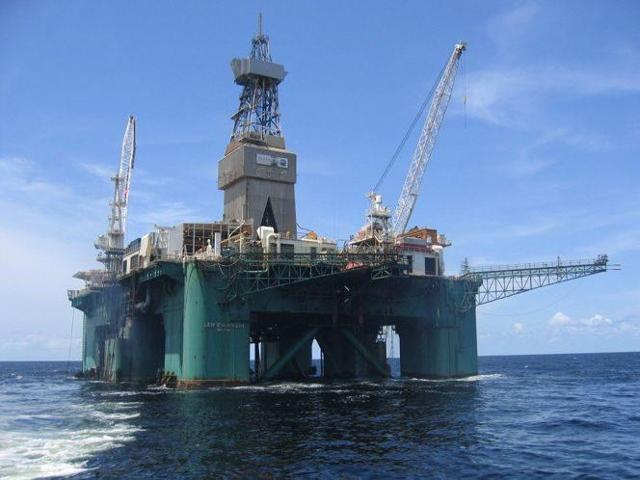 Semi-submersible Leif Eiriksson working for Lundin in the Barents sea.
This article is an update of my previous article on Ocean Rig UDW (NASDAQ:ORIG) published on December 16, 2016 about the 3Q'16 results.
Investment Thesis
Ocean Rig and many other offshore drillers worldwide have been struggling with the worst bear cycle in history. Most of the oil majors have reduced exploration CapEx significantly and required drilling companies to slash their day rates by as much as 70%, in order to get a drilling contract often of a short duration.
The semi-submersible Leiv Eiriksson is one of the rigs that experienced a drastic day rate reduction since 2014.
As a reminder, the semi-submersible Leiv Eiriksson had a day rate of $551.6K/d in August 2014, and now, the same rig is working in the North Sea at a day rate of $145k/d. This is a reduction of approximately 74% in a little more than two years.
The company indicated that OpEx was $221.5k/d in 2014, leaving a profit margin of $330.1k/d.
Furthermore, the average day rate at the end of 2016 dropped even lower, and $145k/d is considered too high. A study by Seebreeze indicates that the day rate for UK Harsh standard semisubs are between $100k to $110k per day.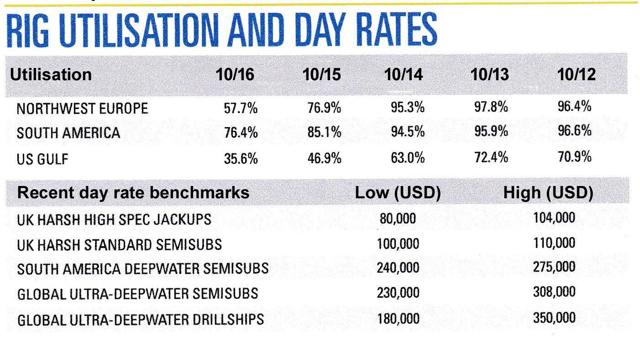 Consequently, offshore drillers have been impelled to "cut corners" even deeper, after "trimming the fat" as much as they possibly could, and finally were forced to "cut to the bone".
Day rates are so low today that without innovative and controversial actions that could be considered illegal in some instances, the drilling company is basically losing money on a daily basis. Forget about the breakeven point, we are now beyond this threshold now. Some companies such as China Oilfield Services (OTCPK:CHOLF) are offering their service literally for free.
This is not happening without consequences and security issues that will slowly come to light when drilling "hiccups" finally make their way to the first page of the news. However, offshore drillers still have many options to cut costs, and standardization may be the answer.
This is what is covered in this article. However, I have to say that Ocean Rig is not unique and should not be singled out here. It is a general problem that the offshore drilling industry is now facing - an important issue that must be discussed and solutions applied before it gets out of hand.
Commentary
According to OffshoreEnergyToday, on February 3, 2017:
Norwegian offshore workers' union Industri Energi has discovered social dumping on the Ocean Rig-owned rig Leiv Eiriksson, which is working for Lundin offshore Norway.

According to the European Foundation (Eurofound), despite an increase in usage of the expression, there is still no clear, universally accepted definition of 'social dumping,' but the term itself has a negative connotations, hinting at the exploitation of workers.

Union secretary Harald Hereid said on Friday the union takes this very seriously and it plans to pursue the matter.

Hereid stated the union has documentation that the rig owner, Ocean Rig, is using overseas labor for the semi-sub rig Leiv Eiriksson and that the workers are in "underpaid" conditions compared to the type of job they perform.

The union has sent an inquiry to Ocean Rig asking to come on board the rig for inspection but received no response.

According to the union, the companies in the oil industry are constantly trying to find creative ways to avoid paying tariff determined wages.

Hereid added that social dumping is completely unacceptable and in breach of the Norwegian law as it undermines workers' wages and working conditions while serious companies are being wiped out.
At present, the fundamental question is: Who is to blame here? It is easy to criticize Ocean Rig in this case, but it would be totally unfair.
My answer is everyone, without question.
Offshore drillers are forced to accept day rates below the breakeven point, which, in turn, forces them to lower standards at every level - cutting wages, reducing crew and delaying necessary repairs and maintenance. I am not a supporter of regulations, but I believe general safeguards should be put in place to prevent such "social dumping".
What is "social dumping"?
The European Commission described the practice as a situation 'where foreign service providers can undercut local service providers because their labour standards are lower'. From an academic standpoint, several definitions have been offered. For example, social dumping is seen in relation to the relocation of activities in order to gain some competitive advantage. In a 1998 discussion paper by the Centre for Economic Policy Research, it is defined as the decision of a business in a developed country to 'supply its domestic market through production located in a developing economy where labour standards do not comply with the minimum requirements adopted by the home country, therefore allowing the firm to enjoy lower production costs'. André Sapir (2015) uses the definition of social dumping as 'downward pressure on social conditions due to competition from countries with lower social conditions'.
"Social dumping" should not be accepted as a possible way to cutting exploration costs. Yet, the offshore drilling industry can still cut costs of exploration by approximately 30% just by simply agreeing to use standardized equipment, according to the International Marine Contractors Association (IMCA).
"Standardization", not "social dumping", for a comprehensive cost reduction.
Standardization has been proven successful with the US shale and can be applied to the offshore drilling industry as well. However, the pressure to standardize is much less important in the offshore drilling segment than in the US shale, for obvious causes.
First, the size of an offshore drilling project is much larger. Second, the relative scarcity of the offshore projects versus a typical shale project is not helping.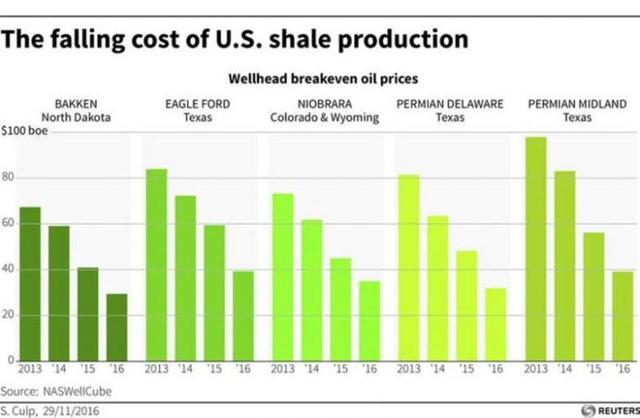 Apparently, the average wellhead breakeven oil price for US shale is now about $40. However, I really wonder what the "wellhead breakeven oil price" in the US shale is versus all-in sustaining costs, or AISC, which includes sustaining CapEx.
This is another tricky subject that I may address in a new article later.
On December 23, 2016, Reuters published an interesting article about the benefit of standardization.
Capital investment in exploration and offshore development is expected to have fallen by almost a quarter this year, to around $500 billion - the first time in three decades that budgets have been cut for three successive years, according to Norwegian offshore consultancy Rystad Energy.

"We haven't seen oil and gas companies work in a significant way to reduce their long-term cost base," said Leatt. "They have delayed projects in the short-term, cut jobs and squeezed the supply chain unendingly."

Leatt said that if oil companies "put more emphasis into sensible pragmatic specifications" that would "help bring stalled projects back to the market".
Conclusion
There is always an intelligent way to cut costs significantly, and the offshore industry has already implemented a great deal of innovation in this domain since 2014. But cutting prices doesn't translate to "cutting corners".
However, the industry should not be tempted to lower costs in an unsafe way by reducing wages and replacing high-paid qualified workers by under-experimented ones paid at a less-than-standard level.
This is the perfect recipe for a disaster waiting to happen, and I am surprised that Lundin has not contractually forced Ocean Rig to follow the regulations and made sure that the rig will be sufficiently staffed at all times by a professional crew paid at a decent wage agreed by the Norwegian offshore workers union Industri Energi.
Important note: Do not forget to follow me on ORIG and other offshore drillers. Thank you for your support.
Disclosure: I/we have no positions in any stocks mentioned, and no plans to initiate any positions within the next 72 hours.
I wrote this article myself, and it expresses my own opinions. I am not receiving compensation for it (other than from Seeking Alpha). I have no business relationship with any company whose stock is mentioned in this article.