Back in September 2016, we anticipated here at Seeking Alpha that Mohawk Industries' (NYSE:MHK) Marazzi Italian tile unit was "ready to close on a key acquisition, that would be on top of two large production increases made/announced in its Fiorano and Sassuolo production plans".
The closing of the acquisition was finally announced on January 20th (link, in Italian, as are most of the following ones), pending a green light from anti-trust authorities that we believe will only be a formality.
Rumors estimate the acquisition cost for Mohawk in the €150 million ($160 million) range, and indicate that three companies will be excluded from the deal: Emilgroup's JV in India, which is still in a start-up phase, Caolino Panciera, a mining company supplying raw materials to the ceramic industry with revenues estimated in the €30 million ($32 million) range, and Zeus, a Ukraine-based production plant with an estimated output of 2 million square meters (21.5 million square feet) in 2014.
We estimate that these three companies represent about €45-50 million in revenues ($48-53 million), and that the brands acquired by Marazzi will add about €140/150 million ($150/160 million) in yearly revenues. Marazzi will add four brands to its offering, specialized in the higher-end market: Emil Ceramica, Provenza, Viva and Ergon, each of them with its own identity.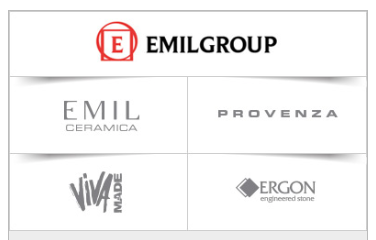 Chart from the Emilgroup site
As you can see from the following chart, Emilgroup sales are strong especially in Europe, which represents over 60% of revenues, with a strong focus on the northern European countries: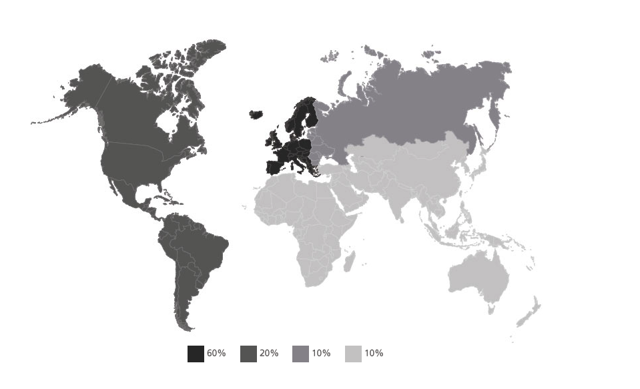 Chart from the Emilgroup site
As we noticed in our previous article, Emilceramica Group was hardly hit by the 2008 financial crisis and saw a deep decline in revenues in 2009. After that, the company started a deep restructuring that saw its revenues increase to a peak of €190 million in 2013.
Here is a quick look at some historical data: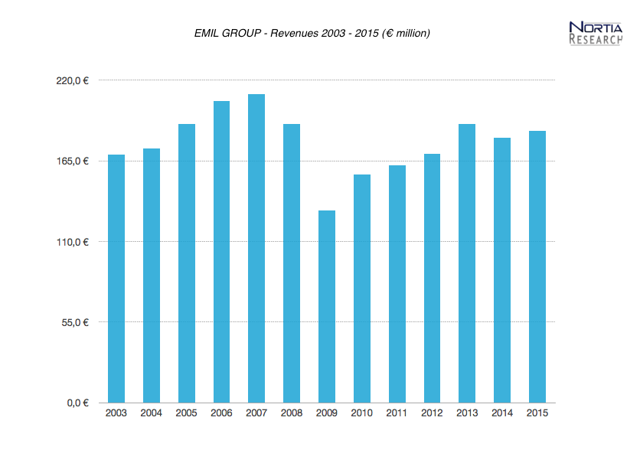 Author chart from company data
Here are some more detailed data that indicate the breadth of the financial restructuring made in the last few years. In 2015, Emilgroup achieved an EBITDA margin of almost 21% and net earnings in the 7.1% range:

Chart from the Emilgroup site
Here is a short commentary from Stifel about the acquisition:
Emil Ceramica's revenues were reported to have been in a range of 150-160 million Euros revenue and we believe the margin profile is quite strong with EBITDA perhaps in the upper teens. Emil Ceramica operates at relatively high price points and has facilities in Europe very close to existing Marazzi facilities. We expect material synergies from the transaction, but note that the scale (approximate 2% addition to annual revenues) will limit the financial impact overall.

Clearly this is not a large acquisition (Mohawk's global ceramics business generates well over $3 billion in revenue currently and should do in excess of $9 billion in total in 2017), but it does fit nicely into the existing business and could perhaps allow for some manufacturing synergy opportunities.
We agree with most of Stifel's commentary, although we estimate a slightly lower contribution in terms of revenues from the acquisition.
However, we believe the deal represents a strong testament of Marazzi's determination to become the leading player in the Italian ceramic tile district in terms of total output through organic and inorganic growth.
This move may also represent a catalyst that will inspire more deals/mergers in the sector, which is still fragmented among several hundred players.
Disclosure: I/we have no positions in any stocks mentioned, and no plans to initiate any positions within the next 72 hours.
I wrote this article myself, and it expresses my own opinions. I am not receiving compensation for it (other than from Seeking Alpha). I have no business relationship with any company whose stock is mentioned in this article.