(Editor's Note 2/7/2017 9:30 a.m.: This article has been updated to reflect ComScore's anticipated delisting from Nasdaq.)
ComScore, Inc. (NASDAQ: SCOR) took a dive and ended down just over 28% on February 6, 2017. This move was primarily attributed to the company's Nasdaq listing compliance issues. Now, this wasn't the first time the comScore had issues. In March 2016, comScore delayed its filing of its annual report to regulators, and indicated it could have been in violation of its loan terms, at the time. The company seems like it has problems meeting deadlines by just examining these two cases.
ComScore announced that it notified the Nasdaq Hearings Panel that it will be unable to regain compliance with the SEC's periodic reporting requirements by the set deadline on February 23, 2017. The delay is primarily related to the immense workload it has to review its accounting judgments and statements between 2013 and 2016. It seems as if the company has some problems in its accounting after this compliance issue, as well as its delay in its annual report filing last year.
ComScore announced that it anticipated delisting from Nasdaq and it's trading will be suspended on February 8, 2017 . Therefore, there's a high probability that it could move from Nasdaq to the OTC Markets.
Could ComScore's Shares Fall Lower?
Since the Nasdaq Hearings Panel moved to delist comScore from Nasdaq, index funds and mutual funds holding SCOR will be forced to sell their shares since it would trade on the OTC markets. Moreover, asset and portfolio managers who may be holding the stock could sell SCOR due to the potential lack of liquidity in the OTC markets. This would increase the selling pressure, and in turn, comScore's stock could fall further.
Here's a look at SCOR's performance: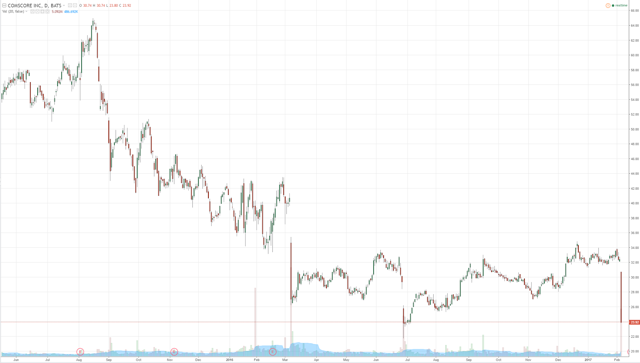 Source: TradingView
SCOR's stock was down over 20% in 2016, and after Monday, the stock gave up all the gains it had over the past three months and then some. Although Gian Fulgoni, co-founder and CEO of comScore, tried to ease investors concerns, it succumbed to the selling pressure.
ComScore CEO stated, "Although we are disappointed that we will not meet Nasdaq's deadline, we have made significant progress towards the restatement and in strengthening our internal audit and compliance functions. Furthermore, our business fundamentals continue to be strong, underscored by our healthy balance sheet with $116 million in cash. We are confident in our strategy, our roadmap for innovation, our unique data and technology assets, and in the value we deliver to more than 3,000 clients, all of which we believe will drive long-term growth for our Company."
For the time being, comScore is unlikely to trade based on fundamentals. Market participants are more likely to focus on this news right now since comScore comfired that it heard from Nasdaq that it confirmed it would delist the stock and suspend trading, effective at the market open on February 8, 2017.
Flurry Of Options Activity
With SCOR being short sale restricted (SSR), it wouldn't be a surprise to see a spike in option activity, for those looking to play the short side of this trade. However, according to stats compiled from Trade Alert LLC, the majority of the action on Monday afternoon was on the call side, with over 1K OTM calls being bought on the call side (79%).
Now, these were not new bullish positions at all. You see, over 1,800 calls traded on January 31, which was 15 times the normal options volume. We'll have to look at the open interest tomorrow to see if someone was doubling down on a long or covering a short call position. The action on February 6, 2017 accounted for 9 times the normal option volume. On a normal day, SCOR will trade less than 250 option contacts, but over 2K contracts traded on Monday.

Source: Bloomberg

Source: Bloomberg

Source: Bloomberg
With that said, with the stock being short sale restricted and the news being so negative, you would think we'd see more put activity than call activity. However, that was not the case with the activity on Monday. Sometimes the options market will give us hints at where the "smart money" is positioning, but we're not seeing any screaming signals to sell just yet. Obviously this is a situation worth monitoring.
The Bottom Line
ComScore just ran into some trouble, again, with its accounting. In March 2016, the company failed to file its annual report on time. Additionally, the stock is facing some more compliance issues and the Nasdaq Hearings Panel determined to delist the stock and suspend trading starting on Wednesday, February 8. If the company stops trading on Nasdaq and starts trading on the OTC market, funds, and portfolio and asset managers will add to this selling pressure. The options market hasn't given us any signals on February 6, so this is a situation that I'll be monitoring.
Disclosure: I/we have no positions in any stocks mentioned, and no plans to initiate any positions within the next 72 hours.
I wrote this article myself, and it expresses my own opinions. I am not receiving compensation for it (other than from Seeking Alpha). I have no business relationship with any company whose stock is mentioned in this article.