In the final two months of 2016, the shares of Gartner Inc. (NYSE:IT) jumped by approximately 17% from the mid $80s to $100 per share. In this article I want to work out whether this is reasonable in light of the company's financials and the recent announcement of the CEB (NYSE:CEB) acquisition. Although the financial performance has been generally good, in my view the acquisition of CEB runs the significant risk of destroying value, and burdening Gartner's capital structure for years. In my view, shares have little room to rise from these levels and very far to fall. I think investors should avoid this stock until the price makes more sense.
Financial Performance
A review of the financials indicates that things have been steadily improving for Gartner for some time. Revenue has been climbing steadily, and, while net income has been more volatile, it too has risen nicely since 2010. As mentioned above, the third quarter of 2016 was much stronger than the same period in 2015. There's obviously much to like here.
The only problem of note is the fact that the company has spent approximately 50% more in acquiring treasury shares since 2011 than they have earned. This has obviously positively affected earnings per share and driven the stock price, but, since debt more than quadrupled over the same time period, such massive purchases might not have been in the best interests of shareholders.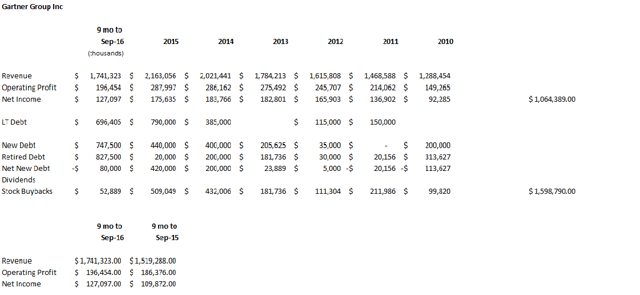 The CEB Acquisition
On January 5, 2017, Gartner announced that they would be acquiring CEB for $2.6 billion in cash, and stock. Additionally, Gartner will be assuming approximately $700 million of CEB debt, making this a total transaction value of about $3.3 billion. This transaction basically doubles Gartner's debt load, which is obviously troublesome in my view as it adds a great deal more financial risk to the overall company.
In return for this $3.3 billion, the company hopes that the acquisition will be immediately accretive to EPS, eventually generate double digit EPS gains, and provide a "strategic combination (that) broadens capabilities to capture expanded addressable market."
Adding to the obvious, and quantifiable risks present, is the fact that most acquisitions fail. Possibly this acquisition won't fail, although there's no reason to believe it'll be a success. After all, didn't the failed acquisitions seem to make sense at the time? The bottom line is this acquisition adds to the level of risk present. Investors should demand a higher return for taking on that risk and return is a function of buying a great business at a reasonable price. A look at the stock suggests that the return prospects are actually poor going forward.
The Stock
As I've said repeatedly, the most significant determinant in the return you make on an investment is the price you pay for it. If you can acquire a company at a cheap price, you're much more likely to generate positive returns. If that company is trading for a premium, over the long term it gets harder to generate decent returns. In spite of all of the risks here, Gartner is actually trading at a significant premium of about 70% over the market on a PE basis. On a price to free cash flow basis, the company is trading near the high end of its historical range. The same can be said of EV/EBIT, Price to Book and a host of other valuation measures. Thus, marginal investors are being asked to pay a significant premium for future cash flows for this company at a time when the risk to future cash flows grows.
Technical Snapshot
As per our ChartMasterPro Daily Price Model, the trend for IT would turn Bearish with a daily close below $99.00. We believe the bearish break would propel the stock down to the $92.00 level over the next six months.
As you are aware, we prefer to anticipate technical signals when we can, if the fundamental analysis supports what we see on the charts. Today we purchased the IT 17MAR17 100 Put Options which will provide us with approximately 17x leverage on our SHORT trade. Our initial stop-loss exit signal will be a daily close above $101.00.
For investors in the shares we recommend that you SELL to avoid any further drop in the share price.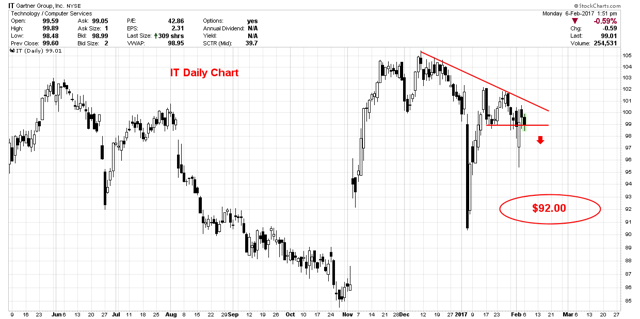 Conclusion
I want to avoid acquisition situations because the odds against success seem so high. If someone was willing to accept odds on the 15% chance that this acquisition works out, they should be compensated for taking on that risk with an inexpensive stock price. In fact, the opposite is true here. The stock is trading as if hope were news. Investors need to remember that hope isn't a strategy and, in the face of the combination of a high stock price and a large overhang from an acquisition, investors would be better served avoiding this name.
Disclosure: I am/we are short IT.
I wrote this article myself, and it expresses my own opinions. I am not receiving compensation for it (other than from Seeking Alpha). I have no business relationship with any company whose stock is mentioned in this article.