Stella Jones' (OTC:STLJF) stock price has taken a hit as of late as investors are shifting away from so called "roll ups" and buying lower debt businesses. Companies such as Valeant (NYSE:VRX), Concordia (NASDAQ:CXRX), Endo (NASDAQ:ENDP), Platform Specialty Products (NYSE:PAH), all had a tough year as their business models have proven to be flawed. However, this is not the case for Stella Jones. I believe that the combination of the recent shift away from higher debt, roll up companies and slight difficulty seen in the recent quarter are over exaggerated and Stella Jones is now very attractive at these levels.
Business model
This summer I analyzed Stella Jones' business model and found it to be a rare gem. I summed all my points in an article that can be seen here.
In short what I found was that its business model is robust, simple, predictable and highly cash-flow generative. Its two main segments; railway ties, utility poles account for more than 75% of its revenues and are both businesses that are in constant demand. No matter what the current economic situation is, railroads are in need of upgrading and the utility poles business is almost recession proof. Moreover, during the worst economic crisis in modern history, Stella Jones was able to continue both revenue and EPS growth. Proving it to have a resilient business model.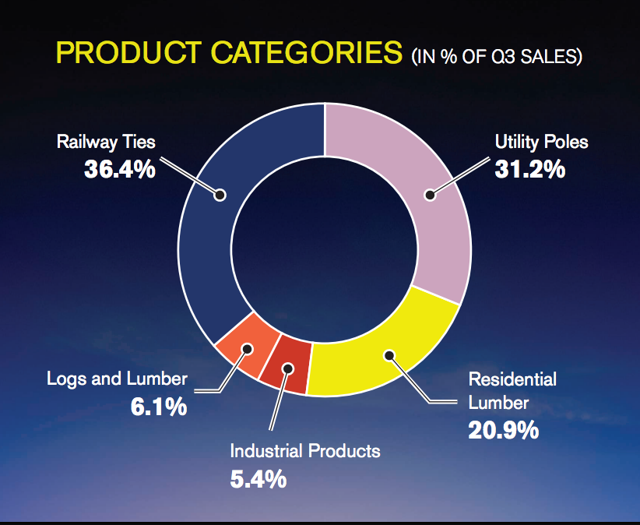 (Source: Corporate Presentation)
Latest quarterly performance
After announcing poor Q3 earnings, Stella Jones got its share price hammered, opening 11% lower that morning.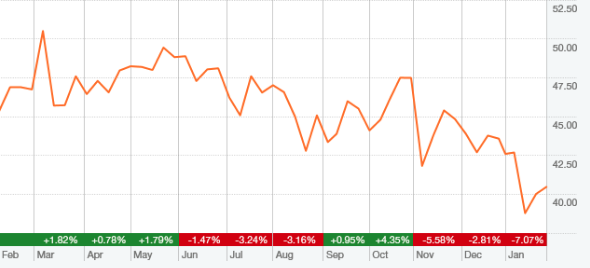 (Source: TheGlobeAndMail)
The main reason for the share decline is lower 2017 full year guidance compared to expectations. Also, a tough macro environment has led to year over year declines in its two main segments, both down 7%.
In its latest conference call, management expressed that it expects revenues for fiscal year 2017, to be in the range of 342 million, compared to 357 million in fiscal 2016. Moreover, operating income is expected to drop from 48 million to close to 30 million.
It is clear that Stella Jones went through a tough quarter, however, the macro environment has changed, and in my opinion, the company should be able to stabilize its two main segments and return to growth in the near future.
Bright future ahead
Management has proven that it is able to successfully integrate key bolt on acquisitions and in turn, create shareholder value. Moreover, management has built a solid, robust business with segments that are extremely attractive.
I believe that in the short term, the macro environment has shaped up since the company's latest quarterly earnings report. With a new president and significant plans to increase infrastructure spending, goods will have to be moved by train and Stella Jones will benefit tremendously. Its railway ties segment will be a huge beneficiary of infrastructure spending as railway companies will evidently increase capex in order to maximize efficiency.
In terms of its utility pole segment, management made it clear that 2016 was an odd year as utility companies pushed regular pole maintenance and replacements further into the future due to macro uncertainty. It is clear that as the political and macro environment eases, regular replacements and maintenance will return to normal and growth will make a comeback.
Lastly, 2015 and 2016 were both years of enormous growth for smaller segments such as residential lumber and industrial products. Continued growth moving on will be accretive to earnings over time. Creating even more of a tailwind for Stella Jones.
Valuation
In my opinion, Stella Jones' 2016 26% decline as well as its 7% decline year to date are overdone.
The company's fundamentals and business model are both still intact and a return to historical multiples should be possible.
Trading at 16x TTM earnings and 12 EV/EBITDA, Stella Jones can over a great return on investment. Additionally, if the company is able to continue its effective bolt on acquisition strategy, shareholders will benefit tremendously over time.
Disclosure: I/we have no positions in any stocks mentioned, and no plans to initiate any positions within the next 72 hours.
I wrote this article myself, and it expresses my own opinions. I am not receiving compensation for it (other than from Seeking Alpha). I have no business relationship with any company whose stock is mentioned in this article.
Editor's Note: This article discusses one or more securities that do not trade on a major U.S. exchange. Please be aware of the risks associated with these stocks.