Welcome. In this article we're reviewing the business performance of The Timken Co. (NYSE:TKR). This industrial company manufactures motor components for diverse markets. I believe TKR is in a Fair Value range and has moderate prospects. Its definitely a company to keep an eye on in the case there is market disruption because their operations are robust. The company operates dozens of facilities in multiple international markets.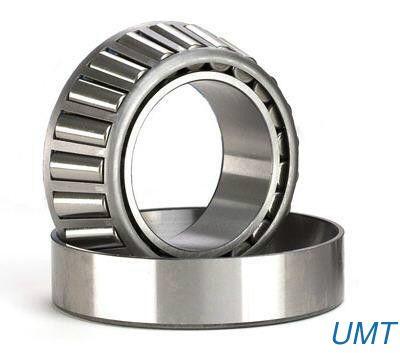 Source: precision-ballbearing.com
Timken's restructuring efforts have focused the business on one of its higher-margin specialty products, the precision ball bearing. The bearing pictured above is for an outboard motor.
TKR receives a lot of attention here at Seeking Alpha and there has been a laser focus on the transformation of the business as they spin off substantial assets and restructure operations with the goal of operating at lower costs.
What's the real value of TKR? I'm going to find the upper limit of the company's likely operating earnings and we're going to use that to see whether the market is offering TKR for a high or low price based on this generous estimate of the company's earnings performance potential over the next few years.
Before the earnings evaluation lets take a look at the company's buybacks situation.
Will buybacks continue?
Buybacks have shrunk TKR's share count by 18% since June 2013. Despite the buybacks, the company's price per share has increased by just 4% since buybacks began. If the company continues to grow cash flows at a similar rate as they have during the trailing 10 years, the beneficial returns on the buyback will accrue to long-term TKR investors.
One thing about buybacks is they require the company has the cash to perform them. When the recent series of buybacks began, it was on the heels of a large build up of cash available to the company. Today, the company has expended that money on buybacks and other corporate purposes. They may slow down on buybacks until some cash builds up once again. Otherwise, cash may be expended on buybacks when dollars may be better used to improve incomes.
The chart shows the decline in cash occurring as shares outstanding were reduced through buybacks: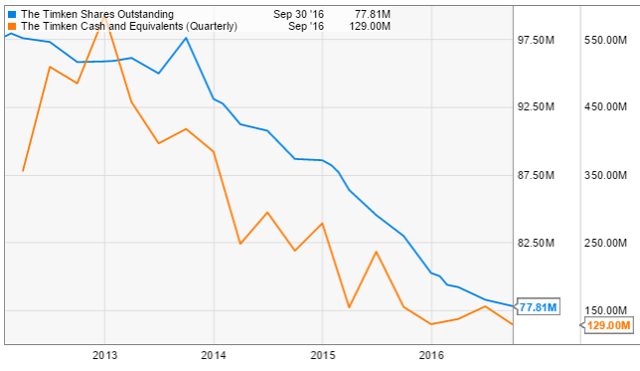 Source: Faloh Investment, YCharts
Buybacks look like they may not continue unless more liquidation of assets takes place. Without further liquidations management may decide the business will need to hang on today's smaller cash pile for the purpose of supporting regular operations.
The next earnings report is coming through the pipes February 9th and more information regarding buybacks.
Stock Valuation
Its hard to nail down the value of TKR right now because we don't have clear information on what the restructured operations will produce in terms of sales, and further costs the company may be able to reduce thanks to the business' new focus.
It looks like the company is on track to produce around $2.6B annual revenue considering its most recent quarterly report. The company's all-time high 10year median income from 1990-2010 was 6.0%, so we'll take a guess at the restructured companies earnings power by multiplying our revenue projection by the historical median net profit margin. The result is $156M forward annual earnings ($2.6B * .06% net margin). Therefore the company is trading at a forward P/E of 22.25.
A P/E of 22.25 in the world of industrials is rather high and implies substantial growth is anticipated in the name to justify the premium price. I don't see any outsized growth by TKR. In fact the firm's total quarterly revenues have consistently declined since 2013.
I believe TKR is being overvalued based on a few years of one-time performance and cash flow affects related to the restructuring and divestitures which are causing the business to look like a higher earner than it is.
Over the next year or two we will get a clearer picture of the company's operations. We may find them earning just 6% net profit on around $2.6B annual revenue, or $156M per year. If earnings are as small as that, I believe the market will have visible information enough to re-price the TKR at a more reasonable P/E of 16, which is a solid industrial P/E of 10 or 11 plus a premium for their progress into the growing electronic motor industry.
TKR is looking a bit overvalued. One way I may be wrong about overvaluation here is the following. The company's divestitures have targeted their lower margin revenue. If the company's new focused operations produces a 10% net profit (which is, I remind the reader, a far better margin than the company has ever consistently produced) we have a company with declining sales trading around fair value.
Either way, TKR doesn't appear to be a compelling investment opportunity at today's price of $44.60.
Final Word
Avoid TKR, let this big price rally shake out over time while operating results become more clear, longs are looking for annual sales to stop declining.
Appendix: The Timken Co
Source: Faloh Investment, YCharts
TKR Chart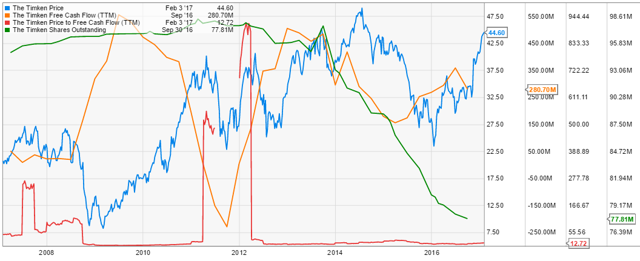 FI DCF Model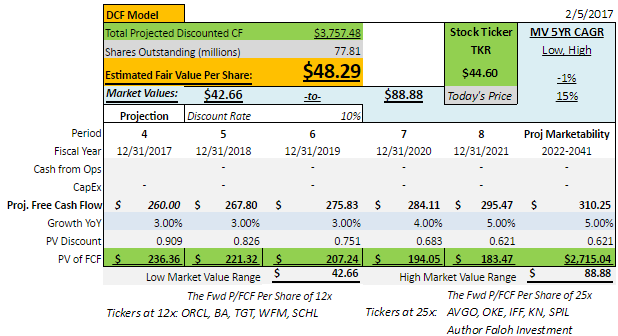 Trial YCharts and make charts like these.
Disclaimer: This article represents the opinion of the author as of the date of this article. This article is based upon information reasonably available to the author and obtained from public sources that the author believes are reliable. The author does not guarantee the accuracy or completeness of this article. This presentation is the author's interpretation of the information contained in the article. The author may close his investment position at any point in time without providing notice. The author encourages all readers to do their own due diligence. This is not a recommendation to buy or sell a security.
Please click the + icon next to my user name and follow me, Faloh Investment, as I work to keep you informed on further developments as the market continues to present major value opportunities.
Disclosure: I/we have no positions in any stocks mentioned, and no plans to initiate any positions within the next 72 hours.
I wrote this article myself, and it expresses my own opinions. I am not receiving compensation for it (other than from Seeking Alpha). I have no business relationship with any company whose stock is mentioned in this article.