Last week, SkyWest (NASDAQ:SKYW) announced its results. As the world's largest regional airline, what the management decides at this airline ripples far beyond the US. Few people realize that SkyWest has a fleet size making it as big as many large network airlines.
Being a US-based regional though brings special issues to the fore. Specifically, as a US-regional airline, SkyWest falls under the US scope clause. This rule limits the size of its aircraft to 76 seats and a maximum takeoff weight to remain under 86,000 pounds.
The rule impacts every fleet decision for all the US-based regional airlines. Since the US regional airlines account for ~70% of the world's regional fleets, the scope clause impacts non-US regional airlines as well. An aircraft OEM will see any aircraft it makes that exceeds the US scope clause only useful in 30% of the market and that market is globally spread. No surprise then that aircraft OEM decisions are heavily influenced by US scope.
As mentioned, SkyWest is influential. It has shown a proclivity for the Embraer (NYSE: ERJ) E-175. Last year the airline took delivery of 41. The other aircraft it likes is the Mitsubishi (TYO: 8058) MRJ90 of which it has 100 orders. It also has 100 orders for Embraer's upgraded E175-E2. Unfortunately for SkyWest, both the MRJ90 and E175-E2 are over the scope limits.
In discussing the potential of scope easing by 2020 (when these new aircraft should be delivering) we heard the following from industry expert: There is no appetite for labor to ease the scope restrictions in place and (airline) management has little appetite to go after relaxed scope as it is acrimonious at a time when harmonious relations is the mantra. A second view from a pilot's union echoed this sentiment:There will be no easing of Scope. Pilots at mainline and regional carriers have seen what happens when Scope eases: career stagnation for the mainline and a cap on the careers for regional pilots. Scope is the "third rail" for pilots, and it is quasi-religious.
Given that it looks like the US scope rules are not going to change, what are the fleet options SkyWest faces? The airline's management stated they want to focus on larger aircraft with two classes of service. Essentially they have two options: buy more E-175s or buy more Bombardier (OTCQX:BDRBF) CRJ900s. The airline last bought a Bombardier aircraft in 2013. But the Embraer line has few slots open until 2018. And with running down its CRJ200s (50 seats, one class) it seems there are is only one move to make.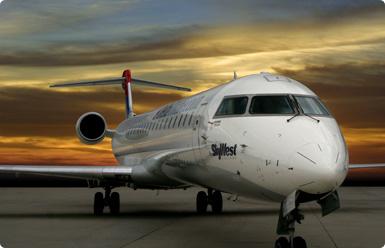 The $90m payment from Bombardier to SkyWest could act as a handy source of cash to make deposits on a order for CRJ900s. These aircraft are cheaper than the E-175 and, potentially, could be delivered faster. It looks like the line of least resistance for SkyWest is to turn to Bombardier. And if SkyWest does, we expect to see a similar reaction from SkyWest's competitor Trans States which also has a big MRJ90 order, and won't be taking delivery any time soon. Influential companies set the tone for industries.
Disclosure: I/we have no positions in any stocks mentioned, and no plans to initiate any positions within the next 72 hours.
I wrote this article myself, and it expresses my own opinions. I am not receiving compensation for it (other than from Seeking Alpha). I have no business relationship with any company whose stock is mentioned in this article.
Editor's Note: This article discusses one or more securities that do not trade on a major U.S. exchange. Please be aware of the risks associated with these stocks.