On February 1, 2017, India's Finance Minister Arun Jaitley had presented the budget to the parliament. I was skimming through reports from the various news media to find out about one thing in that budget - infrastructure spending.
Better Roads in India = More Revenue for Automotive OEM
India's crumbling infrastructure is the biggest hurdle to economic growth. India could be the biggest auto market in the world but China produces nearly six times more cars than India. By volume, China is now the largest car market in the world. If the infrastructure could improve, it could mean more car production and sales in India. Original Equipment Manufacturers, like Autoliv (NYSE:ALV), would also benefit from this move.
Global Light Vehicle Production

Exhibit: Global Light Vehicle Production (Source: IHS Automotive, October 2016)
Light Vehicle Production in BRIC Nations

Exhibit: Estimated Light Vehicle Production in BRIC Nations in 2015 (Source: IHS Automotive)
Low Safety Content in China & India
The average safety content in a car in Western Europe or North America is $500 per vehicle. In China, the average safety content is $220 per vehicle and in India it is $60 (Source: Company Filings). The substantially less dollar value per vehicle in India is a concern that will pressure profits. Besides that, manufacturers usually expect volume discounts and at that low content value per vehicle, there's no margin left for discounting. So, even if production in India increases, that may increase revenue but not profitability.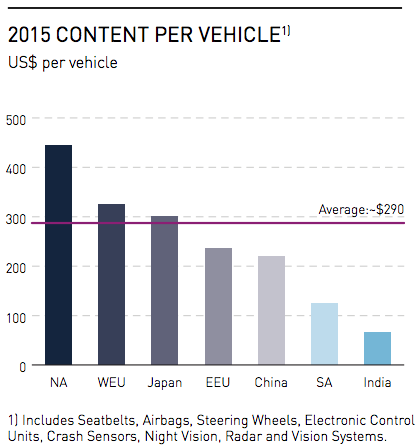 (Source: Company Filings)
Even if car production increases in India, the value of safety content may not show marked improvement. Vehicle owners in India are not very safety conscious and rarely wear seat belts. Besides, safety laws are not strictly enforced by the traffic police and there's not much education on the importance of using safety features in a vehicle. So, car manufacturers may not have much incentive to include more safety features in a car.
Approximately, 50% of Autoliv's revenue is spent on direct materials from external suppliers. Raw material cost accounts for about 50% of the direct materials supplied to Autoliv. The other 50% is the value added by the suppliers (Source: Company Filings). There are signs that material prices have bottomed in 2016 and according to the World Bank prices are expected to increase in 2017. If that's the case, all automotive OEM - not just Autoliv - may experience renewed pressure to reduce cost by innovation and cost cutting to stay profitable.
Metals and Mineral Prices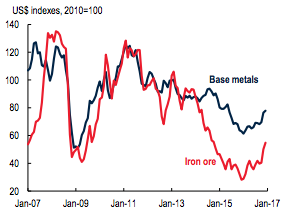 Exhibit: Metal and Mineral Prices (Source: World Bank Group. 2017. Commodity Markets Outlook, January. World Bank, Washington, DC. License: Creative Commons Attribution CC BY 3.0 IGO)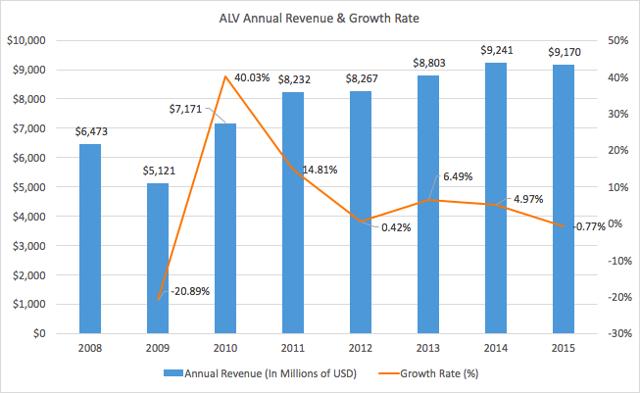 Exhibit: ALV Annual Revenue & Growth Rate (Source: Company Filings)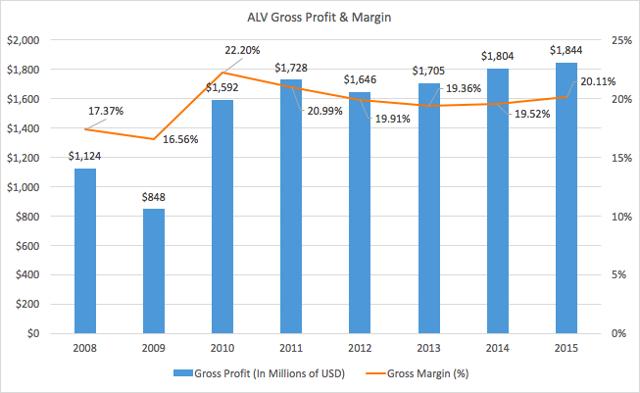 Exhibit: ALV Gross Profit and Gross Margin (Source: Company Filings)
Revenue Growth and Profitability of Business Segments
The company reports its financial results under two segments:
Passive Safety

Seatbelt Systems
Airbags & Steering Wheels
Battery Disconnect Safety Switch
Pedestrian Protection

Electronics

Night Driving Assist
RADAR Systems
Vision Systems
Brake Systems
Electronic Control Units
Market Share
Autoliv has a dominant global market share in steering wheels (30%), seatbelts (39%), airbags (40%), passive safety electronics (26%), active safety (20-25%).
Active Safety (radar, night vision and front-view mono and stereo vision cameras) Represents the Highest Growth Area with CAGR of 21%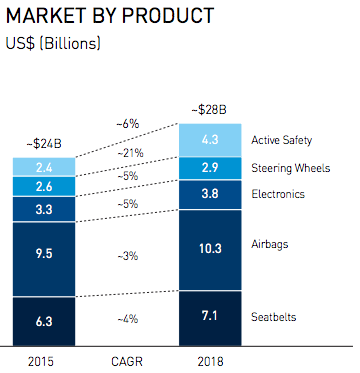 Exhibit: Market Size (Source: Company Filings)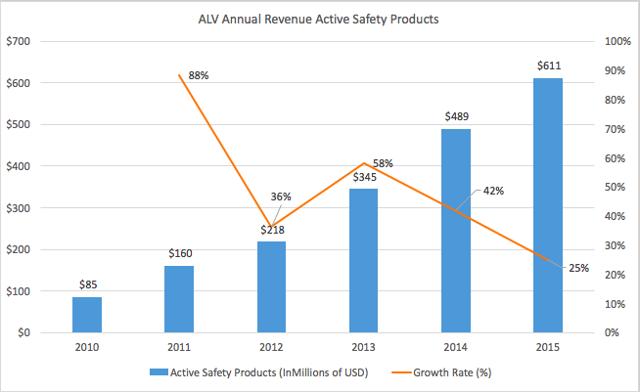 Exhibit: Autoliv Well Positioned in the Fast Growing Active Safety Products Market. (Source: Company Filings)
Mercedes Benz and BMW are big drivers of demand for active safety products. In 2014, when Mercedes rolled-out Collision Prevention Assist (CPA) across most of its platform, that increased the demand for Autoliv's RADAR related products. BMW helped increase the sales of vision systems. Demand from both BMW and Mercedes helped increase sales of night vision systems.
But, the low operating margins of active safety products and the overall electronics business segment is very troubling. The automotive industry is very cyclical. If the margins are low in a good sales year such as 2016, imagine the potential losses in a down year.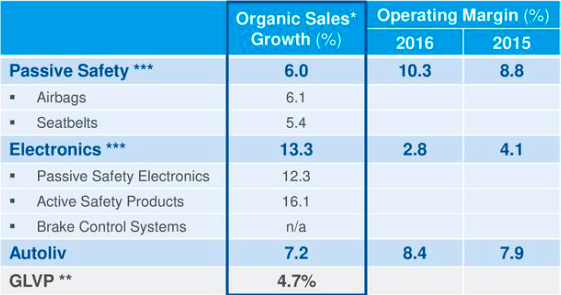 Exhibit: Organic Sales Growth and Operating Margin for Autoliv's Business Segments. (Source: Company Filings)
Autoliv Earnings Per Share Basic & Diluted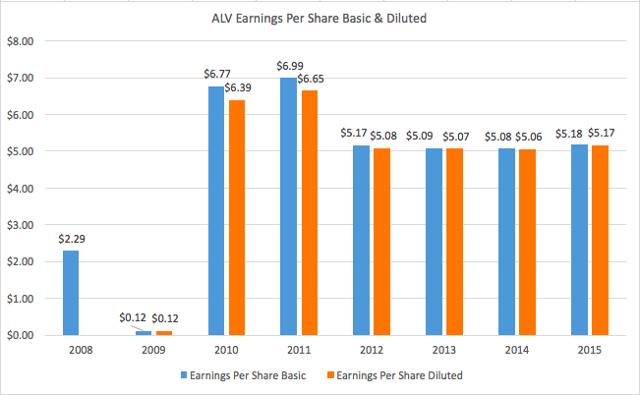 Exhibit: Earnings Per Share Basic & Diluted (Source: Company Filings)
Autoliv has dominant position in multiple markets of automotive safety. They are also building expertise and market share in electronics and active safety. The automotive market is cyclical and price competitive and so that's a concern that investors need to take into account. Also, the low operating margins of their electronics segment is a risk when there's a downturn. It may be wise to buy Autoliv at a lower multiple. It's currently trading at about 16 times trailing earnings. The global automotive market has enjoyed a great resurgence since the recession of 2009. The question that investors should ask themselves is:
"How much more appetite does the global consumer have for new cars in 2017? How long can the current cycle of growth in auto sales continue?"
If auto market slows in 2017, may be we will presented by an opportunity to buy Autoliv at a cheaper price.
As for the Indian budget, Arun Jaitley increased spending on infrastructure by 10% compared to the previous fiscal year. The latest budget earmarks Rs. 4 trillion rupees. That's about $59.3 billion.
Disclosure: I/we have no positions in any stocks mentioned, and no plans to initiate any positions within the next 72 hours.
I wrote this article myself, and it expresses my own opinions. I am not receiving compensation for it (other than from Seeking Alpha). I have no business relationship with any company whose stock is mentioned in this article.