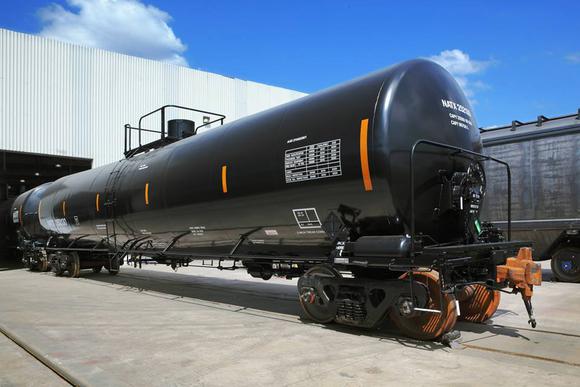 Source: Google Images
This is my second piece on The Greenbrier Companies (NYSE:GBX). I wrote on the company this past July with a cautious stance when the stock price traded around $28 per share. This viewpoint was driven by the uncertainties surrounding the rail industry at that time. Obviously, this take was not the way the market has valued Greenbrier over those past seven months.
But today upon reviewing the company's most recent earnings announcement, it has come to my attention that there is a disconnect between the company's updated rail equipment outlook from December 2016, versus average analyst revenue and earnings expectations over the next two fiscal years.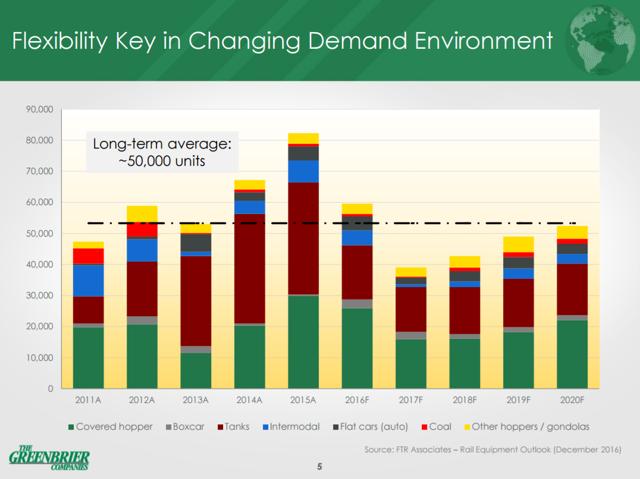 Source: Greenbrier 1Q17 Earnings Slides & Supplemental Information
Most investors and analysts who have positions or follow Greenbrier are familiar with the company's revenue equipment outlook, which is provided by FTR Associates, a service provider for freight transportation analysis.
Since the company's 2016 fiscal year earnings report, FTR Associates' forecast expectation has improved for 2018 versus 2017. In the most recent slide, 2018 is expected to witness greater than 40,000 rail equipment units sold. This expectation has been consistent over the previous few quarters. However, the estimate for 2017 has been revised lower from approximately 45,000 as of June 2016 to less than 40,000.
After reviewing multiple two-year forecasts from the Financial Times, Nasdaq, and Yahoo! Finance, all sources had expectations for Greenbrier to post declines for both revenue and earnings. In all cases, revenue declines were significant at around -15 percent. The same could be said for earnings expectations at -40 and -27 percent.
Rail equipment supply and demand is important for Greenbrier as the company's manufacturing segment reflected approximately 75 percent of total revenues. Since the freight downturn in 2015, the average sales price per unit has declined from over $120,000 to nearly $80,000. For fiscal year 2017, Greenbrier has guided for a midpoint decline in railcar deliveries at -26 percent, or 15,000 units.
The company does not provide guidance further out than its upcoming fiscal year. As 2017 is upon us, FTR Associates has taken the liberty to refine their expectations. Unfortunately, these expectations have been reduced by approximately -13 percent since June 2016.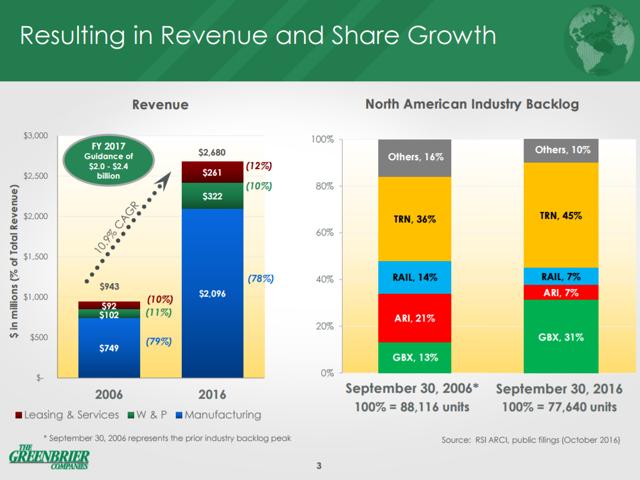 Source: Greenbrier 1Q17 Earnings Slides & Supplemental Information
Greenbrier and Trinity Industries (NYSE:TRN) have been the most successful railcar manufacturers at increasing market share prior to and after the Great Recession. If FTR Associates' forecast for 2018 were to play out, it would make sense for improved revenue and earnings from higher units delivered and a return to more stable pricing.
For fiscal year 2016, Greenbrier generated $2.7 billion in revenue and $5.73 for diluted earnings per share (EPS). Manufacturing revenue reflected $2.1 billion of this total. This number as a portion of the total has declined from the first quarter of 2017. Average analyst estimates account for revenues of $2.2 and $1.8 billion for fiscal years 2017 and 2018. Diluted EPS are projected at $3.48 and $2.54 per share.
Looking at these numbers, either FTR Associates' forecast for 2018 will end up being too aggressive or analysts will have underestimated Greenbrier substantially. Even the 2017 forecast numbers may end up being too low or high. FTR Associates is not the only rail equipment outlook provider, but this is the source being used by Greenbrier.
For investors, this disconnect is not helpful. Greenbrier's valuation level today also further complicates the situation. When I wrote about Greenbrier seven months ago, I did not have an ill opinion about the company. In fact, I believe that Greenbrier has executed well and at the right price, would offer investors a strong long-term investment.
My conservative stance was a result of the challenges, which were facing the rail industry, namely rail operators that have been idling equipment due to the substantial declines in rail traffic during 2016. But towards the end of the year, things began to pick up; today expectations are for moderate positive rail traffic growth.
From a valuation perspective, Greenbrier is not simple to assess. Traditionally, there are three core measures for valuation including the P/E ratio, enterprise value to EBITDA and free cash flow yield. All three of these measures provide varying messages.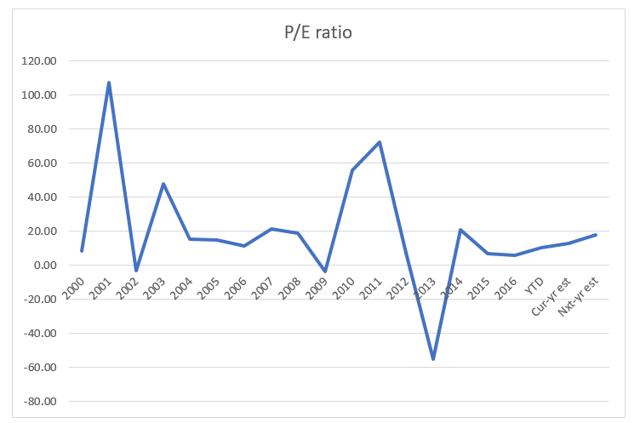 Source: Greenbrier financials
For the P/E ratio, Greenbrier trades 10.4 times earnings over the last twelve months (LTMs) and 13 and 18 times earnings for 2017 and 2018 estimates. Historically, the year-end P/E ratio has been all over the place. One could argue that the most consistent level has been close to 20 times earnings.
Looking back to 2014 as the most recent period where this has occurred, Greenbrier had witnessed revenue growth of 22 percent over the previous two years, and diluted EPS growth of 80 percent. Today's estimates paint a much different picture with today's price of $45.45 per share approaching 2014's valuation level by the P/E ratio.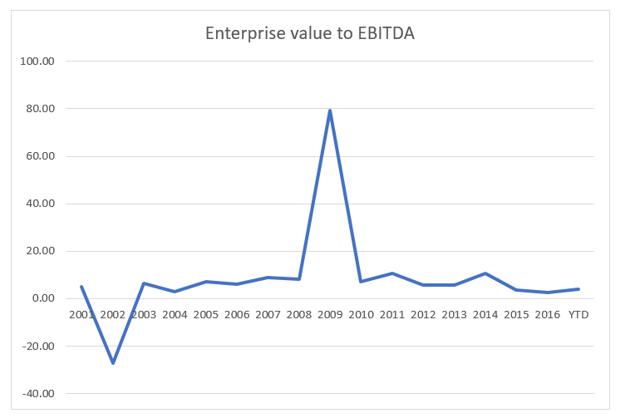 Source: Company filings
For enterprise value to EBITDA, the company's LTM level stood at 3.9 times EBITDA. The normalized average over the past 15 years or so has been closer to six times. For 2015 and 2016, this ratio ended the year at 3.7 and 2.5 times EBITDA. Clearly, the company's valuation by EBITDA has remained more depressed versus the P/E ratio.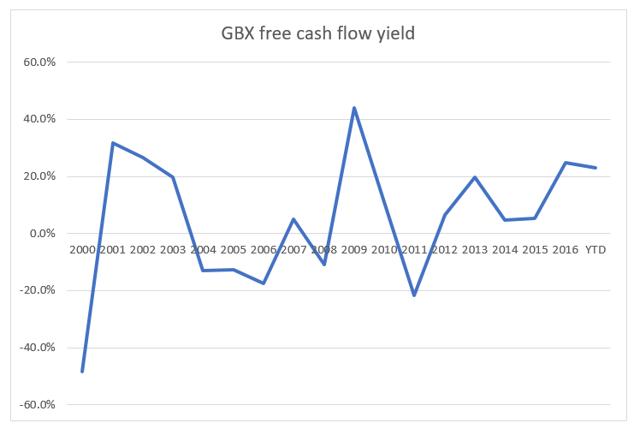 Source: Company filings
For Greenbrier's free cash flow yield, I have included the company's dividends paid. While not the traditional free cash flow definition, I assume investors expect to be paid their dividends, thus the inclusion. The free cash flow yield has fluctuated widely as high as over 40 percent and as low as into negative territory.
To date it stands at 23 percent. Many investors would view this as a bargain in and of itself, but as Greenbrier's net income has declined, negatively impacting operating cash flow, other line items including accounts receivable, inventory, leased railcars for syndication and deferred revenue have offset this decline. These adjustments have inflated Greenbrier's cash flow substantially, counter to the company's normal growth cycles. Historically, this has been common during down cycles.
With a mixed view between transportation expert forecasts and average analysts estimates, combined with a myriad of volatility for Greenbrier's financial measures, investors face a challenging situation from this point forward.
Based on the circumstances, investors either already with positions in Greenbrier, or looking to add a position, should strongly consider their investment strategies and objectives. Greenbrier is a company that I would consider adding to my own portfolio at some time. In hindsight, last year's initial coverage was an opportunity missed. But looking forward today, I would consider Greenbrier a hold.
Disclosure: I/we have no positions in any stocks mentioned, and no plans to initiate any positions within the next 72 hours.
I wrote this article myself, and it expresses my own opinions. I am not receiving compensation for it (other than from Seeking Alpha). I have no business relationship with any company whose stock is mentioned in this article.