Hasbro (NASDAQ:HAS) appears to be firing on all cylinders. On Monday, Hasbro blew past estimates and posted beats on both the top and bottom lines. If that wasn't enough, Hasbro also raised their dividend by 12% to $0.57/per share paid out on a quarterly basis. As of close on Friday, February 3rd, their 1-year share price growth was 11.24% while their YTD growth was 6.22%. Can Hasbro continue to grow at such a pace?
GROWTH RATES
According to analysts' estimates, Hasbro is expected to grow earnings by 10% in 2017 which is relatively in-line with their past year share price performance. Is this achievable?
First, let's look at Hasbro's internal growth rate which is the rate at which the firm can grow with no external financing required. Using their full 2016 year results, Hasbro's IGR can be calculated as:
ROA * Plowback Ratio/(1-ROA * Plowback Ratio)
IGR = 0.1082 * 0.55/(1-0.1082 * 0.55) = 6.33%
As such, Hasbro can grow at a max of 6.33% without requiring any external financing. In other words, Hasbro does not have to raise any new equity or issue any additional debt to achieve 6.33% growth. This falls short of analysts' estimates which means that Hasbro will have to either raise additional equity or issue more debt in order to meet the 10% growth rate in 2017.
Next, assuming Hasbro maintains its current debt to equity ratio, what rate of growth can be achieved without issuing new equity which would dilute shareholder value? Otherwise known as sustainable growth rate, this can be calculated as:
ROE * Plowback Ratio/(1-ROE * Plowback Ratio)
SGR = 0.296 * 0.55/(1-0.296*0.55) = 19.45%
Therefore, by maintaining its debt to equity ratio, Hasbro can grow its revenue and assets at a rate of 19.45% per year without changing its debt/equity ratio. As you can see, by maintaining the same debt to equity ratio, Hasbro can comfortably grow at a rate that not only meets but significantly exceeds expectations.
VALUATION
Now that we have established that Hasbro is capable of achieving an estimated 20% growth rate in 2017 without significantly impacting its financial situation, I'll turn my attention to valuation. Using F.A.S.T. Graphs, one can see that based on their historical P/E ratio of 17.9 Hasbro appears to be slightly overvalued.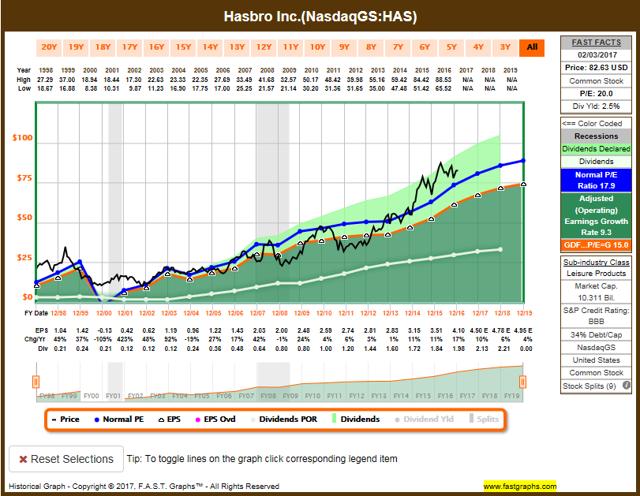 Likewise, Hasbro's PEG ratio with an anticipated growth rate of 10%, is 2 (P/E of 20 / GR). A PEG ratio of greater than 1.0 typically signifies that the company's earnings growth are not keeping up with the company's share price and as such can be considered overvalued. In order for Hasbro's current $82.73 share price and P/E ratio to be considered fairly valued, Hasbro would have to grow earnings by 20% in 2017.
BOTTOM LINE
Hasbro has been a solid performer over the past few years, however its share price seems to have gotten ahead of its earnings growth rate. That being said, Hasbro is a high quality company and has significantly outperformed its peers over the past year, particularly Mattel (NASDAQ:MAT). Where Mattel has struggled, Hasbro is bucking the trend and overcoming perceived week U.S. toy demand. For current Hasbro investors, the stock is a solid hold and shareholders should enjoy consistent earnings and dividend growth over the next couple of years. As a new investor who is looking to initiate a position in HAS, I am content to wait for a better entry point and for valuations to come down closer in line with expected growth rates.
If you would like to receive updates for any of my upcoming articles, please click the "Follow" text at the top of this page next to my profile.
Disclosure: I/we have no positions in any stocks mentioned, and no plans to initiate any positions within the next 72 hours.
I wrote this article myself, and it expresses my own opinions. I am not receiving compensation for it (other than from Seeking Alpha). I have no business relationship with any company whose stock is mentioned in this article.