Victoria Gold Corp. (OTCPK:VITFF) owns a large open pit project, the Eagle Gold project in Yukon, Canada, with 2.66m oz in reserves at 0.7 g/t and exploration properties in Yukon and Nevada. All-in costs are projected to be under $700 per oz, with a post-tax IRR of 29% and NPV5 of $508m at $1250 gold. With 200,000 oz of production, cash flow could easily be more than $100m annually. The Eagle Gold project has a high CAPEX of $289m, but in January 2017, they announced a $220m financing package of senior secured project debt with BNP Paribas (OTCQX:BNPQF) as the sole mandated lead arranger.
Victoria Gold Feasibility Study (January 2017 Corporate Presentation).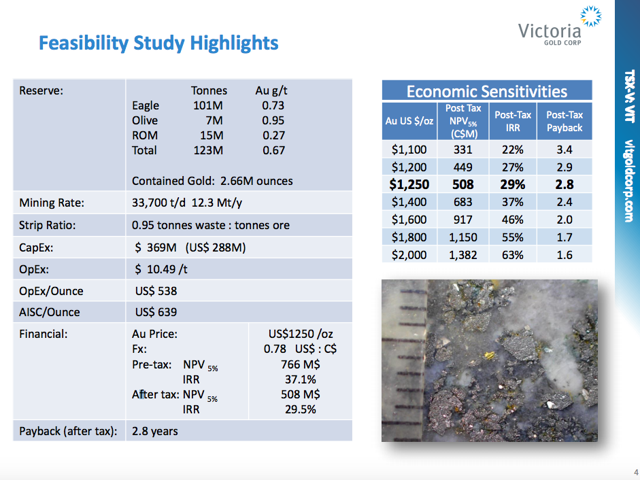 This article will be an in-depth analysis of Victoria Gold. Firstly, we will completely dissect the Eagle Gold project, after which we will analyze the exploration potential in Yukon and Nevada. We will then move onwards to the capital structure and major shareholders, the management track record and the valuation sections. Before the conclusion, we will have a specific section with 'what could go wrong', and one about Yukon as a mining jurisdiction in order to help the reader to navigate some of the possible red flags.
The Project
Victoria Gold is advancing a large open pit project. Their Eagle Gold project looks excellent. It has 2.66m oz in reserves at 0.7 g/t and located in the Yukon territory in northwestern Canada. In total, the Eagle Gold project hosts 4.8m oz in the indicated and 1.5m oz in the inferred categories. Recovery is relatively low at around 70%.
The geology is similar to Kinross's (NYSE:KGC) Fort Knox project in the Fairbanks mining district of Alaska and to the Maricunga mine, an open pit gold mine in Chile also operated by Kinross, but Eagle Gold is higher grade however. Recovery rate should also be higher than Fort Knox and Maricunga given head grade and crush size (per the 2016 FS). Nota bene, recoveries have been at higher rates than initially estimated at Fort Knox, boding well for Eagle Gold.
An aerial view of the project location (January 2017 Corporate Presentation).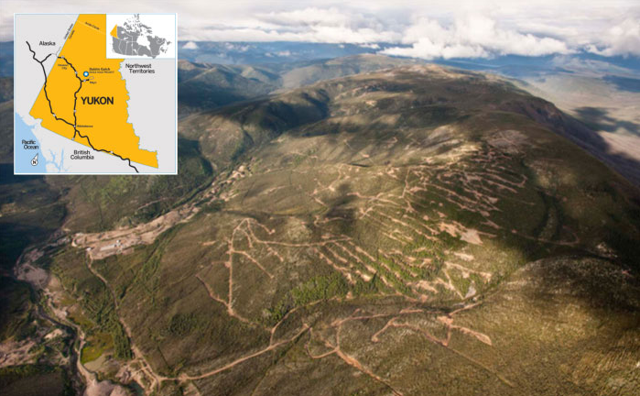 If constructed it would become the largest gold mine in Yukon's history. It is fully permitted and in a recent interview (November 2016), the CEO assured that the project, now post-permitting and FS, is ready to produce 200,000 oz annually at an operation cost of less than $550 per ounce.
Yukon is of course a remote and cold region, but the Eagle Gold project is connected to a year‐round road access that connects it to the Silver Trail Highway. The project is located six hours from Whitehorse by road and eight hours to the Port of Skagway in Alaska by all-weather highway. Moreover, the government of Yukon maintains a 1.4 km airstrip in Mayo, at approximate 85km from the proposed mine. Power is also found nearby: A new 45 km long power supply line will be built along the existing access road and will tap directly into Yukon's abundant and cheap hydroelectric grid that currently runs along the Silver Trail Highway.
At this moment, there is a 100‐person all‐season camp that is fully operational on site while a further 110-person all-season camp has been purchased and is ready to be transported to site soon (more below).
Victoria was recently featured on the Streetwise Report, where Chris Thompson, an analyst with Raymond James, related positively about the recent financing and the local Yukon infrastructure.
So what can we expect as next moves in Q1 2017? Management will organize a construction execution plan, while pre-construction activities are already ongoing with a plan to expand the camp to 210 accommodations. However, before this, the roads to the mine will be upgraded first. Detailed engineering and long lead equipment orders will also need to be done in Q1 2017.
Exploration potential
Victoria already found two satellite deposits for Eagle gold, Olive and Shamrock inside their 150,000 acres in Yukon with plenty of drill targets. What is moreover intriguing and still unlocked is the potential in Nevada (more about this later). In general, the company is proposing a C$6.2m exploration budget in 2017. Let's proceed per order however.
In Yukon, Victoria Gold already found two other nearby discoveries: Olive and Shamrock, both located near the proposed Eagle Gold mine site. They are currently actively drilling at Olive and Shamrock, with the objective of delivering significantly higher grade in year 4-7 to feed the heap leach. Olive contains an inferred resource of 200,000 oz at the time of writing and it could be expanded and upgraded.
Victoria Gold 2017 Exploration Program (January 2017 Corporate Presentation).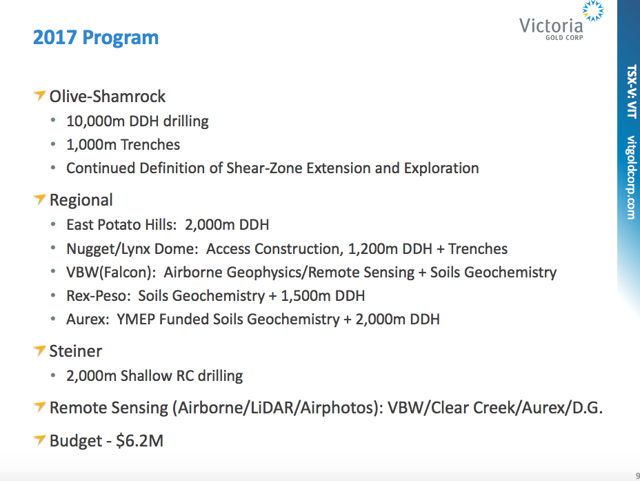 Additionally, if we look at what Victoria's neighbors are doing in Yukon, we notice that it is close to Alexco Resource (NYSEMKT:AXU) owned Keno Hill project, which was active until recently and is characterized by high grade silver occurrences. Additionally, Zonte Metals Inc. (OTC:EREPF) acquired 100% of the McConnells Jest project in 2016, located in the Tintina Gold Belt in the Yukon territory adjacent to the east of Eagle Gold. This clearly bodes well for the project.
Victoria Gold's claims are adjacent to Zonte Metals and Alexco Resource (Zonte Metals Website).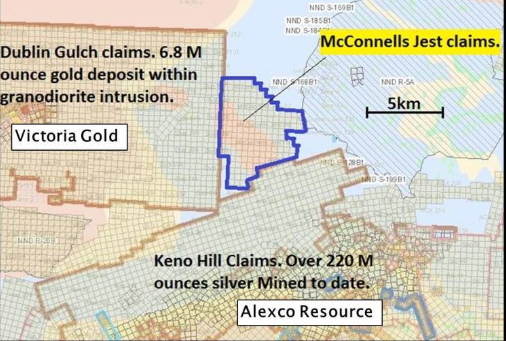 In the next map, you can observe the Aurex claims, a brownfield stage exploration property and the VBW claims (also at the brownfield stage). Both are owned by Victoria Gold, showing the district scale of Victoria´s exploration efforts. A limited amount of exploration was done on these properties, and soil geochemistry and airborne geophysics are scheduled for 2017.
The VBW, Dublin Gulch and Aurex claims in Yukon (Company Website).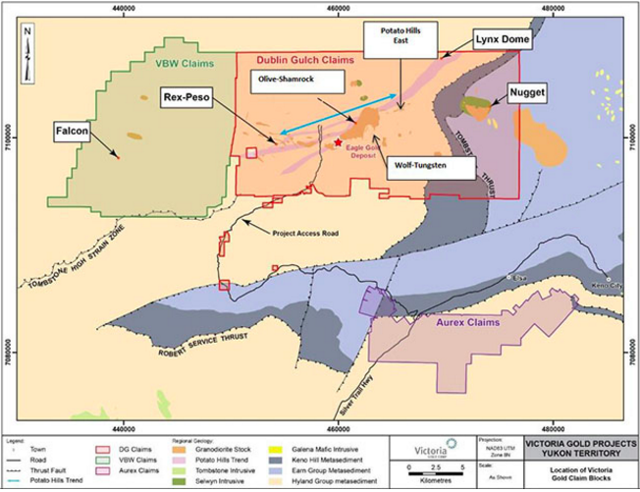 In Nevada, The Santa Fe property is located within the Walker Lane trend in Southwestern Nevada, approximately 10km northeast from the town of Luning. Previously, Homestake Mining Company and other former operators drilled over 1000 historical holes on or close to the current property. Historical activity commenced in the early 1970s. Victoria drilled 12 diamond core holes on the property in 2009 and 2010, using more modern geological understandings.
The majority of the holes targeted sulfide rich mineralization near the southeast end of the existing open pit (the BH zone), but these drill holes did not define the full extent of the mineralization. Thus, it remains open for expansion, since previous operators were more interested in the oxide portion of the deposits.
Until now, the company had two outstanding drill results, the first of 309m grading 2.25 g/t while hole BH-6 hit 3.94 g/t over 157m. These are definitively drill holes that are not commonly drilled.
In 2016, the company announced that it was looking to monetize the Santa Fe Project, but currently, it looks more likely that they will elect to further drill at Santa Fe, given that the monetary resources for the development of Eagle Gold are now in place. More can be found on the company website here.
A picture of a part of the Santa Fe property in Nevada (Company Website).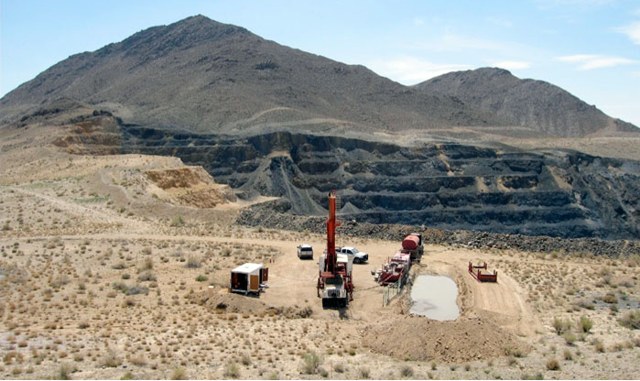 Capital Structure And Major Shareholders
Kinross, Electrum Group and Sun Valley Gold are the biggest shareholders alongside management, which owns 1.34%. Electrum Gold is a private company based in NYC that primarily invests in the natural resources sector, with a focus on precious metals resources and hydrocarbons. Sun Valley Gold is a privately owned hedge fund sponsor based in Idaho that typically makes its investments in metal mining projects.
The investment by Electrum and Sun Valley has brought new attention and Electrum bought into Kaminak Gold - the biggest buy in Yukon last year - just before being bought by Goldcorp (NYSE:GG). The Eagle Gold´s Feasibility Study was done by the same engineering firm that did Kaminak's, which can be interpreted as a positive also.
Capital structure and key shareholders (January 2017 Corporate Presentation).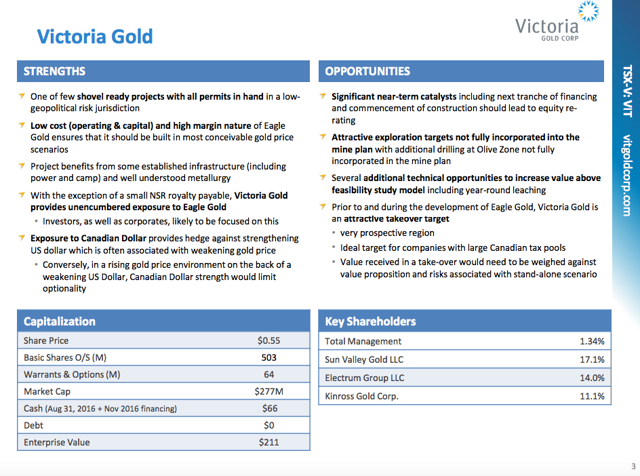 Kinross could be a buyer as it is expected to close its Fort Knox mine in 2020 (400,000 oz of gold p/y) and problems have arisen at its Tasiast mine in Mauritania where production was subsequently suspended in 2016. Its Fort Knox mine located in Alaska uses the same heap-leach method that would be used at Eagle Gold and Victoria Gold's management stated several times that they will collaborate with technicians operating at Fort Knox.
The share structure is not so clean, as there was huge share dilution to build the company as it is today. This is why shares trade at less than $1 per share. There are 26,591,667 options with an average strike price of C$0.25 and 40,000,000 warrants outstanding, of which 5,990,000 are owned by Sun Valley Gold.
All in all warrants and option would dilute actual shareholders less than 15%, while providing an infusion of cash when exercised. Overall, this is not so bad when compared to other junior miners.
Valuation
The valuation of companies transiting from the exploration stage to the development stage is always tricky, as assumptions largely determine the final price.
With a market cap of around $250m and 4.8m oz in the indicated category, we find that the company is valued at $50 per oz. If we consider only the 2.66m oz in reserves, this becomes almost $100 per oz.
1-year chart (January 2017 Corporate Presentation).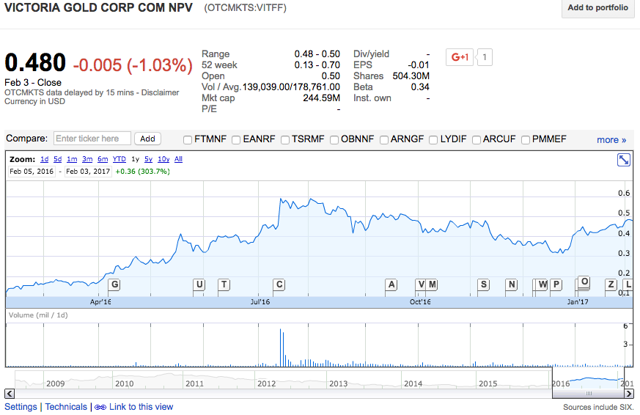 Their FD market cap has exploded from $37 million to $237 million in the last year, mainly because of share dilution, as the share price only increased from 13 cents to 42 cents (48 cents now).
As we can see in the graph below, if we compare Victoria to peers and plot IRR vs. LOM annual production, we find that Victoria is fairly valued at 29.5% vs. 200,000 LOM annual production.
Annual production of IRR and LOM. Victoria Gold is in the sweet spot (January 2017 Sabina Gold & Silver (OTCPK:SGSVF) Corporate Presentation).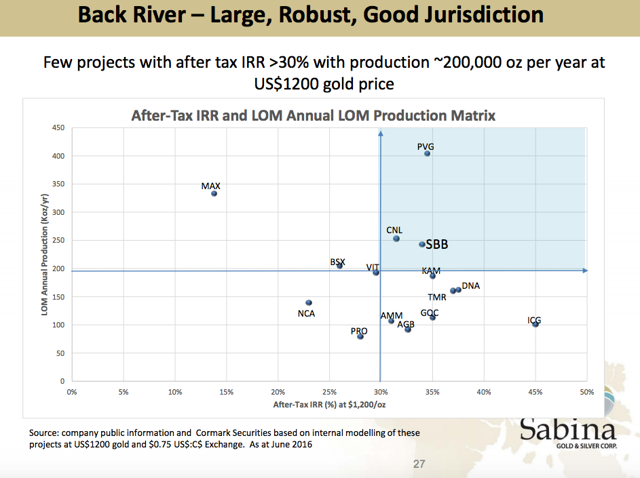 In 2016, Goldcorp bought the Kaminak-owned Coffee project for a total consideration of approximately C$520 million, not so far from Gold Eagle, going in the northwest direction of Alaska. If we compare the Eagle Gold Project with the Coffee project of Kaminak, we notice that Victoria Gold has bigger reserves but it also has higher initial CAPEX (now financed), OPEX and AISC. NPV5 is similar with Eagle's after-tax $508 million while Coffee's after-tax is $438 million at $1250 Au. Coffee had higher after-tax IRR (43% compared to 29.5%).
Victoria Gold has secured all of the permits and the mine is construction-ready, while Coffee was still at PFS stage. One of the main advantages of the Eagle project is the finished permitting process. The construction should take 1 year, which means that the first gold could be poured sometimes in summer 2018. The Coffee Project is scheduled for production in late 2019 or 2020 while Goldcorp's activities are focused on review and optimization of the Kaminak feasibility study, First Nations consultations and planning for upgrades to site infrastructure.
Between the two projects, it looks to me that Eagle Gold is better, especially because now that it is fully permitted and almost fully financed.
I wouldn't be too much surprised by a Chinese acquirer investing into the Eagle Gold project either, as also the corporate presentation downloadable from the company website has a Chinese mutation. Virtually every large miner could be interested in a 200,000 oz Au project in a safe North American jurisdiction.
Victoria Gold´s P/NAV ratio compared to peers (January 2017 Corporate Presentation).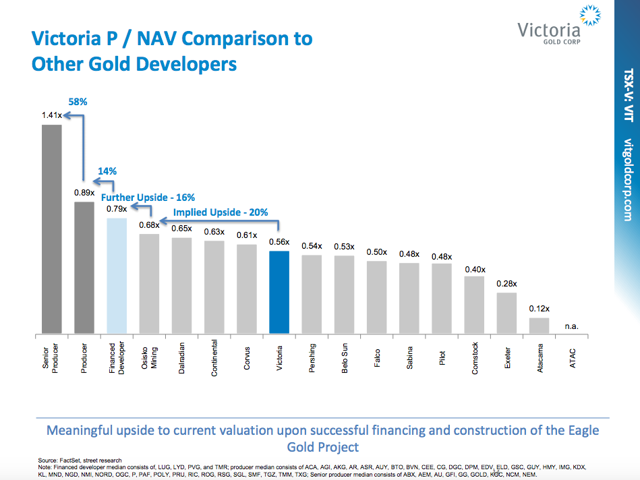 Post-tax NPV5 is greater than $500M vs. a market cap of $250m. The current fully diluted market capitalisation, less approximately $50 million in cash, represents around 40% of the after-tax NPV5. For the purpose of this article, we will evaluate the exploration portfolio at $0, it has value however and Victoria will benefit from it.
All in all I consider that Victoria is fairly valued to slightly undervalued compared to peers especially considering the Kaminak deal, and that project was not even fully permitted.
Management
Bad management can sink any ship, while good management can seal the turbulent waters of finance in practically any condition. Ergo, in my opinion, management is always the most important element in an investment decision.
Victoria Gold was founded in 2007 by John McConnell, President, CEO and Director, and T. Sean Harvey, the Chairman of the Board. Here you can find a recent interview with Victoria Gold's John McConnell by Resource Capital AG in Zürich, explaining his vision for the company. Overall, we can say that management has been very prudent riding the waves of higher and lower gold and has direct experience in northern mine building and operating.
In 2007, Marty Rendall CFA joined Victoria as Chief Financial Officer and has previous experience with De Beers Canada and Breakwater Resources. Moreover, Mark Ayranto serves as Executive Vice President and has over 15 years of project development experience with six years of direct Yukon experience. He previously served as the President of the Yukon Chamber of Mines.
Now that the Company is moving into development, they brought in two new Directors, Heather White - with 20 years of experience in the mining sector working for majors like Vale Canada, Voisey's Bay Nickel Company, Inco Ltd. and NovaGold Resources (NYSEMKT:NG) and Patrick Downey, who has also held numerous senior engineering positions at many large-scale gold mining operations and is a board member of Claude Resources (OTCQB:CLGRF), Dalradian Resources (OTCPK:DRLDF) and Orezone Gold Corp. (OTCPK:ORZCF).
The CEO said that in 2016 they were accepting JV offers and that several companies were doing DD (due diligence). Those companies doing DD could option or buy Victoria, so a JV or takeover is a possibility in the near term. However, they might not take a low-ball offer, because three investors own 43%, and the CEO has a substantial amount of shares.
Victoria Gold Management Team (January 2017 Corporate Presentation).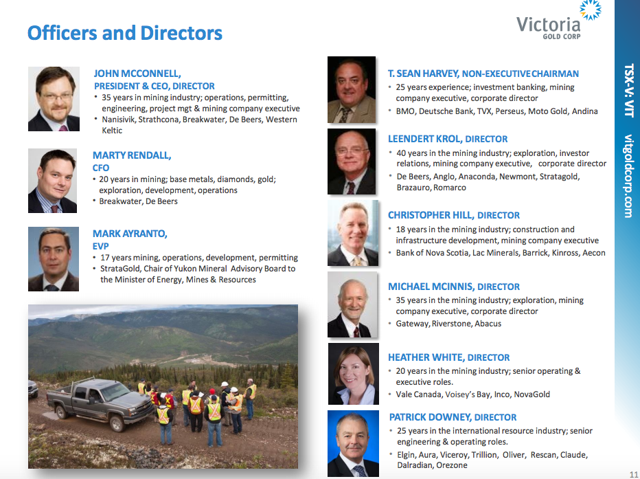 Management is extremely transparent in all their activities, which is something that I obviously like. An example is the appendix of the presentation that is downloadable from the website, through which we have access to all sort of important but rarely published details about claim costs.
Victoria Gold Claims Summary (January 2017 Corporate Presentation).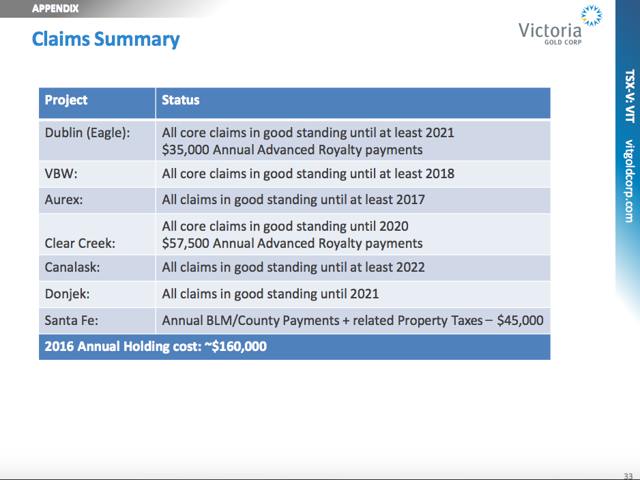 Another example of the ability of management is the recent purchase of a nearby camp facility at a bargain price, which they plan to move. This cut a chunk out of project cost, saving more than C$5m on capex from this deal. A positive development that shows ability and knowledge of the local territory by the management.
What could go wrong
When analyzing a new investment that looks great, it is always useful to take a step back before making a conclusion. Victoria Gold looks great and poised to succeed. However, there are some caveats. The first is related to the very elevated share count at more than 500m if fully diluted. This is more a problem for previous shareholders than for new of course, but the share count will likely increase in order to finish mining finance (another 20-30m is needed besides the banking loan) and if management decides it wants to explore more.
Thus, we could get a reverse split, something that we do not want to happen when we are invested in. At the same time, finishing financing and getting some exploration success would be clearly accretive to the business. Hence, it looks more like the risks from this side (reverse split and small dilution) are risk neutral.
Another important point that I want to stress here is that we don't know the terms of the bank syndicate loan yet. Terms could be good or questionable, depending on management and gold price in the next weeks. Until we know the details of the loan, we cannot calculate how onerous it will be. However, since interest rates are still very low and with Yukon being a safe jurisdiction in developed Canada and management having shown to be determined, things bode well on this front. We will have more information in the coming weeks when the details of the deal will be made public.
Other risks that have to be considered are typical of small caps: Bid-ask spread risk comes to mind here and I hence recommend prospective investors to use only limit order while buying or selling shares in Victoria (and all other small cap firms). Execution risk is always a possibility since we cannot know if this project is really profitable or not until the plants are commissioned and ore is refined.
Yukon as a mining jurisdiction
The location of a mine is crucial when investing in a mining business. After all, nothing stops government officials to seize it on all kinds of possible grounds.
In the case of Eagle Gold, the news is all positive though: Eagle Gold is located in Yukon, Canada classed 12th out of 109 jurisdictions worldwide in Fraser Institute Annual Survey of Mining Companies (2015) Investment Attractiveness Index. Overall, we can say that Yukon is one of the best mining jurisdictions in the world.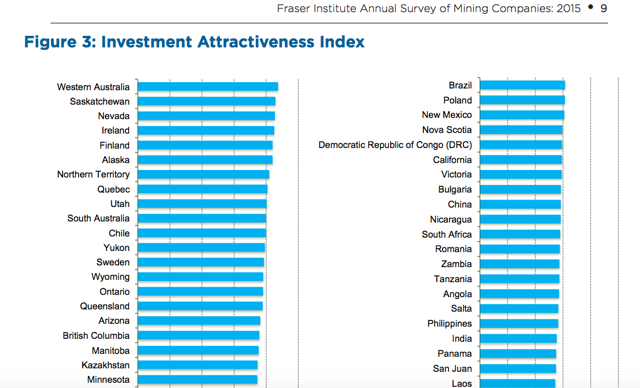 As we have seen in the section dedicated to the specifics of the Eagle Gold project, although Yukon is quite empty and remote, infrastructure is relatively good already and will be improved and upgraded. Yukon is supportive to mining and Victoria Gold has excellent relations with the local First Nations. The mine will provide around approx. 600 people during construction, 400 permanent jobs during mine life and 100s of millions in tax revenue. It already provides jobs for buildings, transports, food to local companies and it is already forming local youths, with personnel coming from Mayo, Keno, and Whitehorse employed in camp.
Conclusion
Victoria Gold is not the classic story about a nice junior exploration gold company that wants to transition to become a developer and producer. Indeed, Victoria already has almost all the money, has the project, the management, the jurisdiction and the exploration potential needed to succeed.
The CEO said that they were accepting JV offers and that several companies are doing DD (due diligence). However, they might not take a low-ball offer, because three investors own 32%, and the CEO has a substantial amount of shares. I think this is why the project has not been taken out; these people are here to win it all.
During 2016, due diligence was made by multiple banks in order to organize financing. As the construction period is only one year, major gold miners could start to be interested in a takeover before it becomes too pricey. Those companies doing DD could option or buy Victoria, so a JV or takeover is a possibility in the near term. Kinross is an insider and would be one of the most likely candidates. Goldcorp could also be interested as they were already involved in the Kaminak deal. What is important to understand is that all these majors and banks made DD and did not find fatal flaws.
All considered, Victoria Gold looks solid compared to peers and a mine in the making. This is why I recommend a buy at current price levels around $0.45-0.50 with shares going to $1 in 12-18 months after the project is built and the market re-rates this company as a producer.
Disclosure: I/we have no positions in any stocks mentioned, but may initiate a long position in VITFF over the next 72 hours.
I wrote this article myself, and it expresses my own opinions. I am not receiving compensation for it (other than from Seeking Alpha). I have no business relationship with any company whose stock is mentioned in this article.
Editor's Note: This article covers one or more stocks trading at less than $1 per share and/or with less than a $100 million market cap. Please be aware of the risks associated with these stocks.