Head over to your local supermarket. Put your regular assortment of groceries into your basket. When the checkout cashier rings you up, you may notice your total's a bit higher for the items you regularly buy. Your jug of milk, carton of eggs, and loaf of bread all ended up costing you more than they did a year ago.
What happened?
The economy has recovered enough that prices are starting to go up. The Consumer Price Index,* a measure of what we pay for the products we purchase, saw the strongest annual price growth since October 2014.1
An increase in what you're paying-not only at the grocery store but everywhere else you shop, too-means the purchasing value of your hard-earned cash has gone down. Essentially, your money is worth less than it once was.
Although it's nothing you personally did, higher inflation could defnitely impact your investment returns. Because your money will not buy as much as it once did, you've lost purchasing power1. What you do have control of is how you prepare for and take inflation on for both the coming year and the long term.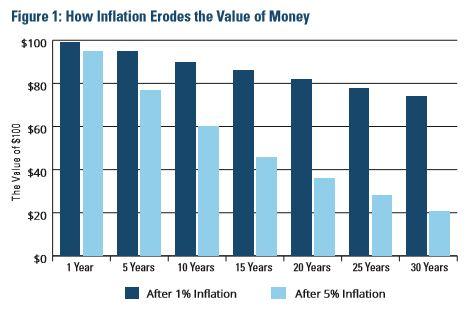 Here's what's driving inflation in 2017
1. Major tax cuts are on the horizon
President Donald Trump is likely to propose broad tax reforms of individual income tax and corporate tax rates. Some believe these changes to the tax code could be the most far-reaching of the country's tax system in years.
With less money taken out of our paychecks and more money put into the accounts of individuals and businesses, prices will most likely increase due to increased demand for products and services, and this would directly lead to higher prices-hence higher inflation.
2. Oil prices are rebounding
The rising cost to fill up your vehicle at the pump is a great indicator of increasing prices overall. Falling oil and natural gas prices rebounded late last year after OPEC's agreement to cut crude production for the first time in eight years gave a boost to prices. OPEC's agreement to cut production will also support higher infl ation.2
Growing demand in the U.S. may not push oil prices above $60 in the coming year, but many predict prices could reach this level in 2018.3
3. Wage growth is finally starting to pick up
Wage growth was at a seven-year high as 2016 ended with nearly a 3% increase.4 An increased number of people in the workforce should lead to higher wages. If wage growth continues, Americans will spend more and, ultimately, boost overall consumption. That drives demand for products-and that, in turn, is likely to drive ination.
4. Low unemployment/tight labor market could also lead to wage growth
The good news is that the unemployment rate ended 2016 at 4.7%, a better result than many people expected when we entered the year.5
The low unemployment rate has led the Federal Reserve (Fed) to feel comfortable normalizing interest rates, and Fed watchers expect as many as three interest-rate increases in 2017.
5. $1 trillion in infrastructure spending
The American Society of Civil Engineers estimates that $1.4 trillion in needed infrastructure spending over the next decade would add nearly $4 trillion to the economy and create almost 2.5 million jobs.6 With Trump promising to focus on infrastructure improvements, this expenditure on a federal and state level could become a reality.
The increased demand for skilled workers needed to fix and replace our country's roads and bridges is another factor that could trigger higher wages, potentially leading to higher infllation.
Get a game plan together
Protect yourself-and the long-term purchasing power of your money- by talking with your financial advisor. Your advisor can help you choose investments that have the potential to perform well if inflation goes higher. Actively managed strategies often have the exibility to adapt to higher inflation and other economic changes. Your advisor can help you allocate accordingly to prepare. Doing the planning today may help ensure you'll be better prepared to pay a little bit more for those groceries-and pretty much everything else-tomorrow.
* The Consumer Price Index in the United States is defined by the Bureau of Labor Statistics as "a measure of the average change over time in the prices paid by urban consumers for a market basket of consumer goods and services."
1. "U.S. Consumer Prices Posted Fourth Rise in November," The Wall Street Journal, 12/15/16
2. "OPEC Confounds Skeptics, Agrees to First Oil Cuts in 8 Years," Bloomberg, 11/30/16
3. "No Oil Price Rebound on Horizon," The Wall Street Journal, 11/3/16
4. "Wage Growth Surged to a Seven-Year High in 2016," NBC News, 01/06/17
5. "Last Jobs Report Of Obama's Presidency, U.S. Adds 156,000 Jobs And Unemployment Rate Ticks To 4.7%," Forbes, 01/06/17
6. "Trump Wants to Spend $1 Trillion on Infrastructure. Here's How He Can Get a Better Deal," CNBC.com, 12/27/16
All investments are subject to risk, including the possible loss of principal. Prior to making any investment decisions, an investor should carefully review a product's relevant offering documents.
This information should not be considered investment advice or a recommendation to buy/sell any security. In addition, it does not take into account the specific investment objectives, tax and financial condition of any specific person. This information has been prepared from sources believed reliable but the accuracy and completeness of the information cannot be guaranteed. This material and/or its contents are current at the time of writing and are subject to change without notice due to evolving market and economic conditions. This material may not be copied, photocopied or duplicated in any form or distributed in whole or in part, for any purpose, without the express written consent of Hartford Funds.
Hartford Funds Distributors, LLC.
MF7376_0117 121277
Disclosure: I/we have no positions in any stocks mentioned, and no plans to initiate any positions within the next 72 hours.
I wrote this article myself, and it expresses my own opinions. I am not receiving compensation for it. I have no business relationship with any company whose stock is mentioned in this article.