Oil prices went down by almost 0.5% on Tuesday, with the WTI and Brent trading at $52.75 and $55.41 respectively at the time of writing this article. Oil prices (NYSEARCA:USO) (NYSEARCA:UWTI) (NYSEARCA:OIL) (DWTI)(NYSEARCA:UCO) (NYSEARCA:SCO) (NYSEARCA:BNO) (NYSEARCA:DBO) had gone down on Monday because of a strong U.S dollar and rising U.S crude oil inventories. In my earlier article, I had explained that the latest U.S - Iran standoff will only have a minor impact on oil prices, and prices will be mostly driven by supply- demand factors. There are three major factors that are currently weighing in on oil prices.
OPEC compliance levels are supporting oil prices
Last week, Russia's energy minister Alexander Novak indicated that the OPEC-non OPEC group had reduced its combined output by around 1.4 million barrels in January 2017. Although this claim made by the Russian energy minister could not be verified, London based- S&P Global Platts conducted a survey on Monday which revealed that the 10 OPEC members achieved a 91% compliance level in January and their production fell by 1.4 million barrels per day when compared to October 2016. OPEC's combined oil production, for the month of January, stood at 32.89 million barrels per day. Investors must note that the group had promised to reduce its oil production to 32.5 million barrels per day over the period of six months from January 2017. In my opinion, a compliance level of 91% is bullish for oil prices. It must be noted that this compliance level could be achieved only after OPEC members like Saudi Arabia , Kuwait and Angola reduced more than what they had earlier committed. Iraq is one OPEC member that needs to reduce its output by 130,000 barrels per day (as per its production quota of 4.35 million barrels per day).
U.S oil production and crude oil inventories are putting pressure on oil prices
Rising U.S crude oil inventories are turning out to be a major factor that is putting a downward pressure on oil prices. During last week, crude oil inventories increased by 6.5 million barrels, to stand at a total of 494.8 million barrels (see below figure). Even gasoline inventories are increasing at a rapid pace, surging by 3.2 million barrels (during last week) to a total of 257.1 million barrels. The rising crude oil and gasoline inventory glut means that supply is exceeding demand, and this development is ready bad for oil prices. Besides this, even the U.S oil production is increasing at a rapid pace. According to a report published in Bloomberg Gadfly, the U.S crude oil production increased by almost 400,000 barrels per day since October. And, as OPEC continues to reduce its production levels, the U.S is expected to further increase its oil production with President Donald Trump looking to act on 'America First Energy Plan'.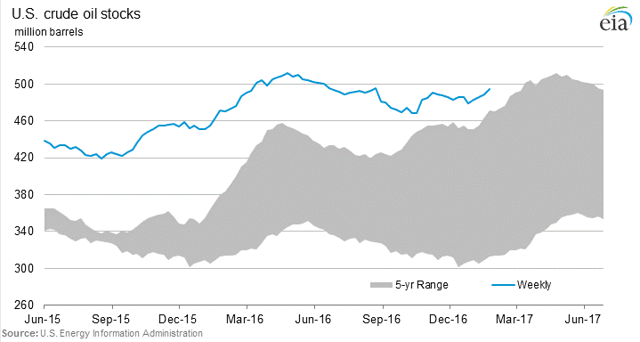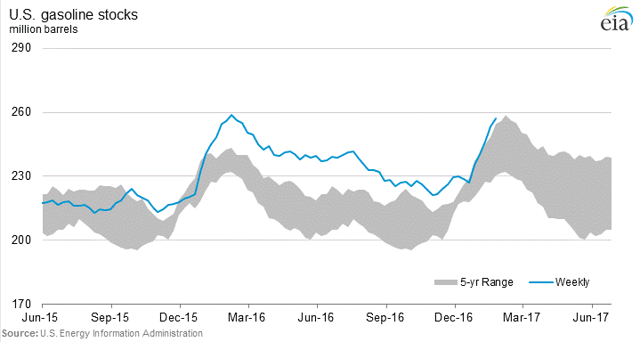 Takeaway for Investors
In my opinion, oil prices will come under further pressure in short term. Although the recent US- Iran standoff and OPEC-non OPEC compliance will support oil prices, the rising crude oil and gasoline glut along with rising U.S oil production will offset any gains and this will put further pressure on oil prices. In fact, investors must note that even OPEC may come under pressure as its members - Nigeria, Libya and Iran may increase its oil production in near future.
Disclosure: I/we have no positions in any stocks mentioned, and no plans to initiate any positions within the next 72 hours.
I wrote this article myself, and it expresses my own opinions. I am not receiving compensation for it (other than from Seeking Alpha). I have no business relationship with any company whose stock is mentioned in this article.