The market has come a long way since the 2008-09 financial crisis. Morgan Stanley (NYSE:MS) has not reached the highs seen in 2007 of $85, but since bottoming out at $12, MS has survived and is looking to thrive once again. The stock was up 80% over the last year and there is still plenty of room to run.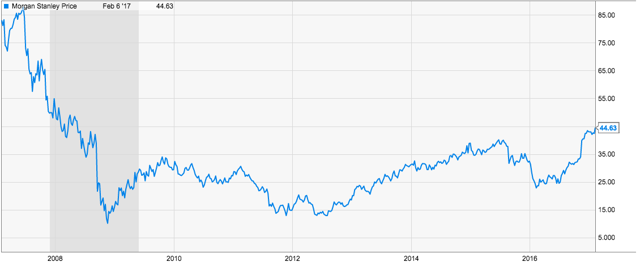 (Source: ycharts.com)
Is the appreciation in the stock price warranted, though? A quick check of basic fundamentals and valuation will tell you no. But checking the entire industry will show you that MS is not alone. So the question really is, does it matter?

(Source: simplywall.st)
My answer is no. The picture below sums it up quite well: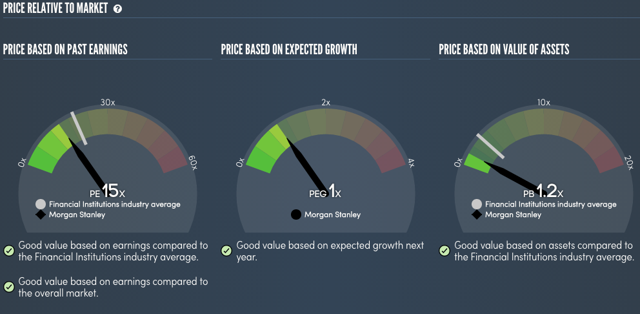 (Source: simplywall.st)
Building on that, we can take a quick look at net income, we can see a massive change over the past 10 years. Since 2007, we have seen an increase of just under 87%. This is in an industry that came under fierce scrutiny and was hit with tougher regulations and a low rate environment which is just now beginning to turn for the better.
The reason for the increase in income can be traced back to the management team and their ability to maintain and cut expenses while growing the top line which in turn makes the company profitable. Looking at the revenues increase, most of that can be attributed to the trading and asset management sides of the business.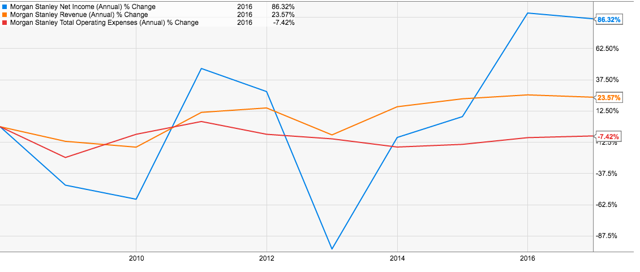 (Source: ycharts.com)
One last thing that cannot be overlooked and could quite possibly be the cause for the recent run-up in price, is the Trump effect. I'm not going to predict what exactly he will do to the industry, but it appears there's an expectation for him to decrease some of the regulation. Any decrease in regulation would be a good thing for the industry as a whole, but especially for a company as well managed as MS has been.
Looking forward, EPS is expected to continue to climb at a faster pace than the past year. This being due to the revenue increases as well as the potential political impacts on the industry. I can see MS pushing $3.50 in 2017, and $4.50 in 2019. Management continues to show competence in the current environment. In a rate increasing and de-regulated environment, MS is set to thrive. As long as compensation does not get out of hand, MS can push for $55 by year's end.
Technical Outlook
When looking for long prospects, I look for four things on a chart:
A new 55-day high (close)
Trading above the 200-day moving average (dma)
A bullish cross on the MACD
A breakthrough of the upper Bollinger Band
As we run MS through the criteria above, check marks are flying. Today the price closed at a new 55-day high ($44.63), it is well above the 200 dma, there was a bullish MACD cross today and finally the price surge sent the stock through the upper band.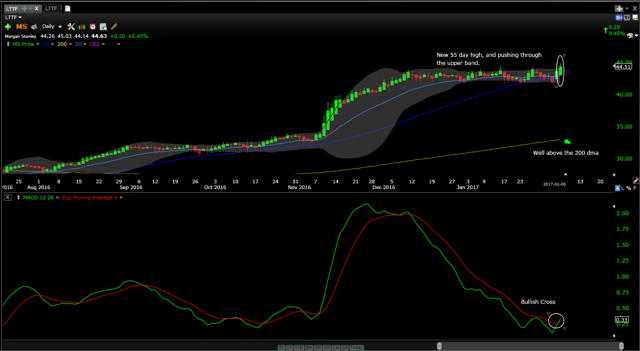 (Source: tc2000.com)
So what does all this mean? Based on the trend followers' approach, these signals say the stock is prepped to continue onto new highs. One pattern that is consistent with explosive moves in price is what is called a volatility squeeze. On the charts I use, the gray area around the candlesticks is what we call Bollinger Bands. As that area gets tighter (squeezes), we have a volatility squeeze. The price does not change much over a period of time. This can be found essentially from the end of November. I will not ever buy until there is a breakout on the positive side of the stock as these can go either way.

(Source: tc2000.com)
Those who have followed me over the last couple months will know the value I place in the 200 dma. Now, in MS's case, there hasn't been a touch since August of 2016. This worries me slightly there could be a pullback in price. But in the short term (3 months), the 50 dma has served as the trend line, essentially forming an ascending triangle with the previous highs. In this case, I am buying the 50 dma for this reason.

(Source: tc2000.com)
As for the new highs, I can count five separate attempts to cross the old highs set in early December. Typically, this is a sign of old resistance becoming new support. However, that does not mean that is where my stop is going to be placed. I just want to make it clear how significant this new price level is, given the recent struggle to get above the current highs.

(Source: tc2000.com)
Wrap-Up
Now what if I am wrong? What if the valuation is too high the stock comes back to earth in the mid $30s? This is where placing a strategic stop comes into play. Due to the recent run-up in price, this is a chart that became difficult to pick a spot to place the initial stop. Solely because so much capital could be at risk if the position is not sized properly.
I am long MS from $42.95 and my initial stop is placed at $32.50 on a closing basis.

(Source: tc2000.com)
Some quick math will tell you that is outside my typical range of 10-15% risk. Based on this stop, I am risking just over 24% of my position. The reason this is so large is because I cannot place a stop much higher than where mine currently sits as the 200-dma is right there. It is very possible MS could come back to the 200-dma over the next couple months, this stop will keep my money working for me. This stop is flexible and will move up if the price continues to appreciate to help protect capital gains and further reduce my risk exposure.
As I will never risk more than 1% of my portfolio value in any one given name, this is currently the smallest position in my portfolio due to the current risk. But the technical setup was too good to pass up at this current time. Can always add to a name at a later date if the situation permits. If I do add again at a later date, I will update you with a new article.
To conclude, I am not paying much attention to the current valuation as it would take a massive market collapse for the entire sector, never mind MS on its own to come back to fair valuations. MS is headed for $55 over the next year.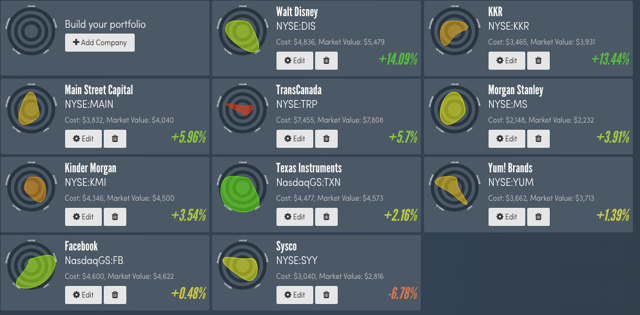 (Source: simplywall.st)
For full transparency, I have shown the stocks I own and have written articles about since late November of 2016. You do not have to be right 100% of the time to be profitable. Proper analysis and technical research can help you keep your portfolio in the black.
Thank you for taking time to read. If you received any value out of this article, please follow me for further updates. I look forward to your feedback! Also, check me out on tipranks.com (Graham Grieder) for updates on my positions and to track my recommendations.
Disclosure: I am/we are long MS.
I wrote this article myself, and it expresses my own opinions. I am not receiving compensation for it (other than from Seeking Alpha). I have no business relationship with any company whose stock is mentioned in this article.