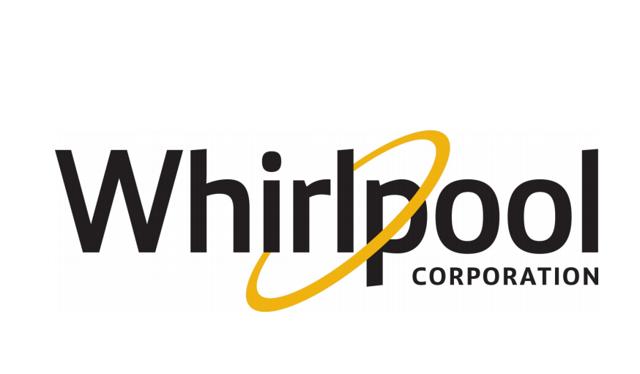 Whirlpool Corporation (NYSE:WHR) is a well-performing, dividend-paying company with a six-year streak of annual raises to its dividend payment. The future dividend stream investors can expect to get from buying shares is worth buying at the current market price.
Is WHR a good investment partner?
One thing I like to have in an investment partner is that I like to own or use their products. Of the seven major appliances in my home, currently, the gas stove, the electric ovens, the refrigerator and the dishwasher are all made by WHR. While my current washing machine and dryer are made by other companies, I have owned WHR-produced products for those appliances in the past, and like what I see in the stores from WHR (the washing machine has about two years left to run, so we are looking around).
My own personal experience tells me some of what I want to know about the markets WHR competes in. For the rest, and for the other items on my investment partner checklist, I look at the 4Q 2016 earnings presentation. The whole presentation has lots of useful information, but below I will just include slides that address my checklist items.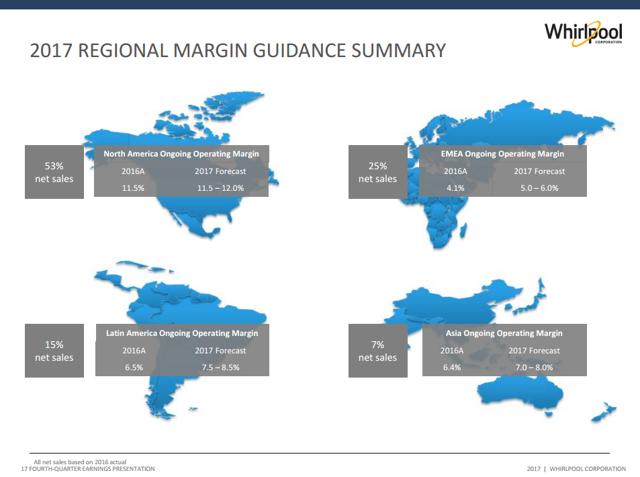 This first slide shows each of the four geographic segments that WHR operates in and the percentage of sales that each region is expected to generate in the coming year. As expected, the North America generates the majority of sales. I like that sales are focused on the higher income regions, so I expect sales to be highest in North America, but I expect to see growth in other areas as the consumers there become wealthier. Given the trouble many companies are having in Venezuela and more recently, Brazil, it's a good sign that only 15% of WHR sales are expected from that region.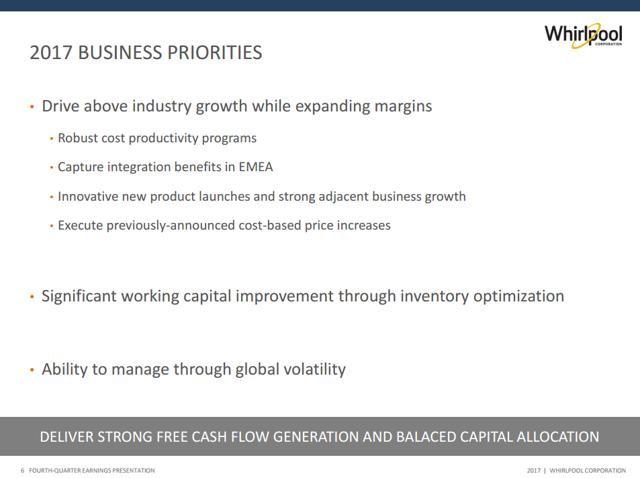 This slide provides some details on how WHR is planning on growing its sales and market share in the coming year. Several regions had a drag on their performance due to inventory reductions, so I like seeing that this was actually part of a plan to more efficiently manage inventories. It's expensive to keep large inventories waiting in warehouses, so there is often better profit to be obtained by more efficiently managing product flow and inventory.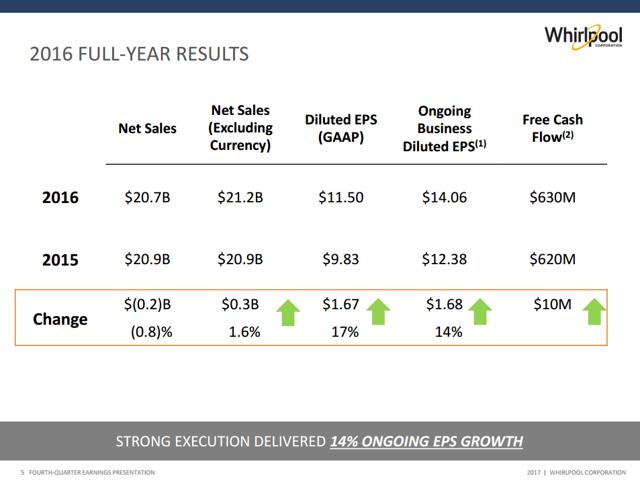 Dividends ultimately come from profits, so it's always good to see that a company is profitable in the current year and has grown profits from last year. WHR is yet another company that depends on sales to consumers that has run into strong headwinds because of the strong dollar. It's good to see that discounting the negative impact of exchange rates, WHR is able to increase constant currency sales and increase profits. And profit growth from last year was fairly impressive at 17%. That is a number I will keep in mind when figuring out how much WHR can grow its dividends.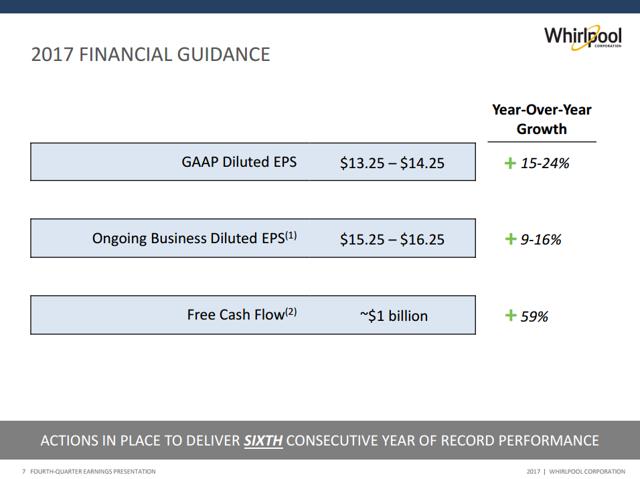 The slide above shows WHR's guidance for the 2017 fiscal year. Very healthy growth is expected which will help support a hefty dividend increase. I think it's reasonable to assume that it can grow this coming year about the same amount as it grew last year.
Simply Wall St. has a list of analysts' predictions for earnings growth that pretty much match what the company is predicting.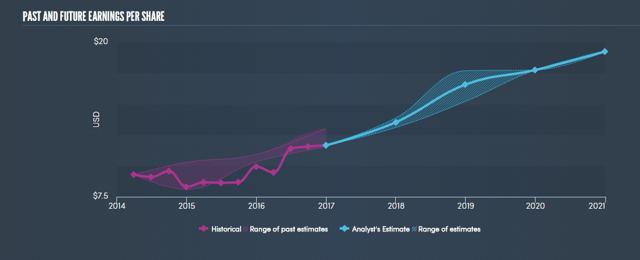 It's not that analysts are always right, but when management and analysts agree, estimates are reasonable. Knowing how much earnings are likely to grow can help decide what a reasonable projection for dividend growth is.

How a company handles its debt is also important. Its credit ratings can tell you how well it has supported debt payments in the past and can give you an early indication that something might be wrong. I would like a rating a bit higher than Baa1, but that still is investment grade. Very importantly, at this time, Moody's sees no need to pay any special attention to WHR and its handling of its debt as it gives WHR a stable outlook.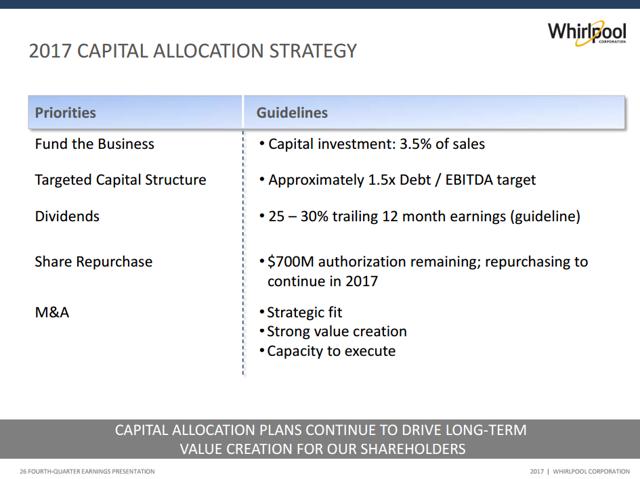 This slide from the earnings presentation shows me that WHR has a reasonable plan to allocate capital. I see a reasonable allocation to capital improvements, a modest share buyback plan and an acquisition plan to buy profitable companies that fit with what WHR already owns. Those factors indicate the prudence I am looking for on this checklist item. While this doesn't address the checklist item of spending capital wisely, I also like to see that management has a stated dividend policy. That will help me when I estimate dividend growth into the future.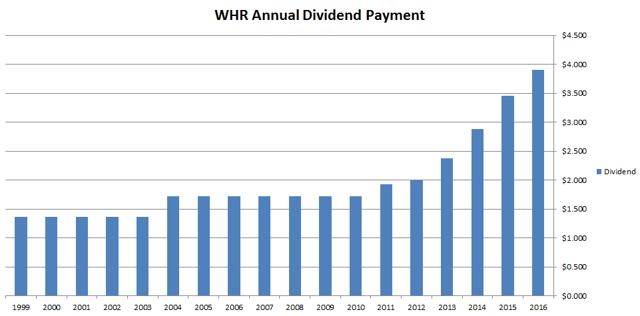 Looking at the CCC List, I can see that WHR has a current streak of six dividend increases. In the slide above, I have plotted the annual amounts of dividends received in each year since 1999. While the streak is a bit short, I like that there have been no dividend cuts since 1999 at least. WHR will shortly pay a $1 dividend for its first dividend payment in 2017, with the next quarter's payment to likely increase.
What's a good price?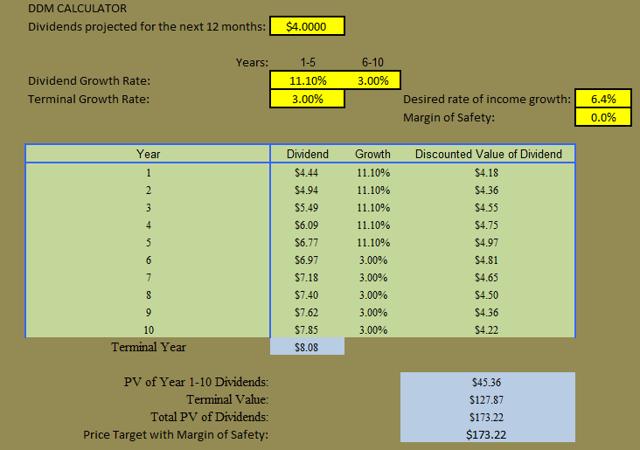 To figure out a good price, I do a DDM calculation using my Excel®-based DDM calculator (pictured above, you can see the web-based calculator I based it on here and read a discussion on how the formulas were developed here).
I used WHR's current quarterly dividend of $1 to compute an annual amount. WHR has been fairly aggressively increasing its dividend of late. So rather than using any of the DGR values from the CCC list, I just went with the percentage change of the last dividend increase. Given that is below the guidance in EPS growth for this year and less than the estimated growth predicted by analysts, I am fairly confident that WHR will be able to generate dividend growth of this magnitude.
With those values, I calculate that the present value of the future dividend stream is $173.22. That makes anything less than a market price of $173 a good place to buy. Since the current market price is still below that, WHR is a buy at current market prices.
Can options help?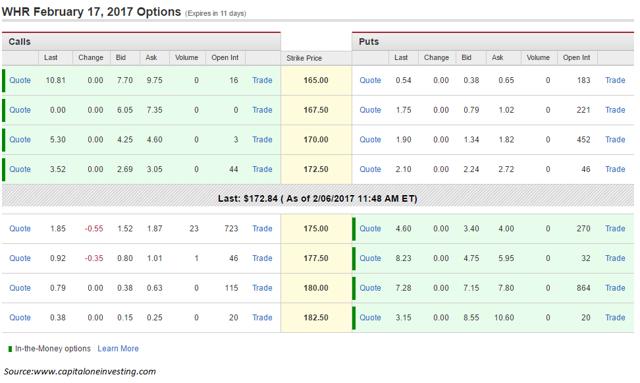 With the February monthly option contracts expiring at the end of next week, I was quite surprised to find some that are very attractive. I think the $172.50 put contract offers a very nice premium, but with the bid/ask spread this wide be sure to use a limit order if you want to write this contract.
On the covered call side, the $175 strike also offers a nice premium. Again volume seems light, so be sure to use a limit order. With a delta value of 0.39 the chance of the shares being called away is a little higher than I would like, but for 11 days, the premium is worth it. If you want to take a lower chance of getting the shares called away, the $177.50 strike still offers close to a $1 in premium.
What to watch going forward?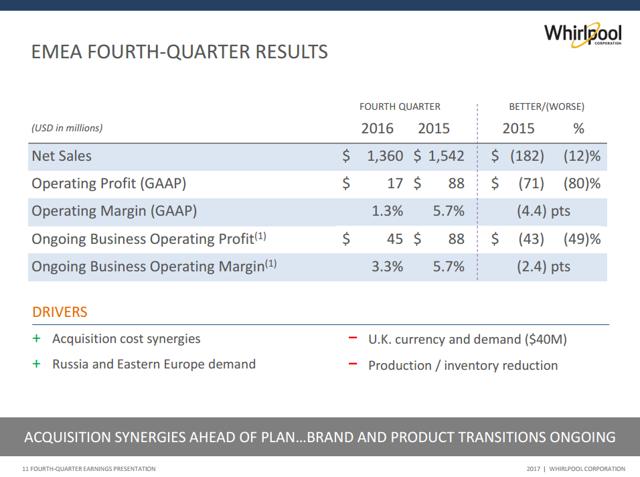 The EMEA segment represents 25% or so of WHR sales. Sales declined in this area for the latest quarter as did profit. Going forward, this slide shows what an investor should be looking at with the next earnings release. The biggest concern to me is the compression of the operating margin. I will want to see how management handles integrating acquisitions, and if they are able to take advantage of increased demand in Russia and Eastern Europe.
Also, while this quarter didn't seem to show any issues with the Latin America segments, several other companies operating in that area have had issues with Venezuela and to a less extent, Brazil. Going forward, I will want to keep an eye on this region just to be sure that the problems others have experienced in this region weren't just delayed for WHR.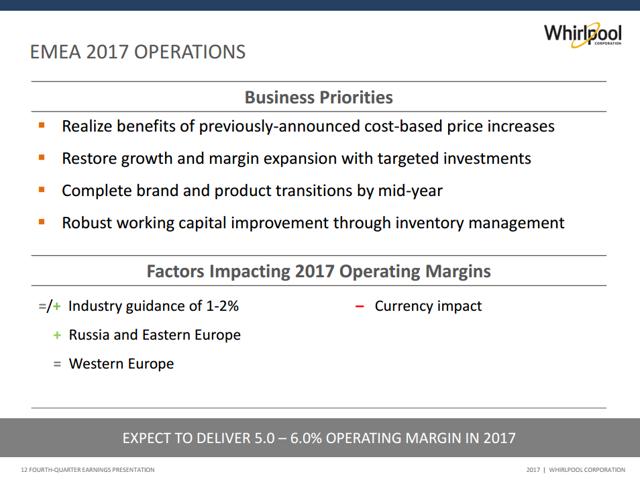 Conclusion
WHR is a solid company with a long history of paying dividends and six years of growing those dividends each year in its current streak. At a market price under $173, it is priced at a good value relative to the dividends it will pay.
Note: I hope you all got something out of this article. I do appreciate the time you took reading it. If you are one of those who follow me here, I appreciate it; if you'd like to include yourself amongst those individuals, please hit the "Follow" button next to my name as well as following other contributors whose work you enjoy. As always, please leave any feedback and questions you may have in the comments below.
Disclaimer: This article is intended to provide information to interested parties. As I have no knowledge of individual investor circumstances, goals, and/or portfolio concentration or diversification, readers are expected to complete their own due diligence before purchasing any stocks mentioned or recommended. The price I call fair valued is not a prediction of future price but only the price at which I consider the stock to be of value for its dividends.
Disclosure: I/we have no positions in any stocks mentioned, and no plans to initiate any positions within the next 72 hours.
I wrote this article myself, and it expresses my own opinions. I am not receiving compensation for it (other than from Seeking Alpha). I have no business relationship with any company whose stock is mentioned in this article.