For several months last year, I wrote a series of articles designed to review approximately 40 closed-end ETFs that primarily invested in the preferreds and debt of a wide variety of enterprises. I have provided a link to one such article, "PIMCO Income Strategy Fund: A Good Or Bad Investment?" to familiarize you with the basic structure and content of each.
As the series developed and as additional funds were added to the list to be reviewed, I set up a page on my IB platform that announced the order of each fund that had been reviewed and those to be reviewed. As a bonus, I manually added each fund's 2015 yearly dividend disbursement total, while my platform automatically continually updated all the funds' real-time prices. I added each update to the end of each article as shown below:
Below is a screenshot taken from my IB platform that I populated to keep you apprised of the order of my reviews, and as a bonus, the funds' prices. This screenshot was taken at the close of 9/23/16.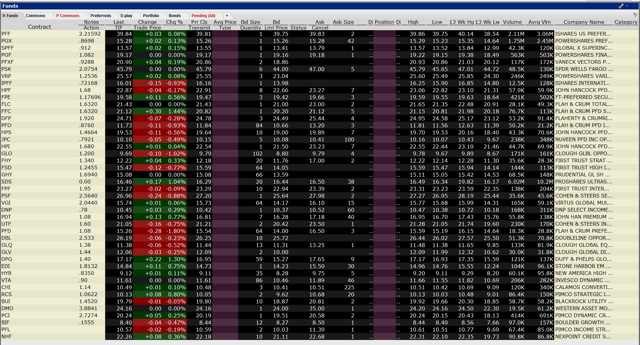 Notice, the 2015 dividends are placed just to the right of the fund symbols. To the right of that are the trade prices as indicated on the above date. Of further interest, at the far right of the screen, are the prices of the 13-week highs and lows of each fund.
As promised, I have continued to follow the monitor and report on the price movement of all the funds I reported on last year. I believe the value of this continuing monthly price update, as it concerns each individual fund, is basically worthless. However, the historical record of each fund's performance in relation to all the others reviewed holds quite a bit of significance, not only as a record of past performance, but if properly utilized, it can be a prime indicator of how these funds might perform going forward. The question answered is not how well a particular fund performed individually, but how well it performed in relation to its peers, some closely related and others not so closely related.
To further enable you to compare and contrast the performance of each of these funds, the following screenshots will allow you a comprehensive view of not only how all the funds performed price-wise in relation to each other, but how their yearly dividend distributions changed between 2016 and 2015.
For those of you interested in a more detailed view of how these funds performed over the past year, I have provided this link that will allow you access to all the past fund updates dating back to my original fund report.
What also might be of benefit has been provided by one of my followers, J.C. Scott, who sent me the links to a couple of sites that he assures me that you might find interesting and useful. They are listed compliments of CEFdata.com:
CEF Advisors' 12 Major Sectors Index:
CEF Advisors' 60/40 (w/ BDCs) Index:
Full Index List (Performance Table):
The following is a list of all the funds I have reviewed, continue follow, and update monthly:
iShares U.S. Preferred Stock (NYSEARCA:PFF), PowerShares Preferred Portfolio ETF (NYSEARCA:PGX), Global X SuperIncome Preferred ETF (NYSEARCA:SPFF), PowerShares Financial Preferred Portfolio (NYSEARCA:PGF), VanEck Vectors Preferred Securities ex Financials (NYSEARCA:PFXF), SPDR Wells Fargo Preferred Stock ETF (NYSEARCA:PSK), PowerShares Variable Rate Preferred Portfolio (NYSEARCA:VRP), iShares International Preferred Stock ETF (BATS:IPFF), John Hancock Preferred Income Fund II (NYSE:HPF), First Trust Preferred Securities and Income ETF (NYSEARCA:FPE), Flaherty & Crumrine/Claymore Total Return Fund (NYSE:FLC), Flaherty & Crumrine/Claymore Preferred Securities Income Fund (NYSE:FFC), Flaherty & Crumrine Dynamic Preferred and Income Fund, Inc. (NYSE:DFP), Flaherty & Crumrine Preferred Income Opportunity Fund (NYSE:PFO), John Hancock Preferred Income Fund III (NYSE:HPS), Nuveen Preferred Income Opportunities Fund (NYSE:JPC), John Hancock Preferred Income Fund (NYSE:HPI), Clough Global Opportunities Fund (NYSEMKT:GLO), First Trust Strategic High Income Fund II (NYSE:FHY), First Trust High Income Long/Short Fund (FSD), Prudential Global Short Duration High Yield Fund (NYSE:GHY), ProShares UltraShort S&P 500 (NYSEARCA:SDS), First Trust Intermediate Duration Preferred & Income Fund (NYSE:FPF), Cohen & Steers Select Preferred and Income Fund, Inc. (NYSE:PSF), Virtus Global Multi-Sector Income Fund (NYSE:VGI), DNP Select Income Fund (NYSE:DNP), John Hancock Premium Dividend Fund (NYSE:PDT), Cohen & Steers Infrastructure Fund (NYSE:UTF), Flaherty & Crumrine Preferred Income Fund (NYSE:PFD), Clough Global Equity Fund (NYSEMKT:GLQ), Clough Global Allocation Fund (NYSEMKT:GLV), Duff & Phelps Global Utility Income Fund (NYSE:DPG), Stone Harbor Emerging Markets Total Income Fund (NYSE:EDI), New America High Income Fund (NYSE:HYB), Invesco Credit Opportunities Fund (NYSE:VTA), Calamos Convertible Opportunities & Income Fund (CHI), PIMCO Strategic Income Fund (NYSE:RCS), BlackRock Utility & Infrastructure Trust (NYSE:BUI), Western Asset Mortgage Defined Opportunity Fund (NYSE:DMO), PIMCO Dynamic Credit Income Fund (NYSE:PCI), Boulder Growth & Income Fund (NYSE:BIF), PIMCO Income Strategy Fund (NYSE:PFL), and NexPoint Credit Strategies Fund (NYSE:NHF).
The following update is from the close of market on 12/30/16.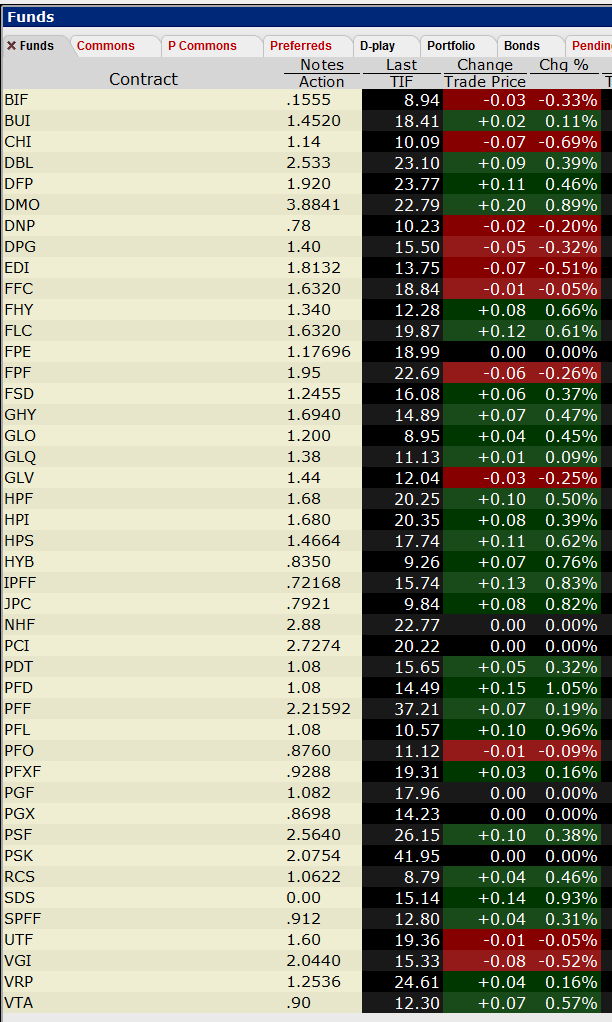 The following update is from the close of market on 1/2/17. Notice the yearly dividend list now reflects the yearly dividend totals that were paid during 2016, not as previously listed that reflected the dividend totals paid for 2015.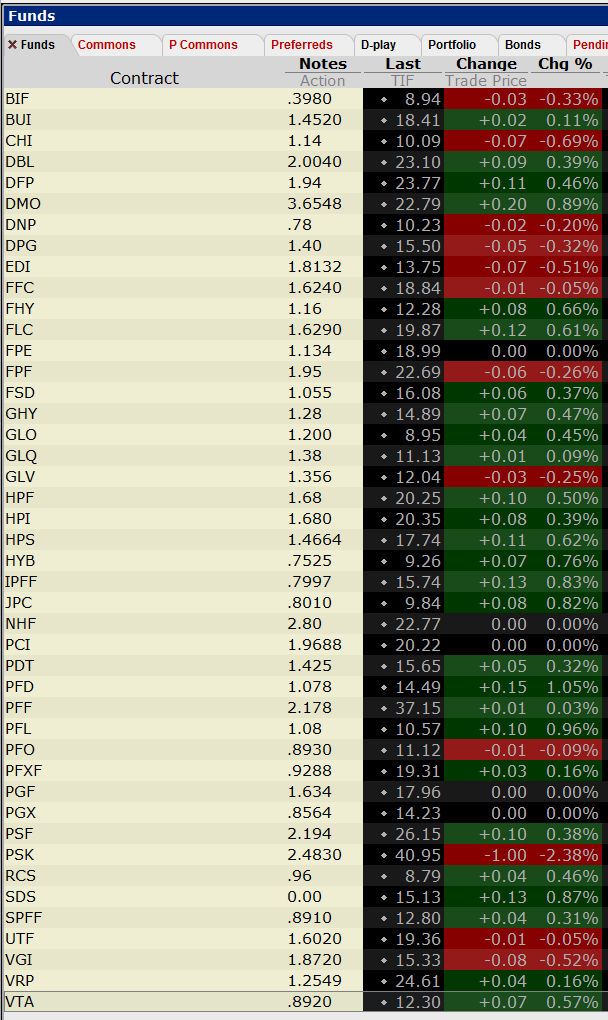 The following update is from the close of market on 1/6/17.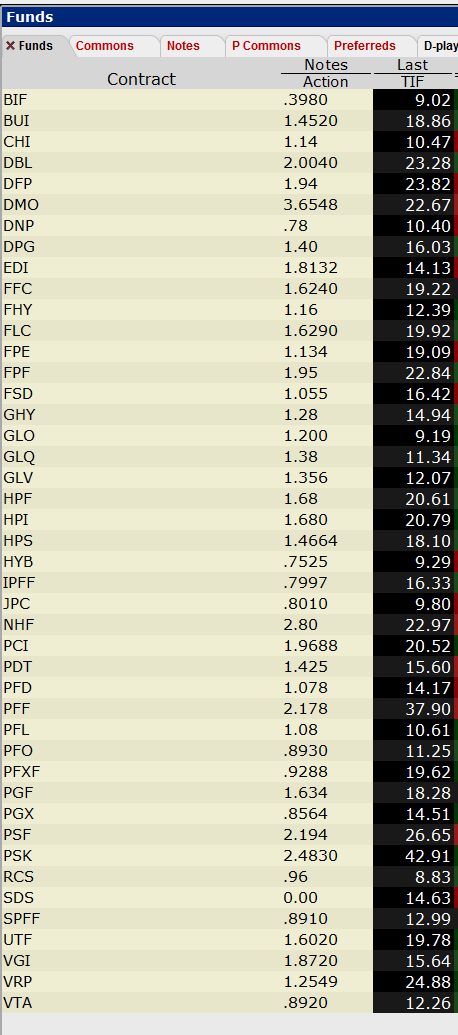 The following update is from the close of market on 1/13/17.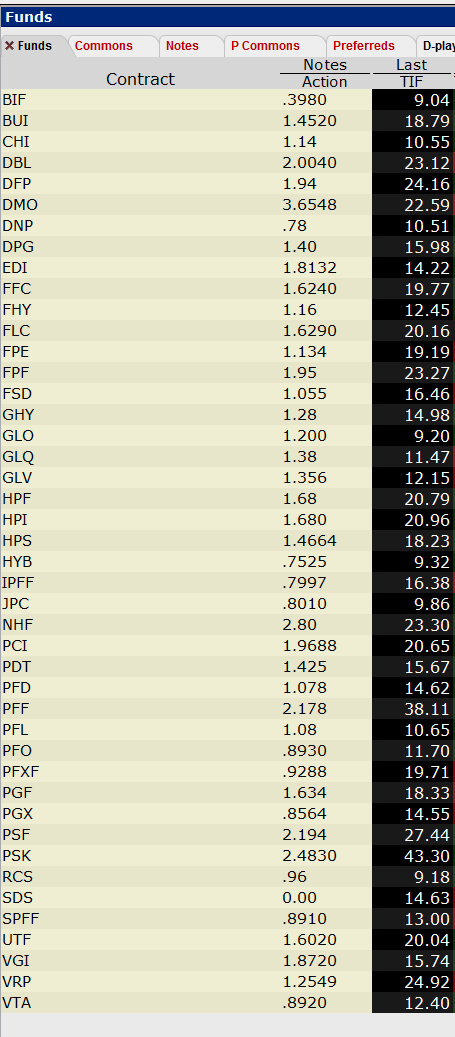 The following update is from the close of market on 2/3/17. Sorry, I must have skipped a week.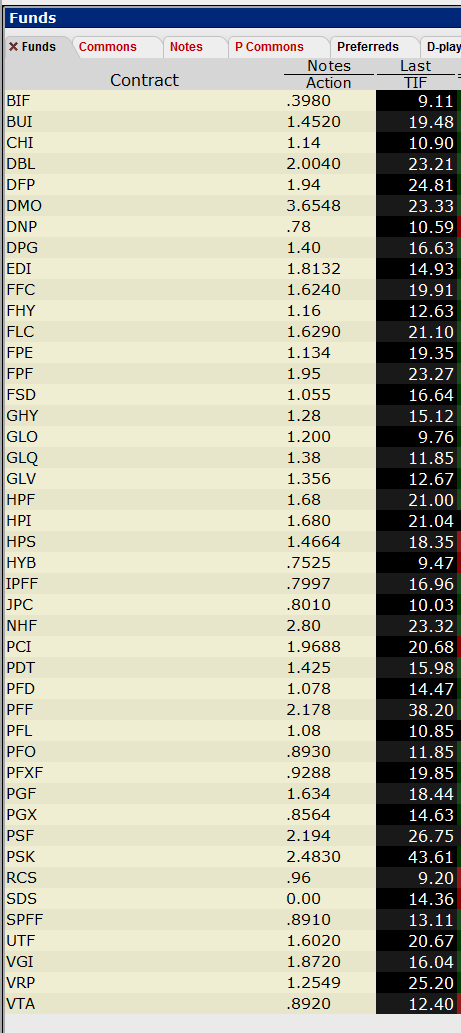 It is my hope that you will utilize the comment section of this and all future updates as a forum to discuss, debate, and collectively add to the knowledge base for all of you who regularly invest in such funds.
Disclosure: I/we have no positions in any stocks mentioned, and no plans to initiate any positions within the next 72 hours.
I wrote this article myself, and it expresses my own opinions. I am not receiving compensation for it (other than from Seeking Alpha). I have no business relationship with any company whose stock is mentioned in this article.