It seems like every week, there is another marijuana-related company announcing a round of financing. If you were Apple (NASDAQ:AAPL) for instance, you might call up Goldman Sachs (NYSE:GS) for help with your upcoming financing round. But if you're a cannabis-related company like MassRoots (OTCQB:MSRT), you might call a boutique investment bank such as Chardan Capital Markets (private).
By establishing a specialty in the cannabis industry while the competition ignores it, these investment banks are getting a head start working with the companies and executives that lead the marijuana world.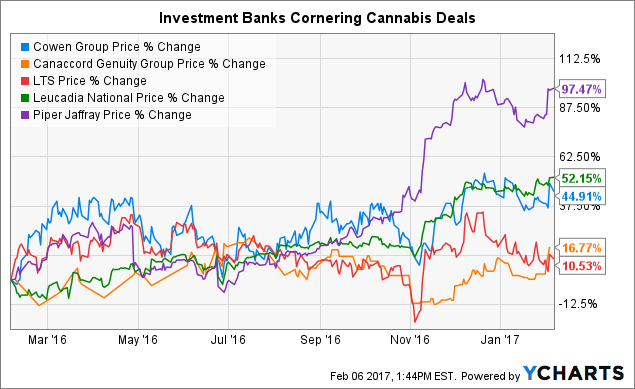 Cowen Group. Inc. (NASDAQ:COWN)
In January, Cowen hosted its first ever Cannabis Colloquium where over 150 institutional investors and representatives of major Wall Street firms heard not only from pioneering cannabis industry analyst, Vivian Azer but from numerous executives at leading marijuana firms. Additionally, Cowen was the first U.S. investment bank to cover Canada's largest licensed producer Canopy Growth (OTCPK:TWMJF). They also served as an advisor to Canopy regarding their equity raise last December.
Canaccord Genuity Group Inc. (OTCPK:CCORF)
Vancouver based Canaccord Genuity has certainly capitalized on their home country's medically legal status of cannabis, and is using their industry knowledge to expand their U.S. presence in the industry. Canaccord led seven of the twenty two capital raises in the Canadian cannabis sector last year. One of their most recent deals was a 22.5 million share offering for Licensed Producer, Aurora (OTCQX:ACBFF). Analysts at Canaccord Genuity cover many cannabis companies including Cara Therapeutics (NASDAQ:CARA), Aurora Cannabis and Zynerba Pharmaceuticals (NASDAQ:ZYNE).
Ladenburg Thalmann Financial Services (NYSEMKT:LTS)
Ladenburg Thalmann's investment banking subsidiary was a bookrunner for the initial public offering of the first ever cannabis REIT, Innovative Industrial Properties (NYSE:IIPR). Although they are known as a top underwriter of Real Estate Investment Trusts, it is encouraging that they were willing to work with IIPR given the focus of their business model.
Leucadia National Corp. (NYSE:LUK)
Jefferies, the investment banking unit of Leucadia, was a joint book-running manager for the secondary offering of cannabinoid pharmaceutical developer Zynerba Pharmaceuticals. They also were a joint book-running manager for Zynerba's IPO in 2015.
Piper Jaffray Companies (NYSE:PJC)
Piper Jaffray's investment banking division was the joint book-running manager with Jefferies for both of Zynerba's transactions. Additionally, leading cannabis biotech companies, Insys Therapeutics, Cara Therapeutics and GW Pharmaceuticals (NASDAQ:GWPH) are covered by analysts at Piper Jaffray and presented at their most recent healthcare conference.
Chardan Capital Markets (Private)
Although private, Chardan Capital Markets deserves mention as they have provided investment banking services to numerous cannabis companies both in the U.S. and abroad. Chardan has advised MassRoots, GW Pharmaceuticals, and 22nd Century Group (NYSEMKT:XXII) among others. The Special Equities Group at Chardan was the main sponsor of the LD Micro main event where many marijuana related companies including CV Sciences (OTCQB:CVSI), MyDX (OTCPK:MYDX), Kush Bottles (OTCQB:KSHB), TerraTech (OTCQX:TRTC) presented.
Conclusion
Banking is in many ways the "last frontier" for the cannabis industry to conquer. In the U.S. especially, many marijuana-related businesses are forced to operate with limited access to basic banking. This causes capital raise efforts to take place far away from the big banks of Wall Street.
Even in Canada, giants like the Canadian Imperial Bank of Commerce (NYSE:CM) and Bank of Montreal (NYSE:BMO) have been hesitant to enter the sector fearing in part the continued stigma associated with cannabis and concern that marijuana grown for medical use could be diverted for recreational use which remains illegal in Canada.
The banks daring enough to enter this industry now will certainly be rewarded.
Disclosure: I/we have no positions in any stocks mentioned, and no plans to initiate any positions within the next 72 hours.
I wrote this article myself, and it expresses my own opinions. I am not receiving compensation for it (other than from Seeking Alpha). I have no business relationship with any company whose stock is mentioned in this article.
Editor's Note: This article discusses one or more securities that do not trade on a major U.S. exchange. Please be aware of the risks associated with these stocks.